Well, winning two out of three ain't bad. The Yankees didn't put up much of a fight against Steven Wright and the Red Sox on Sunday night, dropping the series finale 5-1. The game was not as competitive as the score may indicate.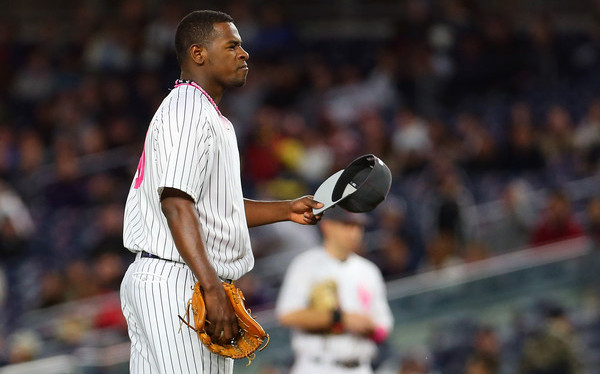 Strugglin' Sevy
For the first time this season, Luis Severino showed flashes of dominance Sunday night. Yeah, he did give up four runs in 6.2 innings, including two on a cheap Yankee Stadium homer (Dustin Pedroia) and two on moonshot homers (David Ortiz), but he also overwhelmed hitters from the first through sixth inning. We caught a glimpse of 2015 Severino again, finally. (It was only a glimpse though.)
After giving up the homer to Pedroia in the first, Severino retired 17 of the next 19 batters he faced — the two exceptions where Ortiz's first homer and a soft single pretty much every non-Carlos Beltran right fielder catches — including eight on strikeouts. His previous season high was five strikeouts and he matched that eight batters into the game. Severino's nine strikeouts overall tied a career high.
All told, Severino generated 13 swings and misses out of 113 total pitches, a new season high. He averaged 6.8 swings and misses per start the first five times out. There were still enough mistakes to remind you Severino is not all the way back — he missed his spot by the entire width of the plate on the second Ortiz homer — but at least we saw an effective pitcher for a few innings. We've been waiting for that.
Sending Severino back out for the seventh was unnecessary in my opinion, but out he went to serve up another bomb to Ortiz and a single to Brock Holt, ending his night. The kid has been getting knocked around all season and that was a chance to get him out — his pitch count was at 96 at the time — feeling good about things. I dunno, seemed like there was no need to try to squeeze a few more outs from him. /shrugs
I don't think it's a coincidence the Yankees shuffled the Triple-A Scranton rotation to line Luis Cessa up with Severino. It was time for Severino to make some progress. The season is a month old now and the Yankees can't just send the kid out there to take a pounding every five days. Severino needed to show some improvement to keep his rotation spot, and we saw it Sunday, albeit for only a few innings. Now he needs to show more in five days.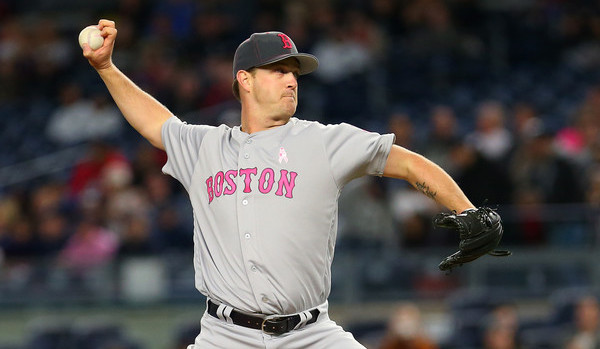 I Used To Have An Open Mind, But My Brains Kept Falling Out
I'm not a big exit velocity guy, but this sums up the offense: the Yankees put 21 balls in play against Steven Wright on Sunday, and exactly six were above the MLB average exit velocity (89.2 mph). Mark Teixeira hit a 90 mph grounder, Beltran hit a 100 mph fly ball, Starlin Castro hit a 93 mph double, Dustin Ackley hit a 92 mph fly ball, Didi Gregorius hit a 93 mph fly ball, and Brett Gardner hit a 106 mph solo homer. That's it. It was weak contact all night.
Wright pitched like a knuckleballing version of vintage Roy Halladay. He totally dominated the Yankees and they never once had anything close to a rally. Even after Castro's leadoff double in the seventh, Starlin managed to get picked off third later in the inning like a nincompoop. He's been doing stuff like that his entire career, unfortunately. It's part of the Castro experience. Anyway, Wright was generally throwing his knuckler up in the zone …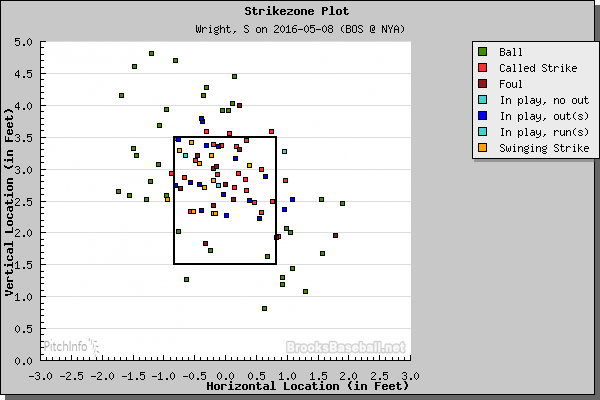 … though I'm not sure that was by design. The knuckleball by definition is unpredictable. They aren't exactly conducive to command. Either way, the old "if it's high let if fly, if it's low let it go" mantra did nothing to help the Yankees. It was high, they let it fly, and they didn't square it up. Wright had his way with the Yankees all night, like far too many other pitchers this season.
Leftovers
Gardner gets Player of the Game for the Yankees by default. In addition to the homer, Brett also threw Hanley Ramirez out at home in the top of the ninth. Very quick release and an accurate throw from Gardner. It was the second runner thrown out at home by a Yankee this season. Aaron Hicks threw someone out a few weeks ago. That was the 105 mph throw.
Chasen Shreve and Johnny Barbato, who were so excellent for a few weeks to start the season, combined to put three men on base in 2.1 innings. Shreve gave up a solo homer to Xander Bogaerts and has now has allowed four homers in his last 5.2 innings. Yeah, it literally hit the top of the wall and hopped over, but still. The middle innings are a bit of a mess right now.
The Yankees had three hits on the night: Gardner's homer, Castro's double, and Brian McCann's soft single in the first inning. McCann's single should have been caught. I'm not sure why Holt pulled up and played the hop, but he did, and McCann's batting average benefits.
And finally, Castro felt something in his rib cage diving back into third base when he was picked off in the seventh inning. Girardi seemed to indicate it is no big deal and thinks Starlin will play Monday. I bet he sits a day.
Box Score, WPA Graph & Standings
ESPN is the place to go for the box score and updated standings. MLB.com has the video highlights. Also make sure you check out our Bullpen Workload and Announcer Standings pages. Now here's the loss probability graph:

Source: FanGraphs
Up Next
The homestand continues Monday night with the first of four against the defending World Series champion Royals. Ivan Nova will make his first start of the season in the opener. He's replacing the injured CC Sabathia in the rotation. Big Chris Young will be on the bump for Kansas City. Check out RAB Tickets if you want to go to that game or any of the other six remaining games on the homestand.