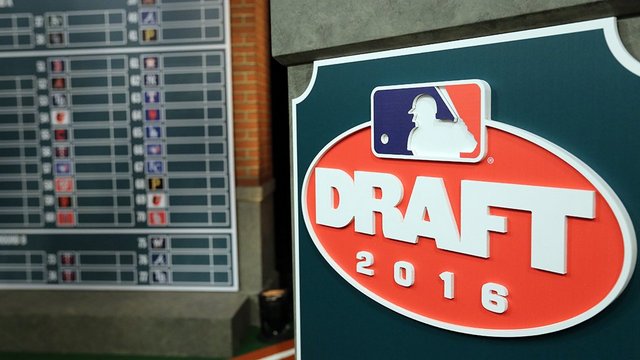 The Yankees are wrapping up their four-game series with the Angels tonight, and while that game is important given the team's place in the standings, it is not the most important thing going on in Yankeeland tonight. The 2016 amateur draft begins tonight, which means the Yankees and every other team have the opportunity to add future rotation leaders and lineup anchors.
The MLB draft is a three-day event and a total of 77 picks will be made tonight. That covers the First Round, Supplemental First Round, Competitive Balance Round A, Second Round, and Competitive Balance Round B. The Yankees have two picks tonight: 18th and 62nd overall. That's their first and second round selections. The full draft order is right here. The Padres lead the way with five picks tonight. The Cubs have zero.
The latest reports indicate the Yankees are leaning towards taking a pitcher, likely a high schooler. That is hardly set in stone though. There are conflicting reports about their interest — aren't there always? — and it should be noted the team has favored college players in recent years. They've selected eleven players in the first three rounds over the last three draft, and eight of the eleven came out of college.
I personally don't have much of a preference who the Yankees draft tonight. The player New York has been most connected to these last few weeks is California HS RHP Kevin Gowdy (write-up). A report this morning indicated he wants a huge bonus though, and the Yankees don't have the draft pool space to do anything crazy. They have $5.77M in pool space for the top ten rounds. That 18th pick comes with a $2.44M slot value.
The draft broadcast begins at 7pm ET. You can watch live on MLB Network or stream online on MLB.com. You can also follow along on MLB.com's Draft Tracker. Here are Baseball America's top 500 draft prospects and MLB.com's top 200 draft prospects for reference. As always, MLB.com's draft content is completely free. The scouting reports and everything.
The Yankees are playing the Angels at the same time as the draft tonight. Here's the game thread. Please help keep things tidy by keeping game comments in the game thread and draft comments in this draft thread. Thanks in advance. Enjoy the draft, everyone.