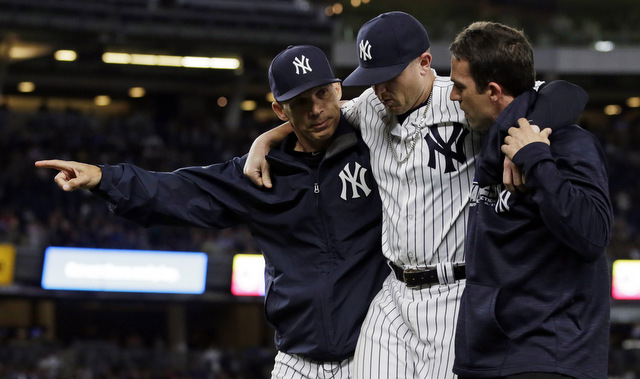 New first baseman Chris Parmelee is heading for an MRI on his injured hamstring, Joe Girardi told reporters following Thursday game. Girardi expects Parmelee to land on the DL. He hurt himself making a stretch at first base. Here's video of the play:
Parmelee has been with the Yankees since Mark Teixeira hurt his knee last week. He got his first start last night and hit two home runs, then he drove in the game-tying run tonight. It's not much, but Parmelee made a very nice first impression with his play these last two nights.
The Yankees are running out of first baseman, folks. Teixeira (knee), Greg Bird (shoulder), and Dustin Ackley (shoulder) are all out. Bird and Ackley are done for the season and Teixeira very well might be as well depending on his rehab. Rob Refsnyder has been getting reps at first base, and if Parmelee is out for an extended period of time, the Yankees might have no choice but to call up Nick Swisher.