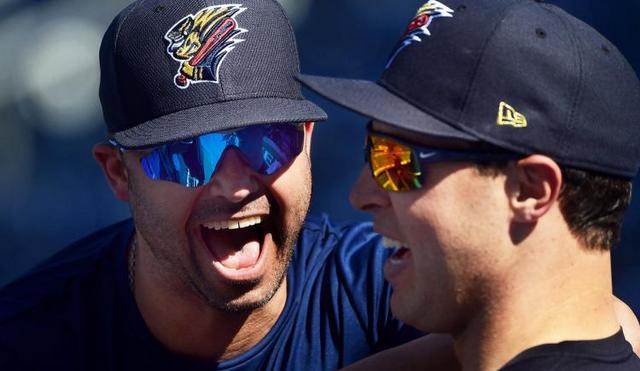 Last night Mark Teixeira played his first minor league rehab game with Triple-A Scranton, going 0-for-3 with a strikeout and a sac fly. The results don't really matter. Teixeira hasn't faced live pitching in a few weeks and he is just trying to get his bearings at the plate. As long as the knee held up, it was a productive rehab game.
"You want to get as many at-bats as possible down here," said Teixeira to Shane Hennigan. "Like I said, you're going to make adjustments two-and-a-half weeks from the long layoff and my first three at-bats, I was definitely out front. So getting that fourth at-bat and having a really good swing was important."
The plan is for Teixeira to DH today and then play a full nine innings at first base tomorrow. (He played six innings yesterday.) Assuming that goes well, he'll take Friday off and rejoin the Yankees on Saturday. Considering there was talk about season-ending surgery not too long ago, coming back that quickly would be pretty impressive.
The Yankees will have to clear a roster spot for Teixeira whenever it returns, be it Saturday or next week or next month. All the discussion the last few days has involved Rob Refsnyder or Ike Davis for pretty obvious reasons. They've been playing first base while Teixeira is on the shelf and one figures to go when he returns.
Picking between Refsnyder and Davis is a no-brainer. The Yankees should keep Refsnyder and continue to find ways to get him into the lineup. Davis was brought in only because the team lost their top four first base options to injury. Refsnyder has played fairly well and might actually have a future with the Yankees. We already know Davis won't.
There is a third way to clear a roster spot for Teixeira that hasn't been discussed: sending out Ronald Torreyes. I wouldn't blame you if you had forgotten he's on the roster. He's appeared in one of the team's last eleven games and only three of their last 18 games. Two of those three appearances were one-inning stints in the field at the end of blowouts.
Torreyes has been a perfectly cromulent backup infielder this season even though he has cooled down since that insane start. He hasn't played much lately because Didi Gregorius and Chase Headley have been two of the team's better hitters over the last month or so, so it's tough to take them out of the lineup. Refsnyder has filled in at second whenever Starlin Castro has sat too.
The Yankees recently used Castro at shortstop when they wanted to give Gregorius a day off, so clearly they're willing to play him there. Refsnyder would back up second and third bases when Torreyes goes down, and Castro would fill-in at short. An ideal situation? No, but might be the best roster setup at this point in time. Sending Torreyes down accomplishes three things:
Keep Refsnyder around. Refsnyder has played well in his limited time and he's done the job at first base well enough, even though his inexperience has cost the Yankees at times. I've said this a million times already, but it's time to find out what he can at the MLB level. Sending Refsnyder down to Triple-A is a waste of time.
Keep Davis around. I know keeping Davis sounds silly, but the Yankees are short on healthy first basemen at the moment. There's no guarantee Teixeira will stay healthy once he returns, so it would be nice to keep Davis around as depth is possible. Sending Torreyes down buys the team time before cutting loose a first base option.
Let Torreyes play. It's damn near impossible for any player to remain productive given as little playing time as Torreyes has received recently, not that anyone is expecting him to provide a big offensive boost off the bench. Sending him to Triple-A gives him a chance to get some at-bats and get back into game shape, so to speak.
The Yankees have an off-day tomorrow and then play 17 games in 17 days leading up to the All-Star break, meaning Refsnyder will probably have to make a start at third base at some point, something he's yet to do at the big league level. Carrying two true first basemen like Teixeira and Davis is not great, but the Yankees could ride it out until the All-Star break, then cut ties with Davis should Teixeira show he's healthy.
Remember, Chris Parmelee is on his way back. He's due to begin baseball activities soon — "If I was guessing, the end of the week or the beginning of next week," he said to George King — and once he returns, Parmelee should replace Davis on the roster. He'd give the Yankees a little more flexibility because he can play the outfield if needed in addition to backing up first base.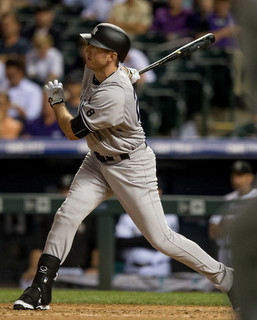 If the Yankees decide to drop Davis when Teixeira returns Saturday, so be it. No one is going to lose sleep. I just think with Teixeira's knee such an unknown — he has torn cartilage and is going to try to play through the pain, it's not like the cartilage will heal — the Yankees may want to hold onto Davis a wee bit longer just to make sure they're covered. At least until Parmelee returns.
Davis does have minor league options remaining, but he also has more than five years of service time, so he can refuse a trip to the minors. Maybe the Yankees could convince him to accept a Triple-A assignment and make this easy. The sell job would be something like "Teixeira's knee is still a mess so there's a chance we're going to need you, and if you don't accept the assignment, we're going to have to release you, and no other team is looking for a first baseman right now." Convincing? Maybe!
If Davis won't accept a trip to Triple-A, which is his right, the Yankees might be best off sending Torreyes out until Parmelee returns just to make sure they have enough first base depth in case Teixeira's knee gives out again. No one will miss Davis when he does go, but the Yankees still need to think big picture here. They need to make sure they're covered at first after losing so many players to injury, and that complicates the roster decision a bit.