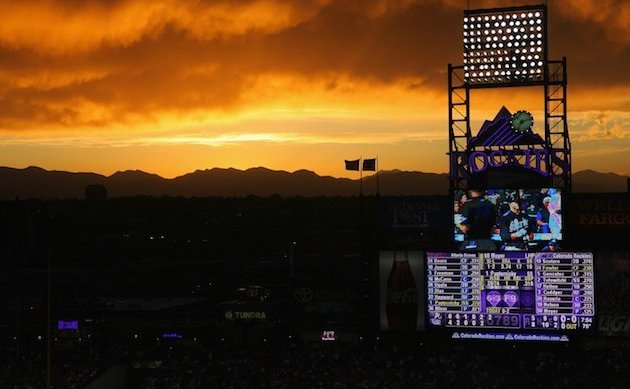 Pretty much the only thing I enjoy about interleague play these days is the novelty of watching the Yankees play in different ballparks. This is their fourth trip to Coors Fields ever, though they were here as recently as 2013. You may remember Vernon Wells played third base in one of those games. Man, 2013 was weird as hell.
The Yankees closed a generally fantastic homestand — we all would have signed up for 5-2 ahead of time, right? right — with two losses to the Tigers, which is annoying. They play their next eleven games against the Rockies and Twins, so if the Yankees are ever going to climb the standings and make a run at a postseason spot, now is the time to do it. It starts tonight. Here is the Rockies' lineup and here is the Yankees' lineup:
CF Jacoby Ellsbury
LF Brett Gardner
2B Starlin Castro
C Brian McCann
3B Chase Headley
1B Rob Refsnyder
SS Didi Gregorius
RF Aaron Hicks
RHP Nathan Eovaldi
Looks like the Yankees will get some very nice weather during their two-day trip to Denver. It was sunny all day and the sky is clear. First pitch is scheduled for 8:40pm ET and you can watch on YES. Enjoy the game.
Injury Update: Carlos Beltran woke up with a sore knee and is unavailable. "It's a little worrisome," said Joe Girardi. Beltran is not scheduled to go for any tests and the hope is he'll be able to play tomorrow.