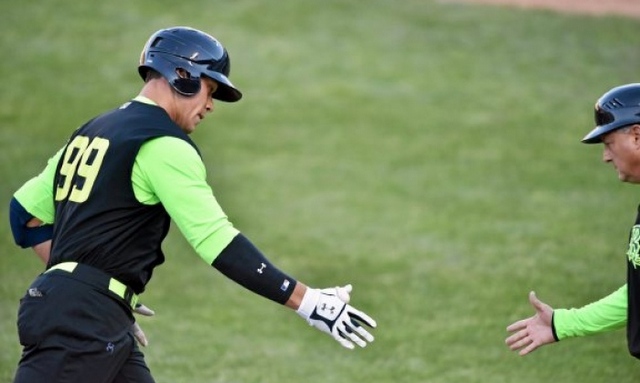 What a difference four weeks makes. At this time four weeks ago, Aaron Judge was mired in an ugly 0-for-24 slump with Triple-A Scranton, a slump that saw his season batting line dip to .221/.285/.372 (87 wRC+) with a 26.2% strikeout rate through 221 plate appearances. He hit .224/.308/.373 (98 wRC+) with a 28.5% strikeout rate in 260 plate appearances at the same level last year. His performance was going backwards.
Now, four weeks since the end of that 0-for-24 slump, Judge has raised his season batting line to .266/.352/.493 (141 wRC+) in 324 plate appearances while cutting his strikeout rate down to 23.8%. He's in the middle of a monster home run tear, going deep four times in his last five games, six times in his last ten games, and nine times in his last 15 games. Last night's homer was a bomb that scared a bird:
Four weeks ago folks were discussing whether Judge's development was stalling out. We even got a few mailbag questions asking about a possible demotion. Now, after this home run binge, everyone wants him called up. Alex Rodriguez is on the bench and Carlos Beltran is spending more time at DH, creating an opening in right field. Judge is a perfect fit. (Assuming he doesn't get the Rob Refsnyder treatment, of course.)
"I'm not sure yet," said Brian Cashman to Ryan Hatch yesterday when asked about the possibility of Judge being promoted. "He's on a really nice roll right now. There's some things he's definitely improved upon, but our first alternative is to see what (Aaron) Hicks can do. And Refsnyder, in fairness."
The Yankees haven't given us a reason to think a Judge promotion is imminent, but his recent tear makes this a conversation worth having. After all, once a guy starts producing in Triple-A, that makes him a big league option. Here are three thoughts on the matter.
1. Let's not overreact to small sample sizes. We go through this every year. A few great weeks does not mean a prospect deserves to be promoted the same way a few awful weeks doesn't mean he deserves to be demoted. Every player has peaks and valleys throughout the season. When it comes to prospects we don't watch every single day, the normal ebb and flow of the season can be easily misconstrued as a change in skills. Most of the time it's just baseball being baseball. We have to keep that in mind.
2. Judge is still making adjustments. Over the winter we heard Judge spent a bunch of time in Tampa working with the player development staff, most notably minor league hitting instructor James Rowson, making adjustments to help him handle soft stuff away. He's a massive human with a lot of strike zone to cover, and experienced Triple-A pitchers picked Judge apart with soft speed stuff on the outer half.
As a result of that work, Judge showed up to Spring Training with a new leg kick. He also lowered his hands ever so slightly. Here's a GIF I made back in March. The clip on the left is from Spring Training 2015 and the clip on the right is from Spring Training 2016. The bigger leg kick is impossible to miss.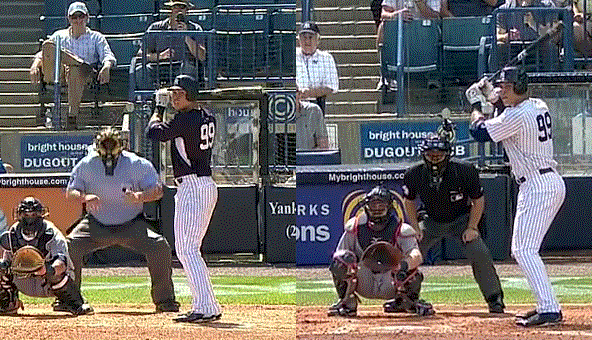 Now here's the thing: Judge is still making adjustments to his setup and stance at the plate. Did you notice his hands in the home run video above? Take a look at how he's setting up now: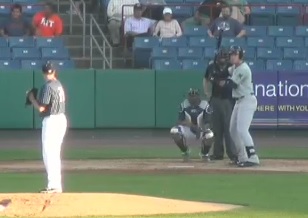 The umpire's black uniform makes it tough to see, but Judge has his hands way out in front now. Before they were up high around his shoulder. Now they're out in front of his chest and he's pointing the bat straight up in the air. That's an awfully big difference, no? Yes, yes it is.
"He made an adjustment to (his) hands," said Refsnyder to Chad Jennings recently when asked about Judge's recent home run binge. "I think it was something with his shoulders to get his hands adjusted, to make sure his hands get to the ball as efficiently as possible."
All the adjustments he's made this year — the leg kick, lowering his hands, etc. — show Judge is still in the process of finding out what works best for him at the plate. He deserves to be given more time to figure things out. Judge is a very unique prospect because of his size. He's not your normal college bat. The fact he's made so many adjustments is encouraging and shows he's not only a hard worker, but has good baseball aptitude. Give him more time to get comfortable.
3. Not calling him up now doesn't mean not calling him up ever. As it stands right now, bringing Judge up to the show would essentially be asking him to be a savior. Fair or not, he'd be looked at as someone the Yankees hope will improve their generally underwhelming offense. That's a lot to put on a young player making his MLB debut — "hey kid, go save the Yankees' season, and if you don't, you're a bum!" — even a young player as impressive as Judge.
That doesn't mean Judge should not be called up at all. The Yankees have players ahead of him on the right field depth chart (Hicks, Refsnyder, Ben Gamel, etc.) and Judge is still make adjustments, so they can afford to be patient. The team seems much more likely to slip further back in the postseason race than climb back into it, so come the trade deadline, the perception may shift from "Judge is a savior" to "it's time to look towards the future." There's a big difference there. Anything the Yankees can do to ease the jump to MLB is a plus in my book.
* * *
For now, the only thing Judge's hot streak shows is that he's capable of recognizing his flaws and making adjustments, and that's pretty rad. The hot streak does not mean he belongs in the big leagues the same way the cold streak didn't mean he was a bust. The right field job is wide open for Judge next season and that's exciting, and yes, it would behoove the Yankees to get his feet wet in the show at some point this year, even if he's only a September call-up.
The perception of Judge has changed dramatically these last few weeks because of his performance, which went from extremely bad to extremely good seemingly overnight. The home run binge sure is fun, but the Yankees should give their prized youngster some more time in Triple-A to figure out what works best for him, something they didn't really do with Luis Severino. It's pretty clear Judge is still working on things.