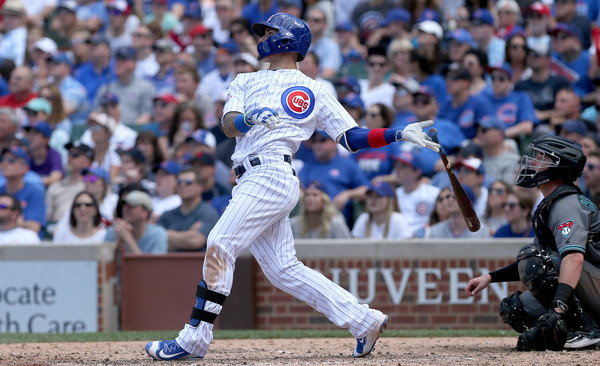 Now that the draft is over, teams are starting to shift gears and focus on the trade deadline. We've already seen Chris Coghlan, James Shields, and Kelly Johnson get traded in recent weeks, among others. The deadline is five weeks and five days away, and not many clubs are eager to throw in the towel and start trading away pieces just yet. We're seeing that now with the Yankees.
Among the teams certain to be buyers at the deadline are the Cubs, who have baseball's best record (47-22) and run differential (+169). The Cubs figure to have interest in several Yankees at the deadline, most notably their high-end relievers, so expect to see the two clubs connected these next few weeks. One player the Yankees could seek in return: infielder Javier Baez, one of Chicago's many fine young sluggers. Let's take a look at the 23-year-old.
The Offense
Baez is not a bat first player, but make no mistake, his bat is what makes him so highly touted. Back in 2014, the last time he was prospect eligible, Baseball America (subs. req'd) wrote Baez has "special bat speed and produces top-of-the-scale power," while adding he "has tremendous plate coverage and really has no true holes in his swing, which takes a direct and violent path to the ball." The offensive potential is special.
The results have not yet matched the offensive potential, however. Baez has left zero doubt that he's mastered the Triple-A level (.287/.347/.516 in 762 plate appearances), though in parts of three big league seasons, he's yet to really find his way. Here are his numbers in the show:
| | PA | AVG/OBP/SLG | wRC+ | HR | SB | K% | BB% | O-Swing% | Contact% |
| --- | --- | --- | --- | --- | --- | --- | --- | --- | --- |
| 2014 | 229 | .169/.227/.324 | 53 | 9 | 5 | 41.5% | 6.6% | 39.2% | 59.2% |
| 2015 | 80 | .289/.325/.408 | 98 | 1 | 1 | 30.0% | 5.0% | 40.0% | 67.7% |
| 2016 | 158 | .268/.314/.443 | 102 | 6 | 4 | 20.9% | 4.4% | 43.3% | 73.5% |
The positives: Baez has upped his overall production (in terms of wRC+) each year while cutting down on his strikeout rate and improving his contract rate. The negatives: Baez is walking less while swinging at more pitches out of the strike zone (O-Swing%). Then again, we're talking about relatively small samples here. Those 80 plate appearances last year? I'd pretty much ignore them. They don't tell us much.
Baez's natural talent is pretty obvious when you watch him play. So are his flaws. He's ultra-aggressive at the plate — he has a career 27.6% strikeout rate in Triple-A, higher than OMG he strikes out too much Aaron Judge (25.9%) — and advanced pitchers have used that aggressiveness against him. It appears Baez is making some progress in the discipline department this year, but we can't say that for sure just yet. Now, that said, when a guy can turn on 96 mph inside heaters like this …
… you take notice. Not many players can get the bat around that quickly on an above-average fastball, let alone drive it well out of the park. Baez has true 30+ homer potential, possibly 40+ at his peak. The bat speed is that electric. It's Sheffieldian. You just have to hope Baez develops enough plate discipline to tap into that power regularly.
The Defense
The Cubs originally drafted Baez as a shortstop and he's always been a very good defender at the position. Baseball America (subs. req'd) said he has "solid range to go with solid actions and a 70-grade arm" prior to the 2014 season. Chicago has moved Baez around a bit — they move everyone around it seems, that's Joe Maddon's thing — so he's also spent a bunch of time at second and third bases. He's even played some left field too.
You'd hate to waste a 70 arm at second base, so Baez would look best long-term on the left side of the infield. He has the tools for either shortstop or third base, though obviously he would be more valuable at short. Every player would. Point is, Baez offers some flexibility. He can play all over the infield and you could even stick him in the outfield in an emergency. The defense statistics don't help us much given the small samples, but based on the eye test and the scouting reports, Baez is an asset in the field. He adds value with his glove.
Injury History
Baez has been on the DL twice in his career, both times with kinda dumb fluky injuries. He broke his ring finger sliding into second base on a steal attempt in Triple-A last year, which sidelined him about six weeks. Then, in Spring Training this year, Baez suffered a thumb contusion on a headfirst slide. The Cubs were able to backdate the DL stint, so he returned only a week into the regular season. That's it as far as injuries go. Just two fluky injuries from sliding into bases. Could happen to anyone.
Contract Status
Assuming he never goes back to the minors, Baez will have five years of team control remaining after this season. He'll make something close to the league minimum in 2016 and 2017 before being arbitration-eligible from 2018-2020. It doesn't look like Baez will have enough service time to be a Super Two down the road. Then again, the upcoming Collective Bargaining Agreement may change things.
As best I can tell, Baez still has two minor league option years remaining. He was called up and added to the 40-man roster back in 2014, and never went down again that season. Baez burned an option last year and has been with the Cubs all of this season, so yeah, he has two options left. You don't want to use those though, right? Any team that acquires Baez wouldn't be doing so with designs of sending him down at some point.
Why Would The Cubs Move Him?
For what it's worth, Ken Rosenthal said earlier this week it would be "nearly impossible" for the Cubs to trade Baez, though that reads more like his speculation than rumor reporting. Either way, this is the time of the year when every young player is untouchable. No one wants to deal their youngsters and they would have to be blown away to do so and blah blah blah yadda yadda yadda. Same story every deadline.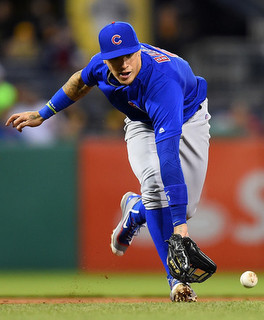 Here are the facts. One, the Cubs have a lot of infield depth. They have Coghlan and Tommy La Stella at the MLB level, plus Ben Zobrist can play anywhere. Utility man Munenori Kawasaki and third baseman Jeimer Candelario are waiting in Triple-A too. Not even counting Baez, they're three deep at second, short, and third bases thanks to Zobrist's flexibility.
Two, the Cubbies were reportedly willing to trade Baez over the winter. Scroll through the MLBTR archives and you'll see he was involved in Shelby Miller talks with the Braves and various trade talks with the Rays, mostly involving Alex Cobb and/or Jake McGee. In fact, Gordon Wittenmyer even reported the Cubs were close to sending Baez to Atlanta as part of a package for Miller before the Diamondbacks came in with their massive offer.
Do the Cubs want to trade Baez? Of course not. Every team wants to keep all their young players and make trades using guys they don't consider potential cornerstones. It doesn't work like that though. The Cubs were reportedly willing to trade Baez over the winter, and given their current infield situation, they're in position to discuss him again at the deadline. It sounds harsh to say he's expendable, but he kinda is.
Wrapping Up
We know the Cubs are scouting the Yankees' top relievers and it makes total sense. Chicago lacks a shutdown left-handed reliever — with all due respect, Travis Wood is not someone you send out there against guys like Bryce Harper or Brandon Belt in the late innings of a close postseason game, you know? — and the Yankees have two to offer in Andrew Miller and Aroldis Chapman. Assuming the Yankees sell, the Cubs are an obvious fit.
My guess is the Cubs would push for Miller over Chapman for a few reasons. One, the two extra years of team control. Two, Miller and Cubs president of baseball operations Theo Epstein have a relationship dating back to their time with the Red Sox. And three, Miller is straight up better than Chapman, at least so far this year. That wasn't the case from 2012-15 but it is certainly the case in 2016. Miller's been the best of the club's big three relievers by a not small margin, I think.
The Cubbies are going to want Miller (or Chapman) and the Yankees have every right to ask for someone like Baez in return. And the Cubs have every right to say no. The Yankees are in the driver's seat here. They're going to get a ton of offers for Miller (and Chapman) and can pick the best. If the Cubs don't get Miller or Chapman, who will they add to be that shutdown lefty reliever? Boone Logan? Xavier Cedeno? Fernando Abad? Sean Doolittle? Pretty big drop in quality there, eh?
For a one-time elite prospect, Baez has very high bust potential because he's so undisciplined at the plate. The Yankees would be taking on the greater risk in, say, a Miller-for-Baez swap. Miller is the proven elite big league performer in that scenario. (No, he's not "just" a reliever. Kirby Yates is just a reliever. Miller's a game-changer.) Baez may have big time bust potential, but the upside is enormous, and the Yankees lack players with star caliber tools.
Despite the obvious risk, I think the Yankees should push for Baez in any trade talks with the Cubs. Where would he play? I'm not sure. Worry about importing the high-end talent first, then sort it all out later. The Yankees have too many complementary players and not enough centerpieces. Baez has the ability to be a cornerstone type player, and those are the players each and every team should target in a trade.