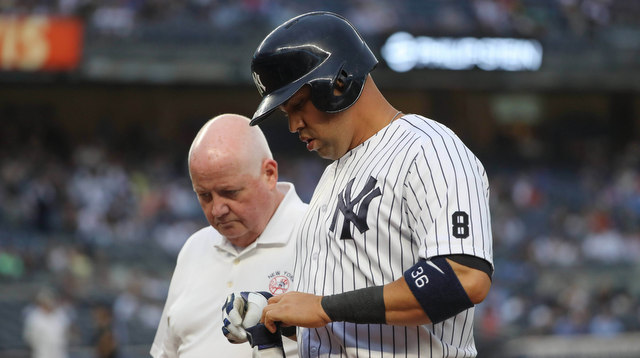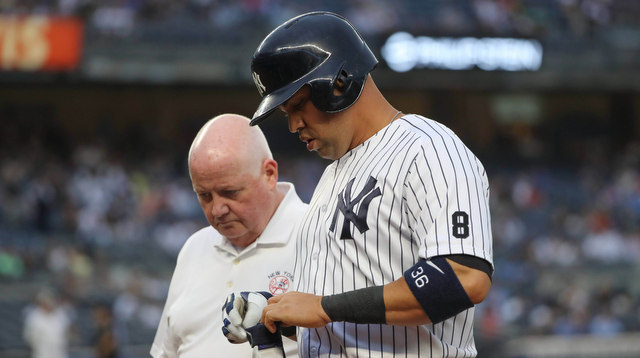 Last night the Yankees received a bit of a scare when Carlos Beltran pulled up slow running out a would-be double. He grabbed at his right hamstring before walking off the field with trainer Steve Donohue. An MRI showed nothing major — it was deemed nothing more than a cramp — and Beltran is day-to-day. The injury scare led to some thoughts, so let's get to 'em.
1. I firmly am on #TeamSell at this point and I really hope the injury scares the Yankees into selling at the trade deadline, if not sooner. (Let's call it "buying for the future." That sounds better.) I don't think there's a realistic chance the Yankees will do anything more than hang around the fringes of the wildcard race and win maybe 82 or 83 games tops. That's a waste of a season. It's time to make some moves geared towards the future. Beltran is one the club's top trade chips, and that's now two injury scares this month. He had the hamstring last night and had to have his knee drained in Colorado a few weeks back. The baseball gods are telling the Yankees to sell now before he breaks down any more. Same with Aroldis Chapman and whoever else they are considering dealing. Waiting the four and a half weeks until the deadline to make moves is awfully risky. Last night was a reminder.
2. Isn't it incredible how much the Yankees rely on Beltran to create offense? Exactly two Yankees had a 100 OPS+ or better going into last night's game: Beltran (136) and Chris Parmelee (376). That's it. Out of everyone. Even the guys with one or two plate appearances. Beltran and Parmelee. Everyone else has been below-average — not even average, below-average — in terms of OPS+. The Yankees have a few guys in the 95-99 OPS+ range and that's pretty much it. Beltran is the offense. I really have no idea how they would score runs without him. It's amazing anyone has pitched to him the last few weeks. I know the offense will be even more painful if the Yankees trade Beltran, but man, it's for the greater good. Besides, it's not like winning games will be a priority at that point anyway.
3. As much as I love him, I don't want the Yankees to put Alex Rodriguez back in the lineup full-time while Beltran is out, even if it's only for a day or two. It would be the easiest move, but I say to stick to the plan of sitting Alex against righties — the Yankees will face a righty starter tonight and tomorrow — and use the DH spot for someone else. Mark Teixeira's a good candidate given his recent knee trouble. That allows the Yankees to play both Rob Refsnyder (at first) and Aaron Hicks (in right), and I'd like to see those two get more at-bats. Just keep playing them and see what happens. If A-Rod does return to the regular lineup with Beltran out, then play Refsnyder in right over Hicks. Either way, Beltran's injury is an opportunity to give a young player at-bats. Someone who might actually have a future with the team. That's the silver lining.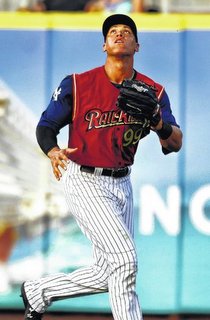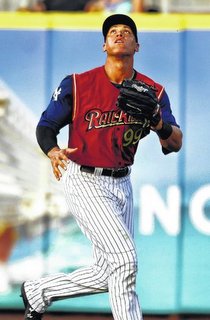 4. As soon as the injury happened, I couldn't help but think about the possibility of an Aaron Judge call-up. Would it be exciting? Hell yes. But I stand by what I said yesterday. Give him some more time in the minors as he continues to make all these adjustments at the plate — he's added a bigger leg kick and lowered his hands and who knows what else this year — and go with someone else in right. Hicks, Refsnyder, Ben Gamel, whoever. A prospect's timetable should not change because someone else gets hurt. Judge didn't suddenly become MLB ready because Beltran felt something in the hamstring, you know? This guy is not just the right fielder of the future. He's the right fielder of the future and possibly the No. 3 or 4 hitter of the future. Calling Judge up now would feel like a panic move to me, and those are the worst possible moves you can make.
5. One non-Beltran thought: man does the James Kaprielian injury suck. He had all the look of a quick moving college starter who could maybe help the Yankees late this season, but instead he's looking at a lost year of development. Even if his upcoming trip to see Dr. ElAttrache brings good news, a strained flexor tendon typically requires several weeks of rehab, and you know the Yankees are going to play it safe. Kaprielian's season may very well be over and that totally bites. Even if he didn't reach the show this season, he figured to put himself in position to be an early call-up next year, and that was exciting. Now, who knows? Maybe the Yankees should just forfeit all their first round picks to sign free agents going forward. It seems they're all cursed. Sigh. I guess no good velocity spike goes unpunished.