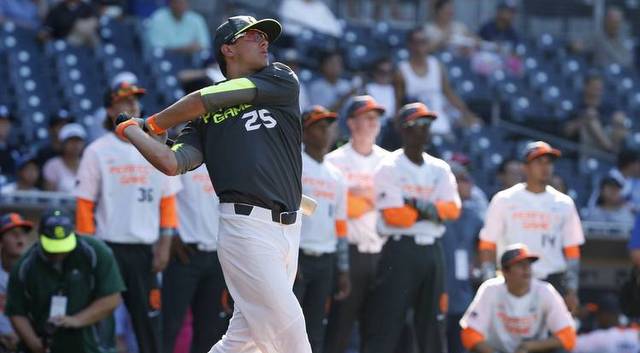 The marathon 2016 amateur draft is complete. The Yankees drafted 40 players from Thursday through Saturday — here are our Day One, Day Two, and Day Three recaps — and now we have to see how many of those 40 they actually sign before the July 15th deadline. It's usually somewhere around 25-30. We'll see. Anyway, I have some thoughts.
1. It's hard not to love the California HS OF Blake Rutherford (1st round) pick. All the major scouting publications ranked him as a top ten talent, and the Yankees were able to get him with the 18th pick because of bonus demands and his age. Rutherford turned 19 last month and some are acting like he's about to collect social security. It's not like his 20th birthday is right around the corner. Slot money for the 18th pick is $2.44M and my guess is the Yankees end up signing Rutherford for something closer to $4M. They've spent over their bonus pool the maximum allowed without forfeiting a future first round pick last few drafts, so they might sign their picks from rounds 2-10, then take all the leftover money and drop it in front of Rutherford. That's essentially what they did with James Kaprielian last year and Aaron Judge a few years ago. Either way, I fully expect Rutherford to sign. The Yankees did their homework and know what number they need to meet.
2. I'm pretty pleased by the Louisville 2B Nick Solak (2nd) selection. He can really hit. Maybe not for much power, but he can drive the ball from line to line and he's willing to take a walk, plus he offers some speed. So basically the only thing he can't do at the plate is hit the ball over the fence consistently. As long as Solak plays passable defense at second base, he'll be a nice little player. I buy into his bat much more than I do some other college middle infielders the Yankees have drafted in the top ten rounds in recent years, like Kyle Holder and Vince Conde. Solak wasn't the sexiest pick in the world, but the kid can hit.
3. California HS RHP Nolan Martinez (3rd) is exactly the kind of prep pitcher the Yankees have been selecting early in Day Two in recent years. He's a three-pitch guy with a potential put-away pitch breaking ball and unusual polish for a high schooler. Drew Finley and Austin DeCarr, the team's third round selections in the previous two drafts, came into pro ball with the same basic profile. Don't get me wrong, every player is unique and their own individual, but there are definite similarities. I kinda feel like I should have seen the Martinez pick coming. Three-pitch high school guy with polish from Southern California? Too easy. I have to remember to keep my eye on that demographic when looked at candidates for next summer's third round pick.
4. I need to learn a little more about Florida JuCo RHP Nick Nelson (4th) because Keith Law's scouting report (subs. req'd) in his AL draft recap is pretty ridiculous. "(Nelson) works with a plus fastball up to 95 and a plus curveball, with good command for his age, and his arm action and delivery point to future plus command as well," he wrote. Uh, a plus fastball and a plus curveball with the potential for plus command makes for a really really really good pitching prospect. That sounds too good to be true. Nelson is only 6-foot-1, so I imagine there is some concern about his ability to pitch downhill, but still. A plus fastball and a plus curve with a delivery that hints plus command is coming? In the fourth round? Yes please.
5. My favorite obscure pick: USC RHP Brooks Kriske (6th). He's been up to 96 mph with his heater this spring after sitting closer to 90-92 mph in the past, and he also has an average-ish slider that could improve with pro instruction. Kriske is a senior sign designed to save draft pool space for Rutherford first and foremost. He's not a non-prospect though. There's some power in his arm and this is a guy who went from a 16.8% strikeout rate his first three years at USC to 29.4% this year thanks to that extra velocity. Kriske's a pure reliever and the Yankee seem to have a knack for digging up random power arms from the college ranks.
6. This draft was definitely different than the last few. First and foremost, the Yankees shot for the moon with their top pick, which hasn't always happened. (To be fair, the team hasn't had a talent like Rutherford fall to them since I guess Gerrit Cole in 2008.) Secondly, they drafted way more high school players. They took 14 this year after taking 14 in the 2014 and 2015 drafts combined. College players were a definite point of emphasis the last few drafts. And third, just about every college position player they selected is bat over glove. That isn't to say defense is unimportant. It obviously is. It just seemed like the Yankees leaned a little too heavily towards the top glove guys in recent years. I don't know if this is all one giant coincidence or a shift in philosophy, but it's not hard to notice this all happened in the first full year since the Yankees made their player development staff changes, most notably hiring Gary Denbo to run the system.
7. It was interesting to see how the 2014-15 international signing period affected the 2016 draft. The Yankees loaded up on infielders internationally two years ago, so when it came time to fill out their rosters late in the draft this year, they had to go heavy on outfielders. They took ten total outfielders in the 2016 draft and only four infielders. Teams don't draft for need but they kinda do. Early on they take the best talent available because you have to. High-end talent is hard to get, so get it while you can. The later rounds are definitely about filling specific needs though. You need players to plug roster holes around the actual prospects, and for the Yankees, that meant bringing in a bunch of outfielders.
8. The new Collective Bargaining Agreement is due this offseason, and while I do think it will bring some changes to the draft, I don't think the bonus pools are going away. They're a way for the owners to save money and they're an easy concession for the MLBPA to make because they don't hurt union members. Given the way the draft works nowadays, I'd like to see them shorten it to 20-25 rounds or so. Forty rounds is unnecessary at this point. Give teams their 20-25 picks, then let them fill out their minor league rosters with undrafted free agents. These days 40 rounds is overkill. I think there's a chance draft picks will be made tradeable with some limitations in the next CBA, though I'm not optimistic. Making picks tradeable would certainly spice things up.