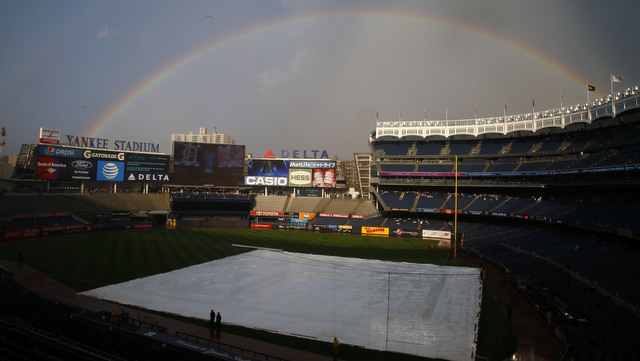 Wasn't it nice to have that off-day yesterday? The Yankees have been playing an awful lot of baseball of late, and it was good to get a little breather. Forty games in 41 days is one heck of a grind, even when you're sitting at home watching from the couch. Anyway, I have some thoughts, so let's get to 'em.
1. I didn't realize this until I looked at the schedule yesterday, but the Yankees play their next eleven games against the Rockies and Twins. They play two in Colorado and four in Minnesota, then come home to play two more against the Rockies and three more against the Twins. The Yankees have off-days next Monday and Thursday too, so everyone should be well-rested for those games. If the team is ever going to get above .500 and stay there, it has to happen during these eleven games. The Twins have by far the worst record in the AL, and while the Rockies aren't a total pushover (they're 30-33), they're a team you have to beat if you want to contend. I don't think it's a stretch to say the Yankees need to win at least eight of those eleven games to have a realistic shot at the postseason. The Yankees haven't had much luck against good teams this year but they sure do beat up on bad teams. Time to make a real move up the standings.
2. The middle relief is becoming a very big problem. The three guys at the end of the game have generally been very awesome, even with a few hiccups here and there. (No one's perfect.) The rest of the bullpen is a headache. The team's non-big three relievers have a 4.61 ERA (4.37 FIP) in 113.1 innings this year. Kirby Yates was solid for the first two months or so but has crashed of late. Chasen Shreve and Johnny Barbato both had a few good weeks before falling off. I'd rather not see the Yankees stick Chad Green and Luis Cessa in the bullpen full-time — Green hit 98.7 mph during his inning Sunday, you know — but they very well might be their best middle relief options right now. This is something that will have to be fixed at some point for the Yankees to stay in the race. Bryan Mitchell hopefully returning in August won't be enough.
3. I do love the way Joe Girardi has been using Aroldis Chapman. Girardi has already used Chapman on back-to-back-to-back days, something he never does with his other relievers, and he even ran him out there five times in the span of nine days last month. Last week there was a stretch where Chapman pitched four times in six days and warmed up on the two days he didn't pitch. Girardi is very much treating Aroldis like a pitcher who won't be around long-term, because he almost certainly won't. (I imagine the front office has given Joe some indication that will be the case, hence the heavy usage.) The Yankees don't want to work Chapman so hard that he gets hurt, they're not heartless, but they do want to get their money's worth out of him. I'm glad Girardi isn't treating Aroldis with kid gloves like he does some of his other relievers at times.
4. Without question, the feel good story of the season is CC Sabathia's renaissance. These last few years weren't easy for Sabathia both on and off the field based on everything we know now, yet he's been pitching like an ace thanks in part to his new cutter, a cutter that he actually throws (via Brooks Baseball):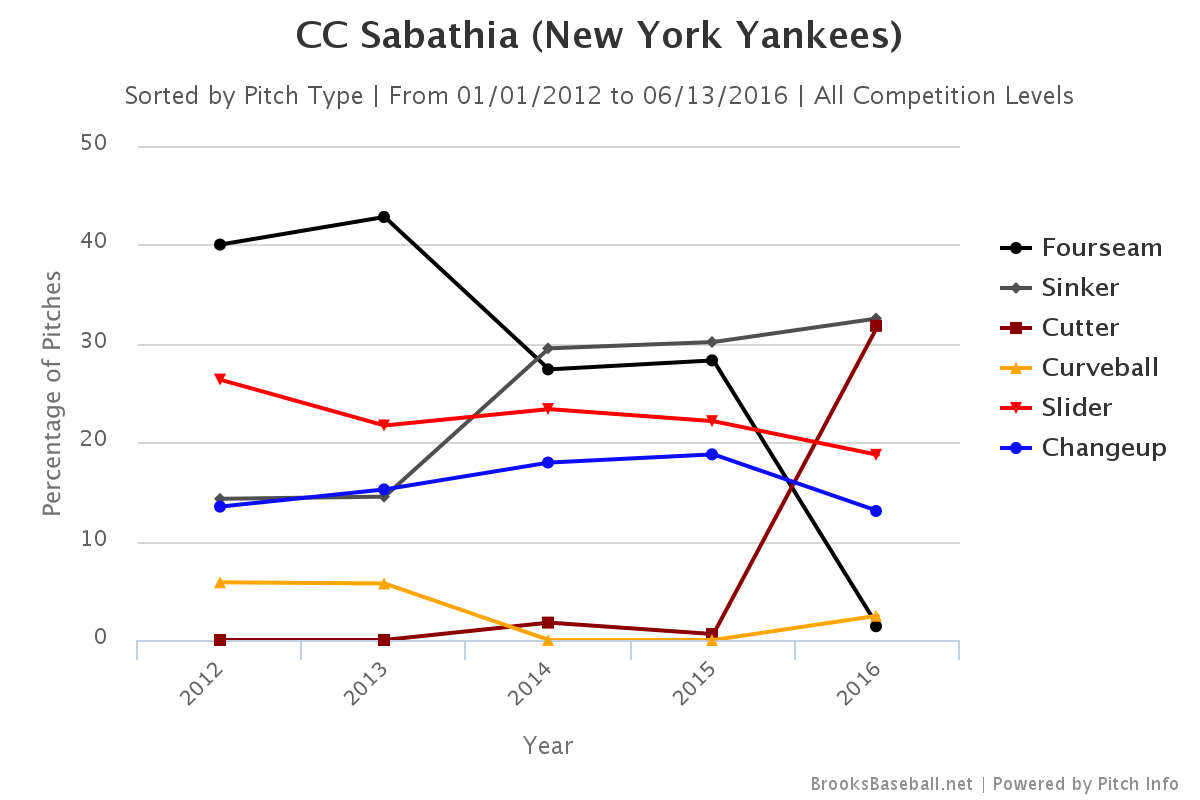 This is sort of an uncomfortable thing to talk about, but I can't help but wonder much of a factor Sabathia's sobriety is in his resurgence. Alcoholism consumes your entire life and it's not always easy to understand that if it's never impacted your life. Sabathia is presumably feeling much better mentally and physically these days. How could something like that not have an effect on the field? The new cut fastball — and the new knee brace, remember — definitely helps explain Sabathia's sudden effectiveness. I don't think it's the only thing though. His sobriety helps as well.
5. The Yankees basically had no choice but to sign Ike Davis over the weekend. They're down to their fifth string first baseman due to injuries, and that fifth string first baseman is a converted second baseman with about two weeks worth of experience at the position. No, I don't consider Tyler Austin a legitimate first base candidate after one great week in Triple-A. No, I don't consider Nick Swisher a legitimate first base candidate either because he hasn't done much to earn the benefit of the doubt the last two years and two months. Swisher's last season as an effective big leaguer was Mariano Rivera's and Andy Pettitte's final season. Yeah. Davis is a sound defender at first and he gives the Yankees a lefty platoon bat who can take aim at the short porch for the time being. When the top four players on your first base depth chart are out hurt, you can't afford to be picky when digging up a replacement. Davis was available, so they signed him. Simple as that.
6. Fun fact about the Davis signing: he is the first Major League free agent the Yankees have signed in 18 months. The last before him was … drum roll … Stephen Drew in January 2015. They famously did not sign a single big league free agent these past offseason, and given the way things have turned out, that was probably a good thing. A frickin' ton of free agent deals from this past winter already look regrettable — isn't that always the case? — and the Yankees aren't exactly one free agent away from contention. Even Juan Uribe, who was dirt cheap and wanted by pretty much everyone, has been awful. I'm not saying the Yankees should never sign free agents. That is hardly the case. I'm just saying that given their current situation, staying away from the free agent market was probably a smart idea. They need unload some of their veterans to make way for young players, not add more veterans.
7. When the Yankees activated Luis Severino and optioned him to Triple-A few weeks ago, Girardi compared it to the Roy Halladay situation back in the day, which is quite a stretch for me. Halladay had a 5.77 ERA (5.58 FIP) in 231 big league innings from ages 21-23 before the Blue Jays sent him to Extended Spring Training and had pitching guru Mel Queen basically rebuild his mechanics. One year later Halladay was one of the best pitchers in baseball and two years after that he won his first Cy Young. That was a 90th percentile outcome, basically. Severino is not in need of a total overhaul. His stuff is fine. He's been dogged by command and location issues, issues that existed before he was called up last year. A better comparison may be Max Scherzer, who was sent to Triple-A in 2010 with a 7.29 ERA (5.58 FIP) because his command of his secondary pitches was so bad. He was out there with a fastball and nothing else. Scherzer ironed some things out in the minors, then returned to the big leagues a few weeks later and pitched well. That's what the Yankees want to happen with Severino. Tweaks, not an overhaul.