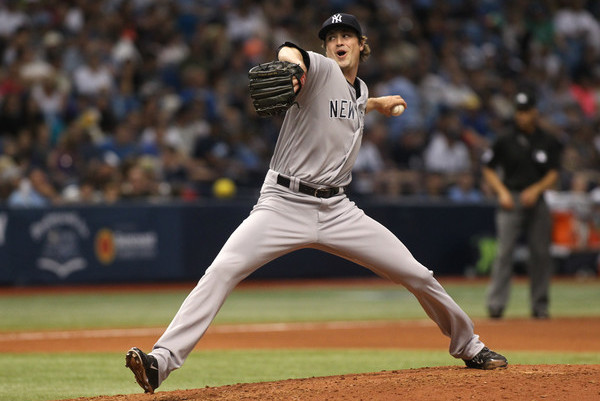 It has been three days since Yankees president Randy Levine told reporters any talk about selling was "nonsense," and boy, it would be much easier to make a snarky comment right now had the Yankees not come back to win that game last night. Still, their postseason odds are 9.0% per FanGraphs, and that's not good. Regardless of what Levine says, the Yankees have to seriously consider shifting focus from this season to the future before the trade deadline. Here are some miscellaneous trade notes, with one free agent note thrown in for good measure.
Cubs continue to scout Yankees' bullpen
The Cubs had multiple scouts at Yankee Stadium over the weekend to see the Yankees' big three relievers, reports George King. Chicago had scouts on hand to see those guys earlier this month too. While I'm sure the Cubbies would love to get their hands on Dellin Betances, my guess is they're focusing on Andrew Miller and Aroldis Chapman given their need for a late-inning southpaw.
For what it's worth, Buster Olney (subs. req'd) hears the Yankees will tell the Cubs they have to part with Kyle Schwarber to get Miller. Chicago doesn't want to do that, but they have plenty of other prospects and young big leaguers though, so when the time comes to field serious offers, Chicago can make a very competitive bid. Other contenders like the Nationals, Rangers, and Giants figure to be involved too, which is good news for the Yankees. Hooray bidding wars!
Beltran willing to waive no-trade clause
Carlos Beltran is one of the few big name Yankees without full no-trade protection — he can block deals to 14 teams — and he told Brendan Kuty that if the team comes to him to ask for approval for a trade, he'd be willing to okay the deal. "If they came to me about it, we would have a conversation," he said. "When the team is looking to trade you, there's no other decision to make other than go."
The Yankees received a bit of a scare earlier this week when Beltran left a game with hamstring injury — that's after receiving a scare when he needed his knee drained a few weeks ago — but thankfully he is only day-to-day. There don't figure to be many impact bats available at the deadline, so even with Beltran's defensive limitations, I imagine he'll generate a ton of interest. The Indians and Royals are two obvious fits. The Giants and Nationals could have interest too. Hunter Pence is out long-term with a torn hamstring, so right field is open in San Francisco. Ben Revere hasn't hit all year, so the Nats could put Beltran in right and slide Bryce Harper to center.
Dombrowski willing to trade with Yankees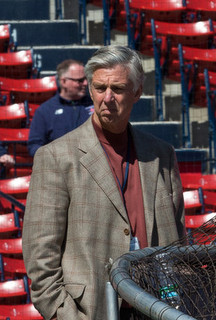 I wouldn't count on this actually happening, but Red Sox president of baseball operations Dave Dombrowski told Brian MacPherson he is open to making a trade with the Yankees this summer. "I have made trades within our own division," said the longtime exec, "… and the only time I've generally done that is when one club is in it and the other club is not. In that way, if they get the best return on their value, they don't really care. If they're in it and we're in it, probably the odds are longer."
I definitely understand why teams shy away from intradivision trades, but when you take the plunge and decide to sell, I think you're doing yourself a disservice if you don't consider all offers. I mean, teams don't make trades unless they believe they're coming out ahead, so theoretically an intradivision trade would make your roster stronger and a rival's weaker. A Yankees-Red Sox trade — a big trade, I mean, not something like Kelly Johnson for Stephen Drew — might get squashed at the ownership level. The prospect of losing a trade to your biggest rival is enough to make folks squeamish.
Yankees not believed to have much interest in Gurriel
Let's end with a note about a free agent, not a trade. At some point soon the Yankees will hold a private workout for Cuban infielder Yulieski Gurriel at their Tampa complex, assuming it hasn't happened already. Despite that, George King says the team's interest level is "not believed to be high." I would expect nothing less. Even if the Yankees have interest, they're not going to say so publicly. There's nothing to be gained by doing so.
Most see Gurriel as an impact middle of the order hitter, something the Yankees really lack. That said, he is already 32 years old, so he's at the age where you'd expect his game to start to slip. You're buying mostly decline years. Gurriel is a player you add if you're a contender right now and are looking for someone to put you over the top. He doesn't make sense for a rebuilding team that is years away from contention. The Yankees have the resources to avoid a long rebuild and the plan for the offense going forward can't simply be "hope the prospects work out." I get why teams would shy away from a 32-year-old with no MLB track record even if I don't necessarily agree with it.