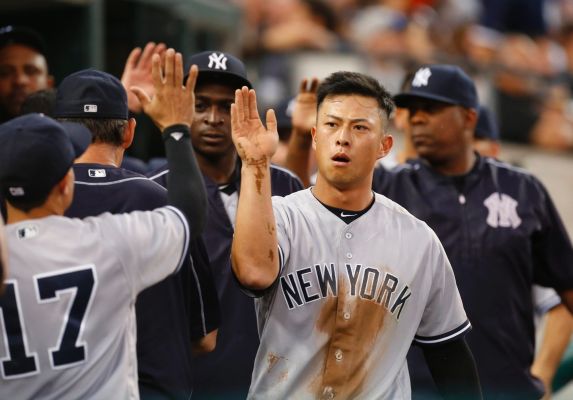 Refsnyder to the Rescue
The Yankees halted their mini-three-game skid with a 5-4 win against the Tigers on Thursday night. If not for Rob Refsnyder, the mood on the Yankees flight from Detroit to Baltimore would have been remarkably different.
Refsnyder played a starring role in the biggest moments of the game, starting with his leadoff double in the sixth inning which broke up Matt Boyd's unlikely no-hit bid. The 25-year-old went on to score the tying run two batters later on Jacoby Ellsbury's sacrifice fly, and then two frames later, he delivered a tie-breaking RBI single to give the Yankees a 2-1 lead.
It was Refsnyder's first career go-ahead RBI, and the first go-ahead RBI in the seventh inning or later by a Yankee second baseman against the Tigers since Alfonso Soriano on June 1, 2003.
Refsnyder's heroics might have stolen the headlines, but it was Michael Pineda's strong bounceback performance on the mound that made sure the Yankees had a chance to win this game. Pineda entered Thursday with the league's highest ERA among qualified pitchers (6.92), and in his previous four starts had surrendered a whopping 20 earned runs and 30 hits in 20 1/3 innings.
So, of course, Pineda pitched his best game of the season, allowing one run in 5 2/3 innings with eight strikeouts and no walks. He dominated the Tigers lineup with his wipeout slider, which generated 14 whiffs on 22 swings, a season-best 64 percent whiff rate for the pitch. Per Statcast data, Pineda now has 97 total swings-and-misses on his slider this season, second only to Clayton Kershaw among all major-league pitchers.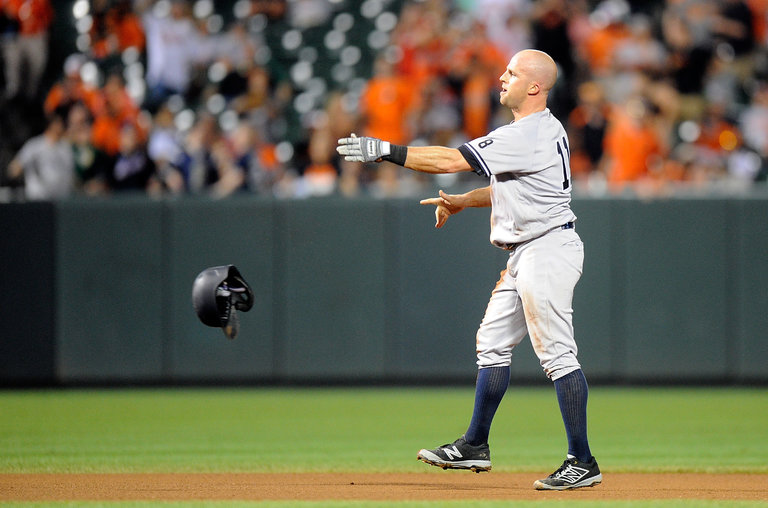 A trip to the (Not) Charm City
Baltimore has mostly been a miserable place for the Yankees in recent years — they entered this series with a 9-22 record at Camden Yards since 2013, their worst mark at any AL ballpark — and did little to reverse that trend in the series opener.
On a day when the Yankee bats surprisingly came alive, it was their recently-excellent starting pitching and normally-lockdown bullpen that struggled in Friday night's frustrating 6-5 loss.
Nathan Eovaldi, 5-0 with a 2.03 ERA in his previous five starts, was charged with five runs in 5 1/3 innings; the mortal version of Dellin Betances coughed up the game-winning run in the seventh.
A-Rod and Carlos Beltran did their part in sparking the offense with homers in consecutive at-bats in the fourth inning. They are just the third pair of teammates aged 39 or older to hit back-to-back home runs in major-league history. The others were Ted Williams and Mickey Vernon for the Red Sox on Sept. 21, 1957 and Jeff Kent and Luis Gonzalez for the Dodgers on April 29, 2007.
A-Rod breaks out
The Yankees used another unlikely offensive outburst — yes, it was unlikely for a team that began the weekend with the lowest batting average, on-base percentage and slugging percentage in the AL — to beat the Orioles, 8-6, on Saturday night. They piled up 16 hits, their most hits in a game at Camden Yards since Sept. 2, 2009.
A-Rod had his second three-hit game of the season and it was his RBI single in the ninth inning that might have been his most notable swing of the night. Vance Worley threw a two-strike slider that A-Rod sliced up the middle to score Aaron Hicks from second base. That was his first hit off a breaking pitch this season; he was 0-for-17 with nine strikeouts in at-bats ending in a curve or slider before that hit.
Jacoby Ellsbury scored the seventh run of the game on a well-executed double steal with Brett Gardner. It was the second time in 2016 that Ellsbury has stolen home, joining Chris Chambliss in 1977 as the only Yankees in the last 60 years with two steals of home in a single season.
The worst rain delay ever
For the second time in three games, the Yankees snatched defeat from the arms of victory. They had a 1-0 advantage in the eighth inning, and after sitting through a one-hour-and-37-minute rain delay, they blew the lead and suffered yet another brutal loss.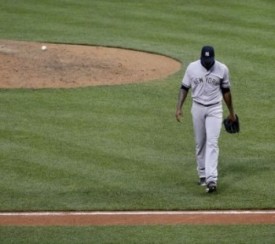 This one was different from the others, though equally gut-wrenching. For the first time this season, the Yankees lost a game when taking a lead into the eighth inning; they're now 25-1 in that situation.
It also clinched their eighth straight series loss in Baltimore, a wholly depressing and unprecedented streak. This is the first time that the Yankees have dropped eight series on the road in the history of this rivalry, which dates back to 1903, including when the Orioles were the St. Louis Browns.
Moving on to more positive notes … CC Sabathia turned in another stellar, though inefficient, effort with just two hits allowed in five scoreless innings. He needed 111 pitches to get those 15 outs, because of several long at-bats and a career-high-tying six walks.
The last Yankee pitcher to walk at least six guys and not give up a run was A.J. Burnett on Aug. 7, 2009 against the Red Sox. (That was the 15th inning A-Rod walk-off homer game.) Ya know, sometimes you can predict baseball.
Sabathia has now pitched at least five innings and given up no more than three runs in each of his last nine road starts, the longest such streak by a Yankee pitcher since Ron Guidry had nine starts in a row like that spanning the 1977 and 1978 seasons.