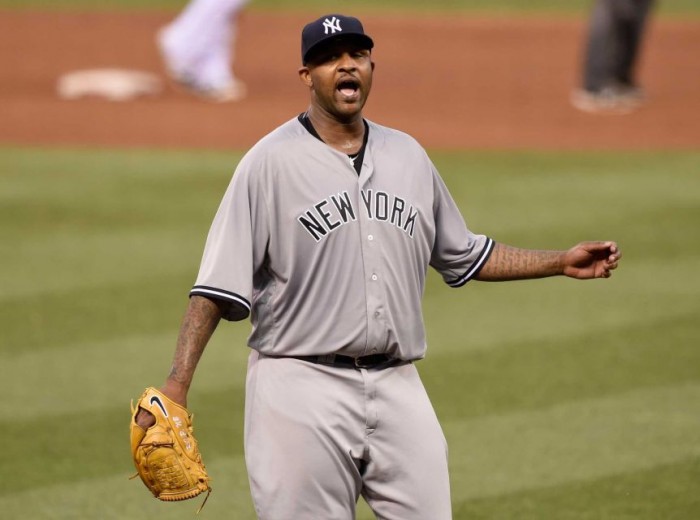 Sabathia heating up
There haven't been many enjoyable things to watch with this year's Yankees team, but one of them undoubtedly is the masterful, turn-back-the-clock season of CC Sabathia.
He continued his brilliance on Thursday, working out of several jams to pitch six innings of one-run ball in the Yankees' 4-1 win over the Twins. He put 10 guys on base but stranded nine of them, consistently generating weak ground ball outs to end rallies and finish off innings. His ground ball rate of 70.6 percent was his highest in a start this season.
Sabathia also dialed up the heat on his pitches and seemed to get stronger as the game wore on. His cutter (91.5 mph), sinker (93.3 mph) and slider (82.4 mph) each had their highest average velocities in a game this season, and he maintained that velocity as he approached 100-plus pitches late into his outing.
The large lefty now has a 0.82 ERA in his last seven starts, the lowest among all pitchers with at least 30 innings since the start of May through Thursday. Sure, that's an arbitrary endpoint, but consider this: Clayton Kershaw's best ERA over a seven-start span this year is 0.81 and his best seven-game mark last year was 0.82.
Didi Gregorius provided the margin of victory with a tie-breaking three-run homer in the seventh inning off lefty specialist Fernando Abad. The Twins reliever entered the game having allowed only three hits in 30 at-bats against lefty hitters this season, and had yet to surrender a longball to anyone. Didi, of course, entered the game with the best batting average among left-handed batters against left-handed pitchers in MLB this season — and won the strength-versus-strength battle.
The blast was also his second three-run homer in three games, which gives us this #funfact: Didi is the first Yankee shortstop to hit multiple three-run home runs in a three-game span since Roy Smalley, who hit two of them in a game against the Royals on Sept. 5, 1982.
Tanaka time
There's nothing like a trip to the Twin Cities to cure those losing-streak blues. The Yankees continued to pound a bad Twins team on Friday night, winning 8-2 thanks a balanced offense that scored early and often to support a stellar performance by Masahiro Tanaka.
Tanaka bounced back from a rough start last week against the Tigers, throwing eight innings of one-run ball with five strikeouts and no walks. It was his 11th game allowing two earned runs or fewer, the most such starts among all American League pitchers through Friday's slate.
The outing also marked his fifth straight start on the road with at least six innings pitched and no more than one earned run allowed. Only one other pitcher in franchise history has fashioned a streak like that in a single season: Whitey Ford, who did it in 1950, 1963 and 1964.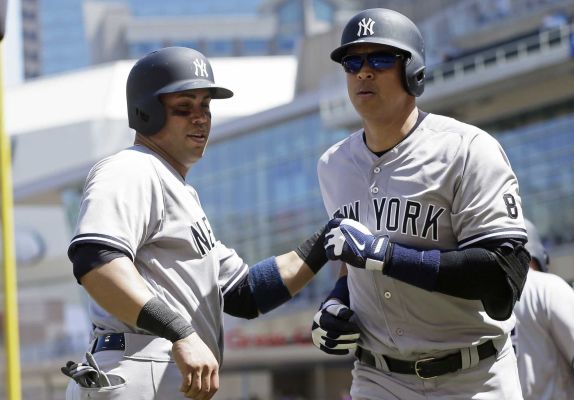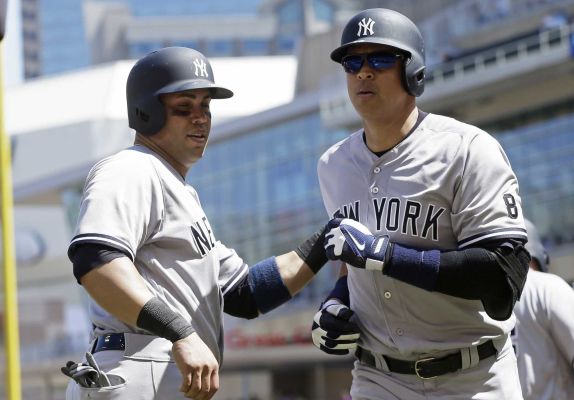 Comeback kids
Down 4-0 heading into the eighth inning, Saturday's game seemed destined to end in another frustrating loss. But then the Twins remembered who they were (a very bad baseball team), the Yankees remembered where they were playing (Target Field; aka Yankee Stadium Midwest), and their bats came alive to spark another late-inning rally. In the end, the Bronx Bombers had their first win this season when trailing after seven innings.
Alex Rodriguez — who was riding a season-high 11-game homerless streak entering this game — cut the deficit in half with a two-run blast in the seventh inning. That hit gave him 5,795 career total bases, passing Babe Ruth (5,793) for sixth place on the all-time MLB list.
Carlos Beltran then tied the game with an opposite-field homer in the eighth inning off Kevin Jepsen. His 18 homers are the most by any Yankee age 38 or older this early into the season, one more than Babe Ruth had through 68 team games in 1933.
Jacoby Ellsbury capped the comeback win with a bases-loaded RBI single in the next frame. It was the first time since joining the Yankees three seasons ago that he delivered a go-ahead hit in the ninth inning.
Aroldis Chapman made things interesting in the ninth inning as he tried to close out the game. He surrendered back-to-back two-out homers to Eduardo Escobar and Kurt Suzuki, which sliced the lead to 7-6, before he eventually got the save. Suzuki's shot came off a 102 mph fastball, the fastest pitch ever hit for a home run by any player in the Pitch F/X era (since 2008).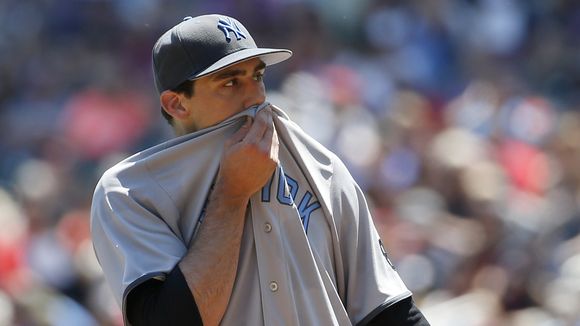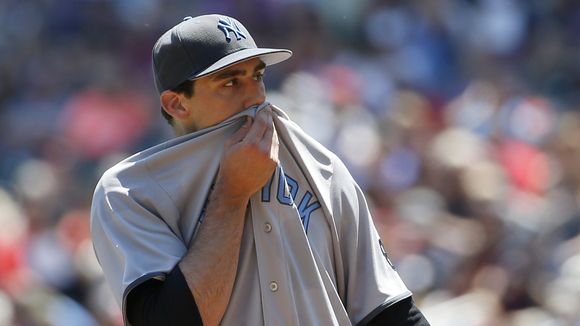 Sweep-less in Minneapolis
As much as the Yankees have dominated the Twins in Minneapolis recently, they couldn't complete the four-game sweep this weekend, blowing an early lead and losing 7-4 on Sunday afternoon.
The Yankees entered the final game of this series with a 19-5 record in the regular season at Target Field (and 2-0 in the postseason), a mark that was notable in several ways. It was the:
highest win percentage at Target Field by any AL team
highest win percentage at any stadium by any team since 2010 (when Target Field opened)
highest win percentage for the Yankees at any park over the last 100 seasons (min. 20 games)
The loss was even more improbable given the opposing starter, Ervin Santana, who had a 7.71 ERA in his previous five outings this season and who hadn't beaten the Yankees since August 1, 2008. His streak of 11 straight starts without a win against New York was the longest active winless streak versus the team by any starting pitcher.
Brian McCann broke out of his hitting slump in style, crushing two homers deep into the right-field seats and beyond; according to Statcast, they traveled 421 and 450 feet. Since 2008 (as far back as Statcast has batted ball distance), the only other Yankee with two homers of at least 420 feet in the same game was A-Rod on July 25 last season, also at Target Field against the Twins.