All good things must come to an end, including five-game winning streaks. The Yankees lost for the first time in nearly a week Saturday night when the Tigers roughed them up in the Bronx. The final score was 6-1. The Yankees fell back to .500 at 31-31.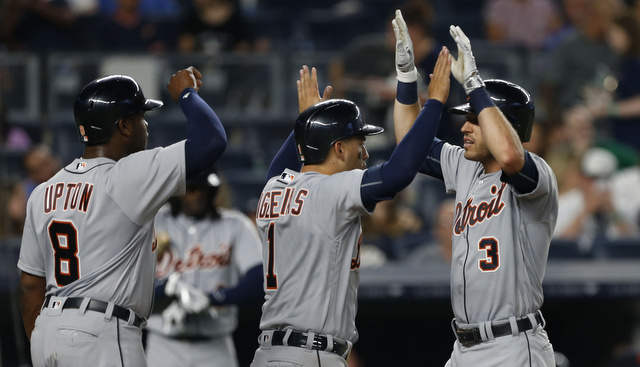 Tanaka's Two Mistakes
I thought Masahiro Tanaka pitched better than the box score indicates, but, at the end of the day, five runs in 6.1 innings is five runs in 6.1 five innings. He made a bad 0-2 mistake pitch to Nick Castellanos in the second inning, which Castellanos promptly deposited into the home bullpen for a solo home run and a 1-0 Tigers lead. Tanaka then retired eight of the next ninth batters, and the one who reached base was quickly erased on a double play.
Tanaka limited the Tigers to that one run before things got messy in the fifth. Justin Upton opened the inning with a single to left, then Detroit put runners on the corners with one out when Jose Iglesias poked a ground ball through the right side. Tanaka had his first major jam of the night, though he was still a double play grounder away from escaping. Instead, he threw an awful first pitch two-seam fastball to Ian Kinsler that ran back over the plate …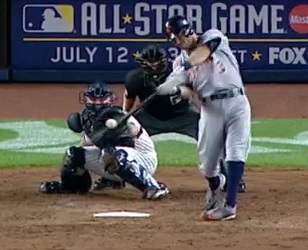 … and eventually landed in the left field seats for a three-run home run. It looked like the ball would hook foul at the last second, but alas. A three-run dinger and a 4-1 Tigers lead it was. Tanaka retired the next seven batters before a James McCann single ended his night with one out in the seventh. He came into the game having not allowed a home run in his last 30 innings, then allowed two in the span of four innings. Baseball.
One Run Ain't Enough
I know the offense has gone ice cold for long stretches of time this season and it's easy to bitch and moan when they don't score, but Justin Verlander was on his game Saturday, and that's really all there is to it. Sometimes you just get beat. Verlander's been insanely good of late — he came into this start having allowed ten runs and a .161/.220/.245 opponent's batting line his last six starts and 44.2 innings — and he was good again Saturday.
The Yankees should have scored their one run on a Chase Headley homer. He ripped a line drive the opposite way to left field that sure looked like it hit the foul pole based on replays, but the umpires ruled it hit the top of the wall. They reviewed it and everything. Still no homer. Headley wound up with a triple and Rob Refsnyder singled him in, so ultimately it didn't matter. The run scored. That was pretty much the extent of New York's offense.
Verlander limited the Yankees to that one run on five hits and a walk in 6.2 innings. Following Refsnyder's run-scoring single, Verlander retired 12 of the final 15 batters he faced, and two of the three baserunners came with two outs and the bases empty, so they weren't exactly prime run-scoring opportunities. What can you? Verlander was pretty awesome. It happens. Forget about it and come to play tomorrow.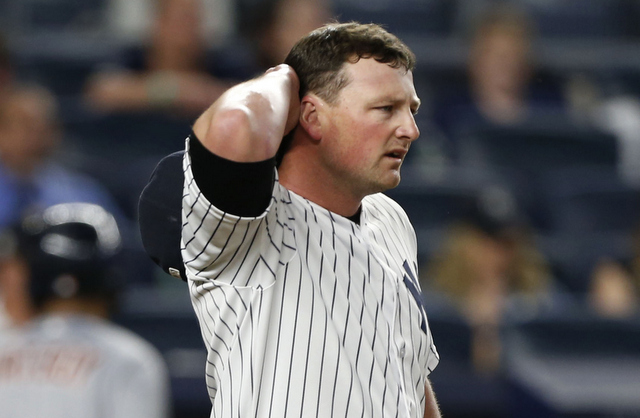 Leftovers
Whatever magic Kirby Yates had earlier this season has worn off. He replaced Tanaka in the seventh, allowed an infield single to Iglesias (whatever) and a booming double to center by Kinsler (yuck) to score two runs. Yates has now allowed seven runs in his last 8.1 innings. Middle relief is a major issue right now. The big three can't pitch every night.
Nice night for Refsnyder, who had been struggling since he took over as the regular first baseman. He ripped two hard-hit singles and also played a clean first base. Brett Gardner, Didi Gregorius, and Headley had the team's other hits. Gardner slapped a single to lift and Didi doubled into the left-center field gap. Headley non-homered.
The Yankees actually loaded the bases with two outs in the ninth, forcing Tigers manager Brad Ausmus to bring closer Francisco Rodriguez into the game. They didn't score, but maybe it's enough to put the O'Neill Theory into effect Sunday. That would be neat. Also, K-Rod pitched in a game he didn't real need to pitch.
And finally, we had some late-inning pitching weirdness. Former Yankees Shane Greene and Justin Wilson both pitched against the Yankees for the first time. Former Tiger Chad Green, who came over in the Wilson trade, did not pitch, though he did warm up in the bullpen. For shame. Joe Girardi has no sense of history.
Box Score, WPA Graph & Standings
ESPN has both the box score and updated standings, and MLB.com has the video highlights. We have Bullpen Workload and Announcer Standings pages too. Here's the win probability graph:

Source: FanGraphs
Up Next
Old Timers' Day! The festivities start at 11:30am ET on Sunday. The Yankees and Tigers will then play the rubber game of this three-game series at 2pm ET. Michael Pineda vs. Michael Fulmer is the scheduled pitching matchup. Head on over to RAB Tickets if you want to catch that game live.