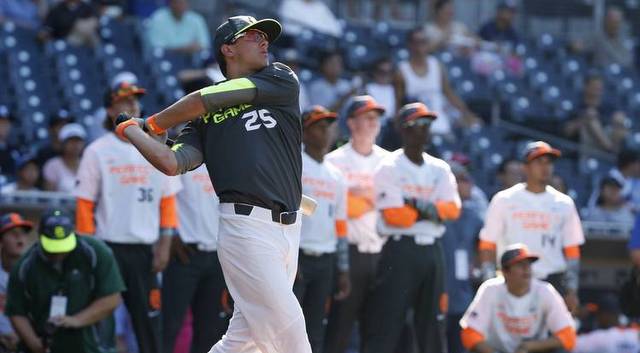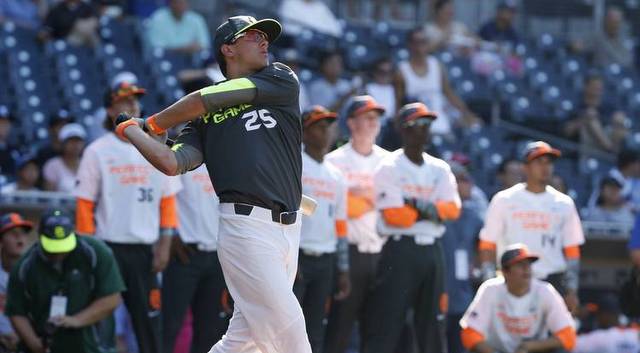 The Yankees have taken care of their most important piece of 2016 draft business. The team has signed first round pick Blake Rutherford, they announced this morning. He is heading to one of their two rookie level Gulf Coast League affiliates. Here's a photo of the contract signing.
Jim Callis says Rutherford received a $3,282,000 bonus. That's the absolute maximum the Yankees could give him without forfeiting a future first round pick. Here's our Draft Pool Tracker. The Yankees have less than $200 of bonus pool space remaining, so they won't be signing any late round picks to overslot bonuses. This seems like it was a "here's the most we can offer, take it or leave it" negotiation.
Rutherford was widely considered a potential top ten pick heading into the draft. Keith Law (6th), MLB.com (8th), and Baseball America (9th) all ranked him among the ten best players in the draft. Here's a quick little study I did looking at similar prospects, and here's a snippet of MLB.com's free scouting report:
The left-handed-hitting outfielder from the Southern California high school ranks can do just about everything on a baseball field. Rutherford has the chance to be an above-average hitter with above-average raw power. He'll record average to plus run times, and his speed helps him on the basepaths and in the outfield. Rutherford is a solid defender in the outfield, though most feel he'll move to right field in the future. The good news is his bat should profile just fine if that move does happen.
The Yankees have a pretty lousy track record with first round picks. Only two of their first rounders since 2007 have even reached the big leagues. Andrew Brackman (2007) threw 2.1 innings in pinstripes and Slade Heathcott (2009) appeared in 17 games last year. That's it. Obviously some of the recent picks are still in the minors, but still, that's almost ten years with zero impact from first rounders.
Now that he is officially signed, the 19-year-old Rutherford slots in neatly as one of the Yankees' five best prospects, joining Jorge Mateo, Aaron Judge, Gary Sanchez, and James Kaprielian. We could argue the exact order all day. Point is those guys are clearly the five best prospects in the organization, even after Kaprielian's elbow injury.
The Yankees have signed all of their picks in the top ten rounds, the picks tied directly to the bonus pool. They exceeded their bonus pool by $290,800 this year and will pay $218,100 in tax. The team has spent the maximum 5% overage and paid the penalties in each of the last few drafts now.