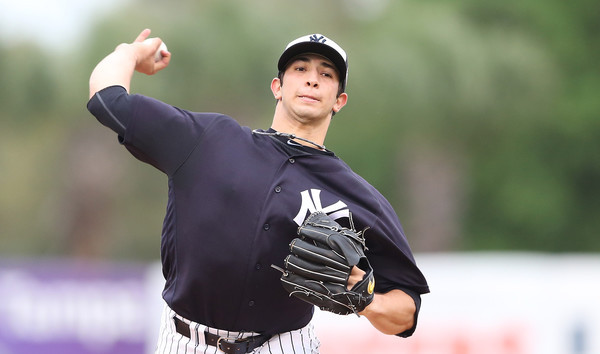 Out of all the trades the Yankees made over the last two offseasons, I'm not sure any of them was more surprising than the Justin Wilson trade. We know no one is truly untouchable, but Wilson was very good last year and he was an important part of the bullpen, which is the team's greatest strength. He seemed like someone who would wear pinstripes for a while.
Instead, the Yankees shipped Wilson to the Tigers for two Triple-A starters during the Winter Meetings. The combination of the general volatility of relievers — Wilson was a year removed from a 4.20 ERA and an 11.7% walk rate, after all — and the team's lack of upper level rotation depth led to the trade. It didn't help that guys like Mike Leake and Ian Kennedy were signing $70M+ contracts either. Pitching is getting harder and harder to acquire.
The two pitchers the Yankees acquired for Wilson, Chad Green and Luis Cessa, have both spent time in the big leagues this season. Green made a spot start a few weeks back and is probably next in line whenever the club needs another starter. Cessa made the Opening Day roster as a reliever, made one appearance, then was shipped down to Triple-A Scranton to continue his development as a starter.
The Yankees called Cessa back up three weeks ago, though I wouldn't blame you if you hadn't realized he was on the roster before he was sent down yesterday. Cessa barely pitched after being recalled. He threw an inning on May 24th, and, in his most notable MLB appearance to date, he threw four innings against the Rays on May 28th. Cessa allowed one run and struck out three in those four innings.
Beyond that, Cessa has been something of a forgotten man in the bullpen. He did warm up three times (!) Sunday afternoon and again Monday night, but never did get into either game. Richard Bleier has made three appearances since Cessa last pitched, if you can believe that. Joe Girardi clearly doesn't want to thrust the kid into high (or even medium) leverage work and that's understandable. The problem is Cessa was not pitching.
Over the last three weeks and four days, Cessa has made two appearances and thrown a total of 68 pitches. That's all. It's not enough for a 24-year-old kid who still could use some innings in the minors to work on his secondary pitches and overall refinement. That's why the Yankees sent Cessa down yesterday and replaced him with Anthony Swarzak. It wasn't because they feel Swarzak is an upgrade over Cessa as the last guy in the bullpen.
The goal here was not necessarily improving the bullpen. I'm willing to bet Cessa would out-pitch Bleier and Swarzak if given the same opportunity. No, the goal is to continue Cessa's development and put him in a position to really help the Yankees down the road. He needs innings and he's not getting them. It's pretty simple. I have a really hard time thinking all this inactivity is a good thing for Cessa's development.
The Yankees have been saying since Spring Training that they view Cessa as a starter long-term and that's wonderful, but how are they helping him prepare for that role? They weren't by letting him sit in the bullpen. He was sitting around waiting for blowouts, which rarely happen nowadays because the Yankees don't score and their starters have been pretty good the last month or so. That's why Cessa's pitched twice in the last three weeks and three days.
We have no idea what Cessa will be long-term. He might fade away into oblivion as Hector Noesi 2.0 and make the Wilson trade a miserable failure. Or he might be the next Adam Warren and provide valuable innings. We'll find out eventually, and the only way to find out is to let him pitch, either in MLB or Triple-A. Yesterday's move was made because it was time for the Yankees to make Cessa's development a priority.