Now that the All-Star break has arrived, it's time to look back and review the first half of the season. We've already looked at the catchers, infielders, outfielders, bench, and rotation. Now it's time to cover the bullpen.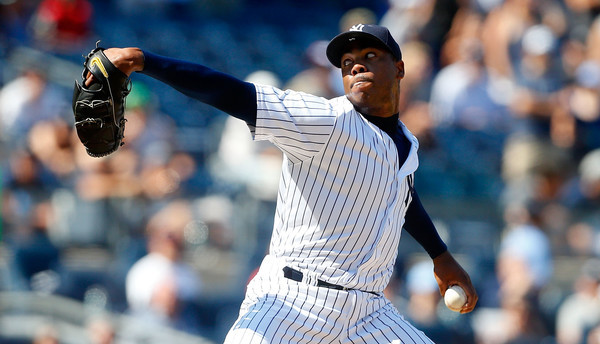 The Yankees have two very different bullpens this season. There's the good part of the bullpen, which is the three-headed monster at the end of the game. Aroldis Chapman, Andrew Miller, and Dellin Betances have all been spectacular. They've combined for a 2.15 ERA (1.57 FIP) with 185 strikeouts in 108.2 innings. Yeah. Ridiculous.
Then there's the other part of the bullpen. The bad part. That's basically everyone else, including guys like Kirby Yates and Chasen Shreve. The non-big three relievers have a 4.91 ERA (5.27 FIP) in 155.2 innings. Yikes. That's not so good. The bullpen overall has a 3.78 ERA (3.56 FIP) on the season. The Yankees definitely have a top heavy relief crew. Chapman, Miller, and Betances are incredible. None of their other relievers are reliable. Let's review the primary bullpen arms.
Aroldis Chapman: The Temporary Yankee?
When the Yankees acquired Chapman, they were able to do so at a discount because of his pending suspension under the league's domestic violence policy. No one knew what to expect. Chapman was the first player suspended under the new policy, and he was given a 30-game ban even though he was not charged with a crime. He served his suspension and joined the team in early-May, and immediately took over as closer.
Chapman has been as advertised in his limited time with the Yankees. Is he throwing hard? Yes. His fastball has averaged (averaged!) 100.5 mph and topped out at 104.5 mph. Is he striking out a ton of batters? Yep. Nearly four out of every ten (38.4%, to be exact). Is he wild? Well, not really. His 6.1% walk rate is (by far) a career low and his 58.5% zone rate is (by far) a career high. Chapman's been dominant and resilient, pitching in 26 of 58 games since his suspension ended. That's a 72-appearance pace over a full season. He got seven outs (!) in his final appearance of the first half:
Chapman has saved 17 games in 18 chances and pitched to a 2.49 ERA (1.91 FIP) in 25.1 innings since coming back from his suspension. He has been as good as ever, and that shouldn't be much of a surprise. It's not like he started the season late because he got hurt. Regardless of how you feel about Chapman as a person following his domestic violence incident, the man is a dominant force on the mound.
Second Half Outlook: The Yankees should trade Chapman at the deadline. There's no reason to think they are capable of going on the type of run necessary to get into the postseason — they're 5.5 games back of a wildcard spot with six teams ahead of them, so yeah — and Chapman could bring back a hefty return at the trade deadline. Definitely something worth more than the draft pick the Yankees would recoup if they lost him as a free agent after the season. Will the Yankees actually go through with it and trade Chapman? I think they will. We'll find out soon enough.
Andrew Miller: The Best Reliever in Baseball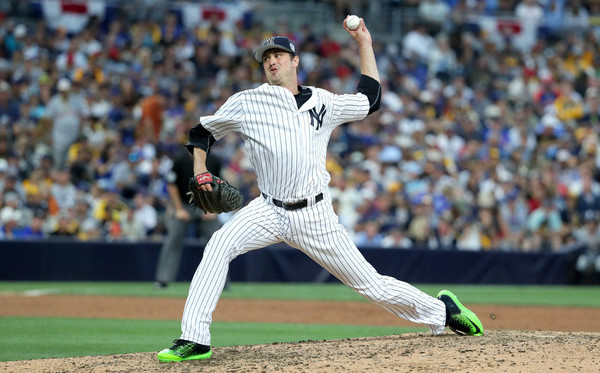 You could definitely make the case any of the Yankees' big three relievers is the best reliever in baseball based on their performance the last few years. In the first half, Miller has risen to the top and been not only New York's best reliever, but the best in all of baseball. A total of 124 relievers have thrown at least 30 innings this season. Among those 124, Miller ranks …
… eight in ERA (1.37)
… sixth in FIP (1.93)
… first in strikeout rate (46.6%)
… sixth in walk rate (4.1%)
… first in K/BB ratio (11.5)
… third in WHIP (0.71)
I know both fWAR (+1.5) and bWAR (+1.9) say he's been the third best reliever in baseball, but for my money, he's the top guy. No other reliever in the game ranks top eight in all of those categories above, and Miller does it while pitching high-leverage innings. And let's not forget he pitched with a fractured right wrist for the first few weeks of the season.
On top of the performance, Miller is also pretty much the perfect teammate. He opened the season as the team's closer, went 6-for-6 in save chances, then stepped into a setup role when Chapman returned with no questions asked. The guy is all about the team and it's hard not to love that. At a position where big contracts often go so very wrong, Miller has somehow been underpaid. He's worth every penny of his four-year, $36M contract.
Second Half Outlook: Unfortunately, Miller's excellence and affordable contract make him one very attractive trade chip, the kind of trade chip a rebuilding team would be smart to cash in. The Yankees listened to offers for Miller over the winter and didn't see anything they like. They'll listen again at the deadline because they'd be stupid not to. Will they actually trade him? My guess is no, but I'm not very confident in that.
Dellin Betances: Still Excellent Despite A Few Hiccups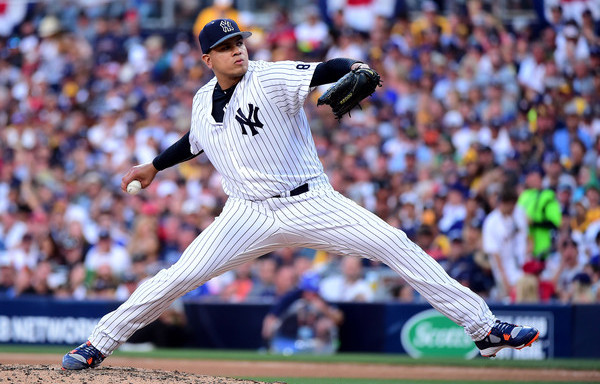 Betances has spoiled us the last few years. He's been so good since 2014 that this season feels like a down year, and yet, when you look at his numbers, you see a 2.66 ERA (1.20 FIP) with 78 strikeouts (lol) in 44 innings. Dellin has only walked ten batters too, giving him a career high strikeout rate (45.1%) and a career low walk rate (5.8%) through the first 88 team games. This is absurd. He's been outrageous.
Now, that said, Dellin has had some notable hiccups this season. He allowed a home run in three straight outings back in late-April — those are the only three homers he's allowed all season — and has also run into some bad ball-in-play luck that led to runs. Betances has somehow managed a career high ground ball rate (53.6%), a career high soft contact rate (31.8%), and a career high BABIP (.378). I mean … what?
The term "bad luck" gets overused so much nowadays, but I truly think Betances is running into some back luck this season. He's getting burned on a lot of soft grounders that either go for infield hits or sneak through to the outfield for singles. Those home runs back in April were hit mighty hard, no doubt about that. Otherwise Betances has been missing bats and getting weak contact. Some of that weak contact has come back to bite him, because that's baseball sometimes.
Second Half Outlook: Even if the Yankees decide to sell at the trade deadline, it's tough to think they'll part with Betances. Someone would have to really knock their socks off with an offer. He's not just unbelievably good, but he's also under team control another three years, and he'll make below-market salaries through arbitration. As long as Betances is healthy, it's safe to assume he'll be excellent.
Kirby Yates: The Obligatory Scrap Heap Arm
I'm mad at myself for not seeing it coming. Yates was the random scrap heap reliever the Yankees picked up over the winter who somehow managed to work his way onto the Opening Day roster. It happens every year. Last season it was Chris Martin. The Yankees have a knack for finding these guys, and hey, sometimes they're useful.
Kirby's usefulness lasted through May. He had a 2.25 ERA (3.13 FIP) in his first 20 appearances and 20 innings, and he really did a nice job stepping into the seventh inning role while Chapman was serving as suspension. As soon as the calendar flipped to June, Yates imploded. He allowed 13 runs and 21 baserunners in 8.1 innings in June, which was capped off by his brutal three hit batsmen meltdown against the Rangers following that long rain delay two weeks ago.
We haven't seen Yates since that game. He was sent to Triple-A the next day and he's been there since. Kirby has a 5.72 ERA (3.88 FIP) in 28.1 innings this season, which are the kind of numbers you expect to see from a scrap heap journeyman.
Second Half Outlook: Yates is not any kind of long-term piece for the Yankees. He's a spare up-and-down arm who we might see again whenever the Yankees need a fresh reliever. Assuming he isn't dropped from the 40-man roster at some point — he seems safe for a while, there are some others who figure to go first — Yates will be back once rosters expand in September at the latest.
Chasen Shreve: Still Broken
For much of last season, Shreve made an excellent fourth wheel to the Miller-Betances-Justin Wilson end-game trio. He struggled big time down the stretch and everyone — by everyone I mean Shreve and the coaching staff — chalked it up to fatigue, which was believable. He threw a ton of intense innings early in the season. This was a guy who was basically a mop-up man in the minors until 2014, when he decided to air it out rather hold back for the sake of location.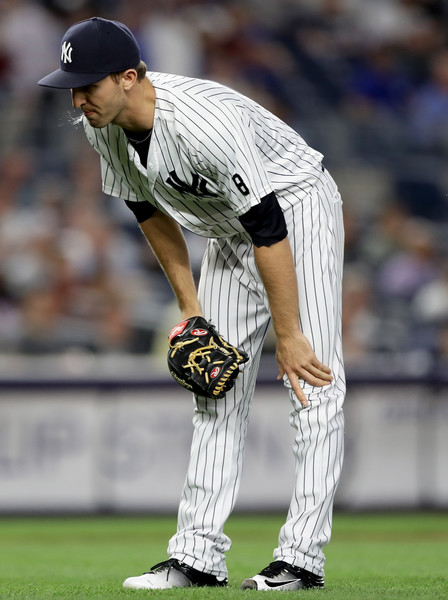 Shreve was excellent in Spring Training — he allowed one hit and one walk in ten innings — and it carried over into the regular season. His first six outings were scoreless. Shreve was back! Or so we thought. Many runs and dingers followed. Shreve allowed eleven runs on 14 hits and three walks in 13.2 innings from April 21st through May 25th. Seven of those 14 hits were homers. Seven! In 13.2 innings! Egads.
A relatively minor shoulder problem sent Shreve to the DL for a couple of weeks, and once he was healthy, the Yankees optioned him to Triple-A for about two weeks. He's since returned to the big league team and retired all seven batters he's faced across two outings. That's encouraging, but it's seven batters. Joe Girardi has been using him in low-leverage spots and understandably so. Shreve did allow eleven homers in a span of 24 innings from September 2015 through May 2016, after all.
Second Half Outlook: I really have no idea what to expect from Shreve in the second half. Runs and homers is the smart bet, but who knows? Shreve does have a nasty splitter, and if he gets it working again, he has the potential to dominate. Either way, Shreve is going to have to earn his way back into the Circle of Trust™. He's pitched his way out of it.