Now that the All-Star break has arrived, it's time to look back and review the first half of the season. We start today with the catchers. The Yankees know a thing or two about quality backstops, historically.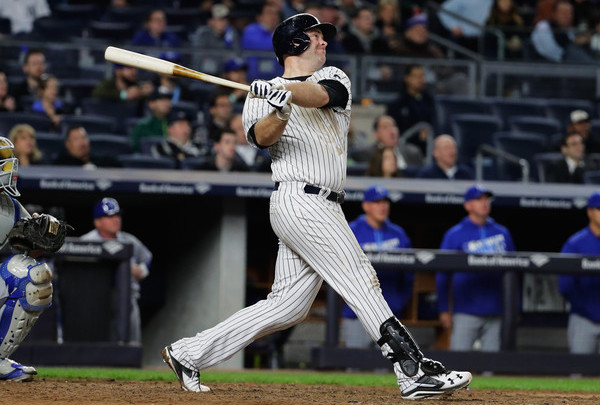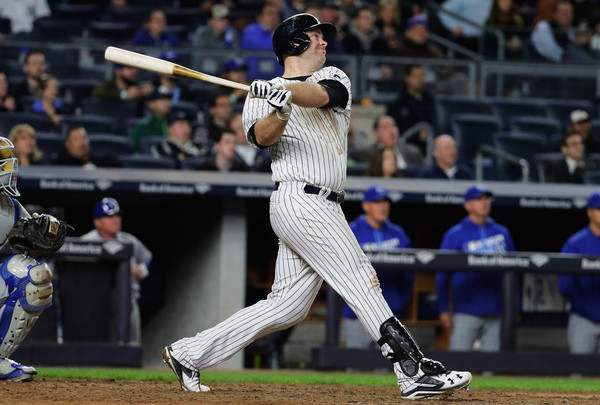 The Yankees came into the season with an open spot behind the plate. Not the starter, of course. Veteran Brian McCann is entrenched as the team's No. 1 backstop. The backup job was open following the trade of John Ryan Murphy, and for most of the winter it seemed top prospect Gary Sanchez would be the guy. Trade Murphy to clear a spot for Sanchez? Makes perfect sense.
That's not what happened, however. Austin Romine beat out Sanchez for the job, just one year after being designated for assignment and passing through waivers unclaimed. Romine out-performed Sanchez in Spring Training, and the fact Sanchez had minor league options and Romine did not surely factored into the decision as well. McCann and Romine have been the team's duo behind the plate all season. Let's review their first half of 2016.
Brian McCann: Steadily Unspectacular
It really does look like McCann's first year in pinstripes was an adjustment period. He hit .232/.286/.406 (93 wRC+) with 23 home runs that first season in New York, which is really good for a catcher, but I think that was a notch below expectations. The last two years have been much better, especially the first halves. Here are McCann's first half numbers the last three years:
| | PA | AVG/OBP/SLG | wRC+ | HR | BB% | K% |
| --- | --- | --- | --- | --- | --- | --- |
| 2014 | 330 | .239/.294/.377 | 88 | 10 | 6.4% | 14.8% |
| 2015 | 290 | .259/.331/.471 | 117 | 14 | 8.3% | 18.6% |
| 2016 | 274 | .248/.347/.462 | 115 | 14 | 11.7% | 19.7% |
Much, much better the last two years. McCann has never not hit for power, especially with the Yankees, but now the walks have returned, boosting his OBP. He's retained his ability to hold his own against lefties as well, hitting .235/.316/.451 (103 wRC+) against southpaws in the first half. McCann came to the Yankees having not hit left-handers in years. He's now put up good numbers against them all three seasons in pinstripes.
The offense has been more than fine relative to the position. Defensively though, it seems McCann's game has taken a step back this year. First and foremost, he's thrown out only 13 of 54 basestealers, or 24.1%. That's down from 36.8% the last two years. The Yankees parted ways with bullpen catcher Gary Tuck over the winter, and McCann credited Tuck for improving his throwing — he threw out 24.1% of basestealers his last two years with Atlanta — so his departure may explain the decline.
Both StatCorner and Baseball Prospectus rate McCann as one of the top pitch-framers in the game, so nothing has changed there. Blocking balls in the dirt seems to be a real problem though, and there's no real way to quantify that. McCann has allowed four passed balls and 16 wild pitches, and, uh, so? That doesn't help us. Those numbers don't reflect the balls that get by even though the runner doesn't advance, or McCann's technique. We've seen a few of these this year: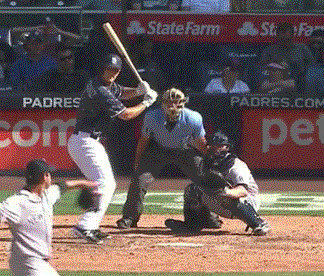 Pitch in the dirt, McCann stabs at it instead of getting his body in front of it, and the ball hops away. That particular pitch went in the books as a wild pitch and is thus blamed on the pitcher, but did McCann put himself in the best possible position to block that ball? Not really. I feel like that's been happening more often this year than it did the last two years.
Now, McCann is 32 and he's got over 11,000 big league innings behind the plate on his legs, so it shouldn't be a surprise that his mobility is not what it once was. It's easy for me to sit here and say McCann has let some balls get by because he didn't go down and square them up with his chest protector, but there's a self-preservation aspect to this as well. Jumping around and going to your knees all the time probably isn't such a great idea for a guy with all that wear and tear on his legs.
Overall, McCann has again been rock solid for the Yankees in the first half, especially on offense. He's been an above-average hitter thanks to his walks and power, he's picked up several big hits …
… and he's been good behind the plate defensively. As good as he's been in the past? I don't think so. But he's not Jesus Montero back there either. McCann, who was hampered by toe and elbow injuries at times in the first half, is doing exactly what the Yankees need him to do. Provide some pop and be a steadying presence behind the plate.
Second Half Outlook: McCann, like many Yankees, struggled big time down the stretch last season. He plays a grueling position and fatigue is inevitable, but obviously the team hopes to avoid a repeat. It's imperative if they want to make a run at a postseason spot. Extra rest — McCann has started 62 of 88 games behind the dish — could be in the cards.
Austin Romine: Latest Backup Catcher Factory Product
I'm starting to think the Yankees can pull someone out of the bleachers and turn him into a quality backup catcher. Romine is the club's third homegrown backup catcher in the last three years, and all three have been rock solid or better. Here's the list:
2016 Austin Romine: .265/.278/.441 (80 wRC+)
2015 John Ryan Murphy: .277/.327/.406 (99 wRC+)
2014 Francisco Cervelli: .301/.370/432 (130 wRC+)
Romine has been the worst hitter of the three overall because he hasn't matched Murphy's or Cervelli's on-base ability. He has hit for way more power though, mostly in the form of doubles. In fact, Romine has nine doubles on the season, the same number as McCann in 40% of the plate appearances.
The league average catcher is hitting .239/.308/.385 (84 wRC+) this season, and man, I wish there was an easy way to calculate the average line for backup catchers, because it would be way lower than that. In a vacuum, Romine has been a below-average hitter. In the world of backup catchers, he's been very good. That bar is extremely low.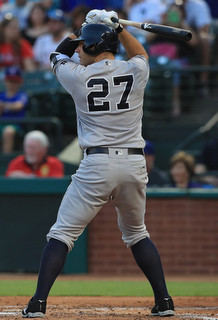 Defensively, the numbers say Romine has been pretty poor behind the plate. StatCorner and Baseball Prospectus rate his framing as average at best, basestealers are 12-for-14 (!) against him, and he's allowed nine passed pitches in only 227.1 innings. Yikes. He hasn't seemed nearly that bad to me. I was surprised to see such poor throwing and passed ball/wild pitch numbers.
Look at the numbers and wow, Romine looks bad on both sides of the ball. I guess he's appeared to be better watching him play — at least to me — because expectations were so low. Romine didn't hit at all in 2013, his only other extended stretch in the big leagues, and again, this is guy who went unclaimed on waivers last spring. It seemed he was only keeping the backup job warm for Sanchez, but he got off to a nice start and has kept the job.
The Yankees traded Cervelli after 2014 and Murphy after 2015. Will they trade Romine after 2016? Maybe! Sanchez is looming, after all. For now he's done an okay job as McCann's backup — Romine's .286/.305/.464 (95 wRC+) line against lefties has made him a fine platoon option — and allowed the Yankees to remain patient with Sanchez by giving him more time to work on his defense in Triple-A.
Second Half Outlook: Romine has been good, but not so good that he doesn't have to look over his shoulder. Sanchez has had a strong Triple-A season, and if the Yankees do decide to throw in the towel and sell, giving Sanchez a bunch of starts in the second half would make sense. Romine would be the odd man out in that situation.