Now that the All-Star break has arrived, it's time to look back and review the first half of the season. We've already looked at the catchers and infielders. Now it's time to cover the outfielders.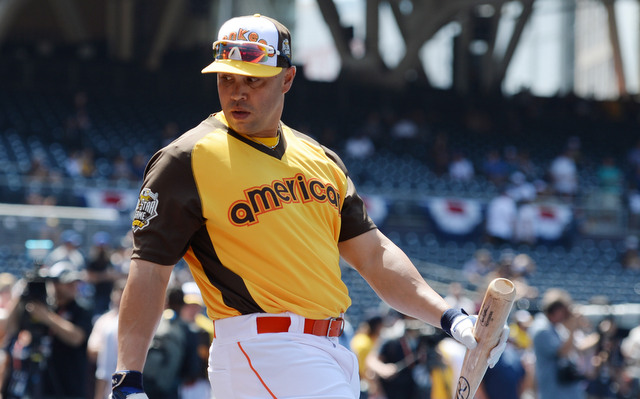 The Yankees have been making an effort to get younger over the last 20 months or so, but the one place they've been unable to do so is the outfield. They're locked into three veterans making good to great money, and despite their efforts to move one of them over the winter, the Yankees didn't get an offer they liked.
Brett Gardner, Jacoby Ellsbury, and Carlos Beltran returned as the starting outfield this season, and all three have been among the most productive players on the team. In fact, along with Didi Gregorius and Brian McCann, I'd said they were three of the Yankees' five most productive players in the first half. Let's review their seasons.
Carlos Beltran: Still Great After All These Years
Last April, Beltran looked done. Like done done. He was 38 and coming off surgery to remove a bone spur from his elbow, and he was caught so far between fastballs and offspeed stuff that it seemed like he was guessing at the plate. It was ugly. But, once the calendar flipped to May, Beltran raked the rest of the way, and it's carried over into this season.
Beltran was, by no small margin, the team's best hitter in the first half. He's hitting .299/.338/.550 (132 wRC+) with 19 homers in 320 plate appearances, and he leads the Yankees in … drum roll, please … AVG, SLG, ISO, OPS, OPS+, wOBA, wRC+, doubles, homers, and RBI. Pretty much everything except OBP. (He's fourth in OBP.) Carlos is 17th among the 167 qualified hitters in SLG and 21st in ISO, and he's 19th among all players in homers. He hasn't hit for this kind of power since he was in the prime of his career with the Mets.

Source: FanGraphs — Carlos Beltran
The signs of aging are there. Beltran walks less (5.3%) and strikes out more (18.4%) than he did during his prime, and good fastballs have given him a hard time, but otherwise he's still a very smart hitter with power who seems to have a knack for understanding how he's being pitched. He's even hitting lefties better than he has in years, putting up a 167 wRC+ against southpaws in 2016 after having a 75 wRC+ against them from 2014-15.
Beltran's offense has been better than I think anyone could have reasonably expected. Even as good as he was from May through the end of the season last year, it wasn't crazy to think the 39-year-old would slip some this year. That's baseball. Instead, Beltran has been a monster at the dish and he has been since Opening Day, really. He hasn't had any sort of extended slump this year. Most players will hit the skids for two or three weeks at some point. Not Carlos.
As you know, offense is pretty much the only Beltran provides these days. He doesn't run well and he's a terrible defender in right field. The Yankees have been able to give him more time at DH this year, first because Alex Rodriguez got hurt, and then because they're flat out benching A-Rod. Beltran seems to be running better this year than the last two years, and call me a cynic, but I can't help but that think that's tied to his upcoming free agency. He's playing for a contract and might be in a little better shape this year. Either well, Beltran has been the team MVP so far.
Second Half Outlook: One of three things will happen: One, the Yankees remain in the postseason hunt and they keep Beltran for a second half push. Two, the Yankees fall out of the race and trade Beltran to a contender at the deadline. Three, the Yankees don't contend and don't trade Beltran. Clearly, the third option would be the worst. I'd like to see the Yankees contend, but the team isn't cooperating, which makes a trade the best outcome. Carlos definitely played his way into some nice trade value in the first half.
Jacoby Ellsbury: Separating The Player From The Contract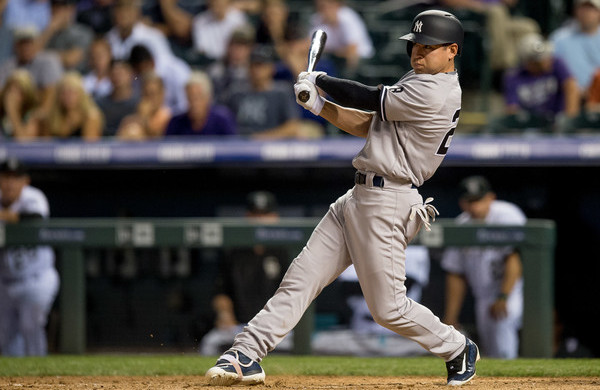 It's impossible to look at Ellsbury and assess his play without thinking about his contract. He's a good player making great player money, and so far this season Ellsbury has been exactly that: a good player. He owns a .279/.347/.398 (100 wRC+) batting line with four homers and 16 steals, and he's stayed mostly healthy too. That's always a question, unfortunately.
Ellsbury actually started this season rather slowly, hitting .235/.278/.341 (62 wRC+) with one homer and five steals in eight attempts in April. He's since hit .297/.373/.421 (115 wRC+) with three homers and eleven steals in 15 chances. Ellsbury has also walked (9.9%) nearly as often as he's struck out (10.7%). We haven't seen the disruptive baserunning this year, which could be a product of age — 32-year-olds usually don't run much — or a minor hip injury he dealt with earlier this season.
Defensively, Ellsbury has settled in after a weirdly poor start to the season. His days as a Gold Glover are over and really, at some point during the life of his contract he'll have to shift to left field. Not too many 33+ year olds are running around playing center at a high level these days. Ellsbury's range is still good and his arm … well sometimes his throws reach the cutoff man on one hop. Let's leave it at that.
Relative to his contract, Ellsbury is performing well-below expectations and he's not likely to get better as he approaches his mid-30s. Relative to other center fielders, Ellsbury is a solid player who is worth a roster spot on a contending team. When he gets hot, he gets really hot and can raise hell with his bat and his legs. He's just not someone you want to pay $20M+ a year. What's done is done though. Ellsbury has shaken off that slow start and is one of the more productive players on the team.
Second Half Outlook: Last season Ellsbury started well, then crashed horribly after returning from a knee injury. He's healthy now and the outlook going forward is much more promising. Ellsbury is a good all-around player, and now that he's hitting second rather than leading off, he figures to get some more opportunities to do damage with men on base. For the Yankees to have any chance at the postseason, Ellsbury is probably going to have to play at an All-Star level in the second half. He's vital to their success.
Brett Gardner: Same Ol' Brett, Just Without The Power
Brett Gardner is one boring baseball player. He's hitting .257 with a .353 OBP this season. Last year he hit .256 with a .343 OBP. His career averages? A .263 AVG and a .346 OBP. Boring! Outliers are much more fun. Gardner is reliably productive each and every year even though a large segment of the fan base seems to think otherwise.
The difference between 2016 Gardner and pre-2016 Gardner is his power, which was never his calling card anyway, but still. Look:

Source: FanGraphs — Brett Gardner
Gardner hit his power peak at ages 29-31 thanks in part to former hitting coach Kevin Long, who got him to be a little more aggressive and hunt fastballs early in the count. Gardner's power peak was basically a league average ISO, but this year he's well below that with a .098 ISO. He's hit five homers this year, his fewest in the first half since 2011, when he hit four. (Not counting his injury shortened 2012 season.)
Gardner's power outage is tied directly to his ground ball percentage. He's put a career-high 55.2% of his batted balls on the ground this year, up from 45.3% last year and 41.7% the year before. Furthermore, when he pulls the ball, Gardner is putting it on the ground 69.9% of the time. Two years ago it was 49.7%. That's no way for a left-handed hitter to take advantage of Yankee Stadium's short right field porch.
Offensively, Gardner is doing just about everything he usually does except hit the ball out of the park. He's hitting in the .255-.260 range, he's drawing a ton of walks (11.6%), and he's going to end up with 20+ steals again. The over-the-fence power isn't there like it has been the last few years though. Don't get me wrong, no one was expecting Gardner to swat 20+ dingers this year, but he might not even get to ten this season.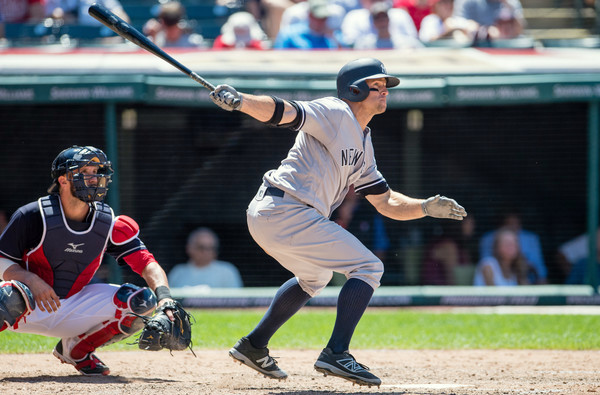 On top of the offense is Gardner's defense, which remains comfortably above-average and actually seems better this year than it was the last two years. Maybe it's just me. The various stats like UZR and DRS agree, but eh. Let's not rely on half-seasons of defensive stats. Between the solid defense and team-leading OBP, Gardner is once again one of the most productive players on the Yankees. His power has gone missing, and the Yankees have compensated by putting him in the leadoff spot, where the lack of pop is less of an issue.
Second Half Outlook: Gardner has a recent history of fading in the second half, but as long as he's healthy, I expect him to be rock solid. I suppose the Yankees could look to trade him as part of a deadline sell-off, though they figure to push Beltran a little harder in trade talks given his status as an impending free agent. As with Ellsbury, the Yankees will need Gardner to produce at a high level to make a run at a postseason spot.