Now that the All-Star break has arrived, it's time to review the first half of the season. We've already looked at the catchers, infielders, outfielders, bench, rotation, and bullpen. Now let's tackle the role players.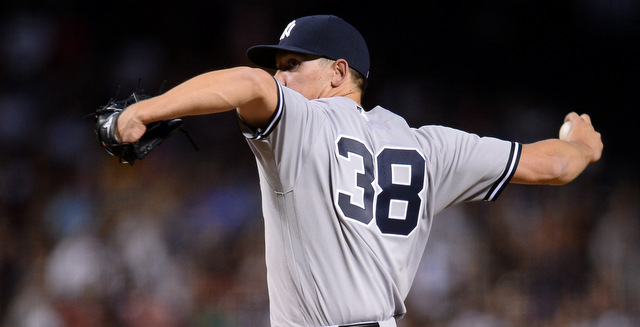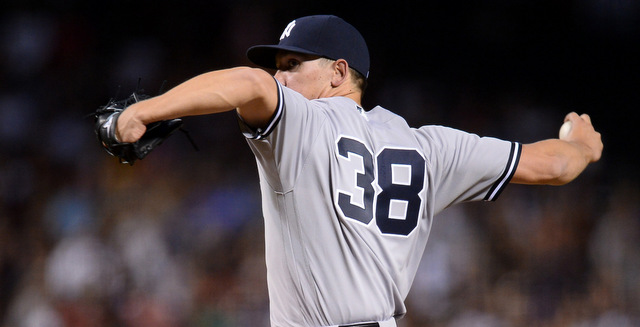 As always, the Yankees have had to dip into their farm system for help at times this season. That's mostly the result of injuries. Sometimes they called up a legitimate prospect and gave him a chance, like Rob Refsnyder, and other times they brought in a journeyman veteran to plug a short-term hole. Either way, they were all Yankees. Let's review the spare parts.
Chad Green: The Sudden Sixth Starter
Over the winter the Yankees looked at their rotation and bullpen depth, and decided to rob Peter to pay Paul. They traded reliable setup man Justin Wilson to the Tigers for two Triple-A starters because they figured they had enough bullpen arms, but not nearly enough starters. Starters under control beyond 2017, especially.
One of those two Triple-A starters is Green, who has spent the majority of the season with Triple-A Scranton, where he's been dominant. Detroit's 11th round pick in 2013 currently leads the International League in ERA (1.54 ERA) and FIP (2.18), and that performance has earned him three big league starts. One went well. Two didn't.
May 15th @ D'Backs: 4 IP, 8 H, 6 R, 4 ER, 1 BB, 5 K, 2 HR (MLB debut)
July 3rd @ Padres: 6 IP, 3 H, 1 R, 1 ER, 1 BB, 8 K, 1 HR
July 8th @ Indians: 4.1 IP, 5 H, 7 R, 7 ER, 2 BB, 6 K, 4 HR
Seven homers in 14.1 innings is really bad! Left-handed hitters have hit five of the seven homers, which makes sense because Green hasn't really shown a reliable changeup yet. He did add a cutter while in Triple-A between his first and second starts, which is promising, though clearly the Indians had no trouble with it last week.
Green did throw one perfect relief inning with the Yankees in mid-June, so right now he has a career 7.04 ERA (7.09 FIP) in 15.1 innings. Surely he's looking to improve those numbers, and my guess is he'll get multiple chances to do so in the second half. Green seems to have climbed to sixth in the rotation depth chart, ahead of Nathan Eovaldi and Luis Severino. How about that?
Second Half Outlook: If the Yankees do sell at the deadline, I could see them giving Green an extended look as a starter in the second half. There's really no reason to keep running impending free agent Ivan Nova out there in the second half if they're out of the race. More than likely Green will go up and down a few more times and be the team's sixth starter, giving the regular rotation members extra rest.
Nick Goody: The Last Shuttle Reliever Standing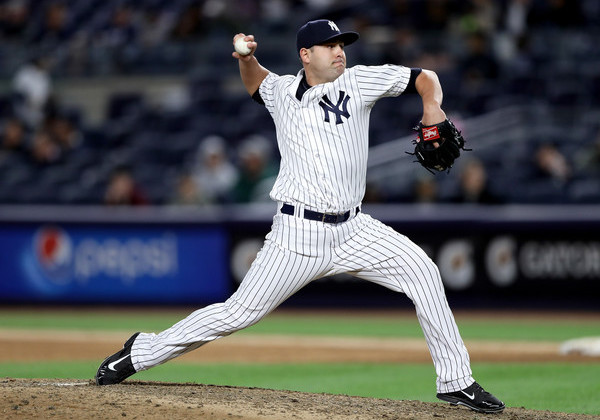 The Yankees opened Spring Training with a small army of Triple-A relievers ready to go up and down as needed. We saw it last year. It seemed like one or two of them would be given an extended look at some point this season, but that hasn't been able to happen. They've almost all gotten hurt. The list:
Jacob Lindgren: Stopped throwing strikes, then went down with an elbow injury.
Bryan Mitchell: Managed to break his toe covering first base in Spring Training.
Branden Pinder: Needed Tommy John surgery in April.
Nick Rumbelow: Needed Tommy John surgery in April.
The hope was one or two of those guys would step up and become a permanent piece of the bullpen. Instead, they've combined for one big league inning (by Pinder) this season. Baseball, man.
Goody is the last young shuttle reliever standing. He started the season in Triple-A but has had a few stints with the big league team, throwing a total of 22 innings across 19 games. Goody has a 4.91 ERA (4.59 FIP) in those 22 innings, and he's been alarmingly home run prone (2.05 HR/9). His strikeout (27.4%) and walk (5.3%) numbers are great! But there's more to life than that. Not a good year to be a young reliever with the Yankees.
Second Half Outlook: Goody is actually on the big league roster right now. He was called up when Green was sent down following his start in Cleveland. Something tells me Goody is going to end up back in Scranton at some point. Then back in New York. Then Scranton. Then New York. You get the point. He's the very definition of a spare up-and-down arm.
Plans E & F at First Base
At one point in the first half the Yankees had their Plan A (Mark Teixeira), Plan B (Greg Bird), and Plan C (Dustin Ackley) first basemen on the DL. Plan D turned out to be Refsnyder, who basically had an afternoon of prep work at the position before being thrown into game action. The Yankees didn't want to overwhelm Refsnyder, so a few days after Teixeira's injury, they called up Plan E: Chris Parmelee.
The Yankees signed Parmelee over the winter after Bird got hurt. He hit .252/.343/.444 (128 wRC+) with seven homers in 43 games with Triple-A Scranton — Parmelee thoroughly outhit Nick Swisher with the RailRiders — before being called up. In his first game in pinstripes, Parmelee went 3-for-4 with a double and two homers. For real! Check it out:
The very next night Parmelee singled in a run in the fifth inning to tie the game against the Angels. No one expected Parmelee to keep hitting like that, but hey, he gave the team a nice little shot in the arm. You need those out-of-nowhere contributions to contend.
The Yankees are not allowed to have nice things though. A few innings after that game-tying single, Parmelee popped his hamstring while stretching for a throw at first base. He suffered a Grade II strain and will be out two months or so. Just like that, Refsnyder was the first baseman again. Plans A, B, C, and E at first base were hurt.
To replace Parmelee, the Yankees signed Ike Davis (Plan F) after he opted out of his minor league deal with the Rangers, and he didn't even go to Scranton. The Yankees added him to the MLB roster right away. Davis appeared in eight games with the Yankees, went 3-for-14 (.214), then was designated for assignment when Teixeira came off the DL. Davis is currently with Scranton waiting for Teixeira's next injury.
Second Half Outlook: Parmelee was slated to begin baseball activities a week or two ago and is still a few weeks from returning. The Yankees don't really have anywhere to play him right now, not unless they trade Teixeira or Carlos Beltran at the deadline. Neither Parmelee nor Davis have much of a role with the Yankees going forward. They're just injury fill-ins. Parmelee had a memorable moment in pinstripes. Davis … not so much.
The Up & (Mostly) Downers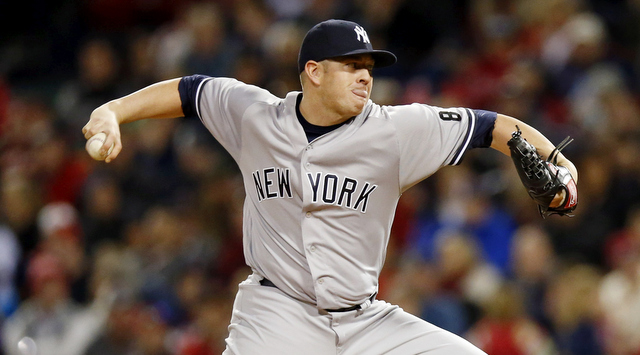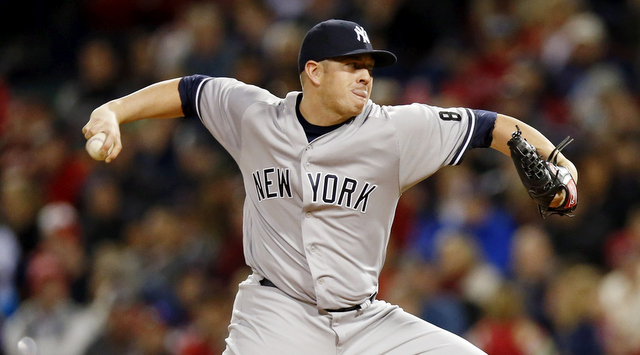 There are still nine players who played for the Yankees this season that we have not yet covered as part of this crash course midseason review. Let's wrap up the big league portion of the midseason review with one sentence on each of those nine players. Sound good? Good.
RHP Johnny Barbato: For a while it looked like Barbato would stick as a middle reliever, but the bloom came off the rose and he's now in Scranton.
LHP Richard Bleier: The 29-year-old rookie has not only appeared in ten games with the Yankees, he's still on the roster!
LHP Phil Coke: Sure, why the hell not?
RHP Luis Cessa: Cessa made the Opening Day roster and keeps going back and forth between big league reliever and Triple-A starter.
OF Ben Gamel: His hair is pretty great and pushes the limits of team regulations.
RHP Conor Mullee: The three-time major elbow surgery guy got affordable health care for life this year, so that's cool.
LHP Tyler Olson: Olson appeared in one game with the Yankees, then was lost on waivers.
C Gary Sanchez: "Hey, Gary, we're going to call you up for a game and make you face Chris Sale, sound good?"
RHP Anthony Swarzak: It's literally Anthony Swarzak.
Second Half Outlook: Sanchez definitely has a future with the Yankees. He's the long-term plan behind the plate. Barbato, Cessa, Gamel, and Mullee might have roles with the team going forward too. We'll see them again in September, if not earlier. Everyone else? They'll be gone soon enough.