Now that the All-Star break has arrived, it's time to look back and review the first half of the season. We've already looked at the catchers, infielders, outfielders, and bench. Now it's time to cover the rotation.
Coming into this 2016 season, the common refrain was "if the rotation pitches up to its potential, the Yankees are going to have a really great staff." And you know what? That wasn't crazy. Masahiro Tanaka and Michael Pineda have shown the ability to dominate, ditto Nathan Eovaldi at times. Luis Severino's debut last season was very good, and although the last few years didn't go well, CC Sabathia had a new brace going for him. Ivan Nova was the No. 6 guy.
Naturally, the rotation has not pitched up to its potential. It's tough to get five guys to do that at the same time. Heck, it's hard to get two guys to do that at the same time. With the exception of Severino, the four starters behind Tanaka all put together a three or four or five start stretch in which they dominated, but it hasn't lasted. The rotation comes into the break with a 4.81 ERA and 4.33 FIP, which rank 22nd and 13th in MLB, respectively. Let's review the starting staff.
Masahiro Tanaka: An Ace On Extra Rest
Is there a more divisive pitcher on the Yankees than Tanaka? I don't think so. Some see him as an ace, others see him as an overpaid mid-rotation guy. The truth is probably somewhere in the middle. Let's start with some facts. Here's where Tanaka ranks among the 96 pitchers with enough innings to qualify for the ERA title this year:
Innings: 117 (14th)
ERA: 3.23 (24th)
ERA+: 133 (25th)
FIP: 3.31 (13th)
WHIP: 1.11 (20th)
BB%: 4.6% (7th)
K%: 19.5% (57th)
GB%: 50.0% (25th)
HR/9: 0.77 (20th)
fWAR: 3.0 (7th)
bWAR: 2.7 (18th)
Tanaka is top 25 in everything except strikeout rate and is top 20 in most categories as well. When it comes to keeping runs off the board, which is the whole point of pitching, Tanaka is far better than average. He's done it this year by changing up his pitch selection and emphasizing his sinking two-seam fastball rather than his four-seamer, and the result is way more grounders and fewer homers allowed. That's good! Homers were a problem last year.
The season the problem seems to be extra rest vs. normal rest. It's always something, right? As I pointed out last week, Tanaka performed better on normal rest from 2014-15. This year the opposite is true. Again, let's look at the facts.
| | IP | ERA | FIP | WHIP | K% | BB% | HR/9 |
| --- | --- | --- | --- | --- | --- | --- | --- |
| Normal Rest | 49 | 5.33 | 4.36 | 1.39 | 17.8% | 4.7% | 1.83 |
| Extra Rest | 68 | 1.72 | 2.47 | 0.91 | 20.9% | 4.6% | 0.26 |
That's a huge difference! Huge. Unignorably huge. I know the 2014-15 stats say one thing, but the 2016 stats say another, and they're more relevant. Tanaka is a different pitcher this year than the last two years simply by virtue of being older and having more wear and tear on his arm.
There's also this: Tanaka had elbow surgery this offseason. Remember that? I kinda forgot about it. He had a bone spur taken out of his elbow and was brought along slowly in Spring Training. That could absolutely have an effect on Tanaka's ability to pitch on normal rest. The guy's anatomy and offseason routine changed.
John Flaherty has said Tanaka's stuff looks much crisper with an extra day of rest during various YES broadcasts, and while true, that's one of those things that applies to every pitcher. Is the difference in Tanaka's stuff so great that it leads to that huge difference in performance? Apparently so. The facts are the facts. Tanaka pitched like an ace with extra rest and a dud on normal rest in the first half.
Overall, Tanaka was really good in the first half. He's never not been really good with the Yankees. Tanaka made 18 starts in the first half and allowed two or fewer runs 12 times. He has nine starts of at least six innings and no more than two runs allowed. Only Aaron Sanchez (12) and Chris Tillman (ten) have more among AL starters. Tanaka's a top tier starter in the league.
Second Half Outlook: The normal rest/extra rest numbers are too drastic to ignore. The guy has been two totally different pitchers depends on his rest. Will that be the case going forward? Not necessarily, but the Yankees should proceed as if it will be. They should try to get Tanaka — and their other starters, for that matter — an extra day whenever possible. Chad Green could help make this possible. Either way, Tanaka is the Yankees' best pitcher and there's no reason to think that won't continue to be the case going forward.
Michael Pineda: Proof Swings & Misses Aren't Everything
The last Yankee pitcher as frustrating as Pineda was A.J. Burnett, right? Both guys oh so clearly had the stuff to not only get results, but dominate. Instead, they were generally mediocre because of bad command and their propensity for mistake pitches. Pineda has this nasty slider in his arsenal …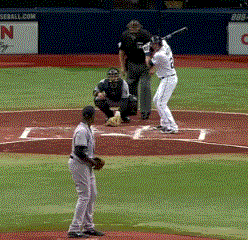 … and yet opponents are hitting .204/.256/.290 against him in two-strike counts this year. The league average is .177/.247/.278. Pineda has been worse than average across the board. Furthermore, opponents are hitting .200/.200/.300 against Pineda in 0-2 counts, the most pitcher friendly count there is. That works out to a 158 OPS+ (!) because the league average is .152/.160/.226. Groan.
Pineda was so bad to start the 2016 season that there was talk of sending him to the minors or moving him to the bullpen. He had a 6.92 ERA through his first ten starts and 53.1 innings. Opponents hit .322/.371/.581 against him during that time. That's basically Manny Machado (.318/.375/.569). Pineda turned everyone into Manny Machado for 50-something innings. GROAN.
But, in his last seven starts and 42 innings, Pineda has a 3.43 ERA and a .205/.256/.346 opponent's batting line. That's much better! That's closer to Freddy Galvis (.234/.263/.368) than Manny Machado. Pitching coach Larry Rothschild gave reporters a vague "we tweaked some things mechanically" answer when asked about Pineda's improvement a few weeks ago, so while we don't know what exactly changed, we know something did change.
Overall, Pineda has a 5.38 ERA (3.79 FIP) in 17 starts and 95.1 innings. His strikeout (27.2%) and walk (6.3%) rates are phenomenal! His 13.9% swing-and-miss rate is fifth highest in baseball behind Clayton Kershaw, Noah Syndergaard, Max Scherzer, and Jose Fernandez. Basically the four best pitchers in baseball. And yet, Pineda gives up a ton of homers (1.42 HR/9) and more than a hit per inning. Blargh. That describes Pineda. Blargh. Just … blargh.
Second Half Outlook: If the Yankees do come to their senses and decide to sell, Pineda could be one of the pieces moved at the deadline. He's under team control one more season before hitting free agency, so he could fetch a decent return even with his maddening inconsistency. If the Yankees keep Pineda, I have no idea what to expect performance-wise. He goes from dominating to getting smacked around in a moment's notice, often right in the middle of a start.
Nathan Eovaldi: So Good, Then So, So Bad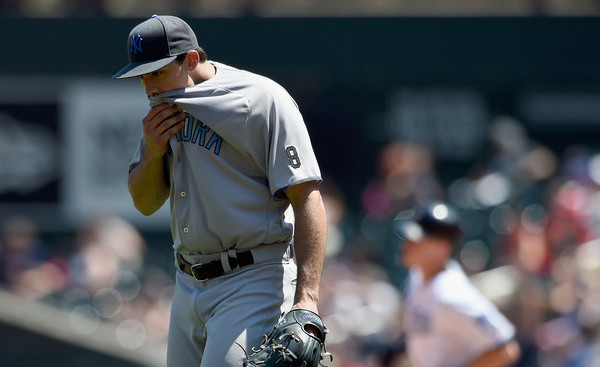 True story: On the morning of May 30th, Eovaldi had a 3.71 ERA (3.59 FIP) through ten starts and 60.2 innings. His strikeout (22.9%), walk (6.0%), and grounder (54.3%) rates were all excellent. The high-octane fastball and new splitter had turned Eovaldi into a reliably above-average starter. It was awesome. He and Tanaka were one heck of a one-two punch for the first two months.
Now, on July 13th, Eovaldi has a 5.18 ERA (5.09 FIP) in 97.1 innings. His last six starts were so bad — 31 runs in 30.1 innings! — the Yankees had to send Eovaldi to the bullpen. It went south so quick. Those six starts were, by far, the worst stretch of Eovaldi's career. This wasn't a case of a career mediocre pitcher regressing to the mean. This was beyond that. Something went wrong and no one seems to know what.
The good news is Eovaldi's healthy. He was so bad in those six starts that I thought he was hurt. The bad news is no one seems to know what's wrong. At least an injury would explain the sudden drop in performance. Eovaldi's location has deteriorated, that's obvious, but why? That's up to Rothschild to figure out. In the span of six starts, Eovaldi went from extension candidate to mop-up reliever. Baseball is so dumb sometimes.
Second Half Outlook: Joe Girardi and the Yankees insist they see Eovaldi as a starter long-term, so I guess that means he's going to return to the rotation at some point. Since Chad Green got lit up in his last start and demoted to the minors the next day, Eovaldi could be back in the rotation as soon as, well, immediately. When the second half starts. If not, he figures to get a shot as a middle innings reliever, or traded at the deadline.
Luis Severino: From Future Ace To Reclamation Project
Ugh. This 2016 season has been pretty crummy overall, but Severino going from young stud starter to punch line is the crummiest thing about it. Severino posted a 7.46 ERA (5.55 FIP) in seven starts and 35 innings before coming down with a triceps injury. Only twice did he allowed fewer than four runs or not allow a homer. It was not pretty.
After the injury, the Yankees optioned Severino down to Triple-A, which was something no one expected to happen before the season. His performance has been much better in Triple-A (3.18 ERA and 2.78 FIP), and thank goodness, because the worst thing ever would be Severino getting lit up in the minors too. The Yankees don't seem to be in much of a rush to bring him back, which is fine with me.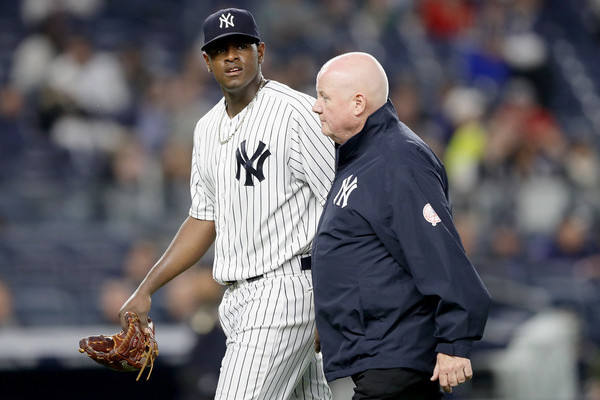 What went wrong with Severino? More than anything, his command of his offspeed pitches was just awful. He couldn't locate his slider or changeup consistently, so most of the time he was out there with a fastball and nothing else. That ain't gonna work. Those command problems didn't exist last year, or at least when they did, they didn't last very long. I'm not going to say they came out of nowhere, but it's not like there were obvious warning signs last year.
Also, I think fans set expectations a wee bit too high for Severino coming into the season. There was talk about him being the best pitcher on the staff and possibly starting Opening Day and things like that, all of which was way way way too premature. The kid had eleven starts in the show. Anything less than dominance was going to be a disappointment. Expectations have since been re-calibrated.
Make no mistake, for the Yankees to contend this season, they were going to need Severino to pitch at a high level. Instead, he was one of the worst pitchers in baseball before getting hurt, prompting the team to send him to Triple-A for more seasoning. Severino is basically catching up on all the development time the Yankees skipped the last few years by promoting him so aggressively. His season very quickly went from "help the team win" to salvage mode.
Second Half Outlook: There's basically nothing Severino can do now to help the Yankees contend. It's a little too late for that. The most important thing is getting his command issues sorted out so he's ready to help them win next year, and if that means spending the rest of the year in Triple-A, so be it. Severino is too important to the franchise long-term to call him back up before he's ready.
CC Sabathia: Return of the Ace, Temporarily
Hands down, the best story of this Yankees' season to date is CC Sabathia's early dominance. And yes, he was dominant. He pitched to a 2.20 ERA (3.33 FIP) through eleven starts and 65.1 innings — there was a two-week DL stint for a groin strain thrown in there — and he did it by shelving his four-seam fastball. Sabathia replaced it with a cutter …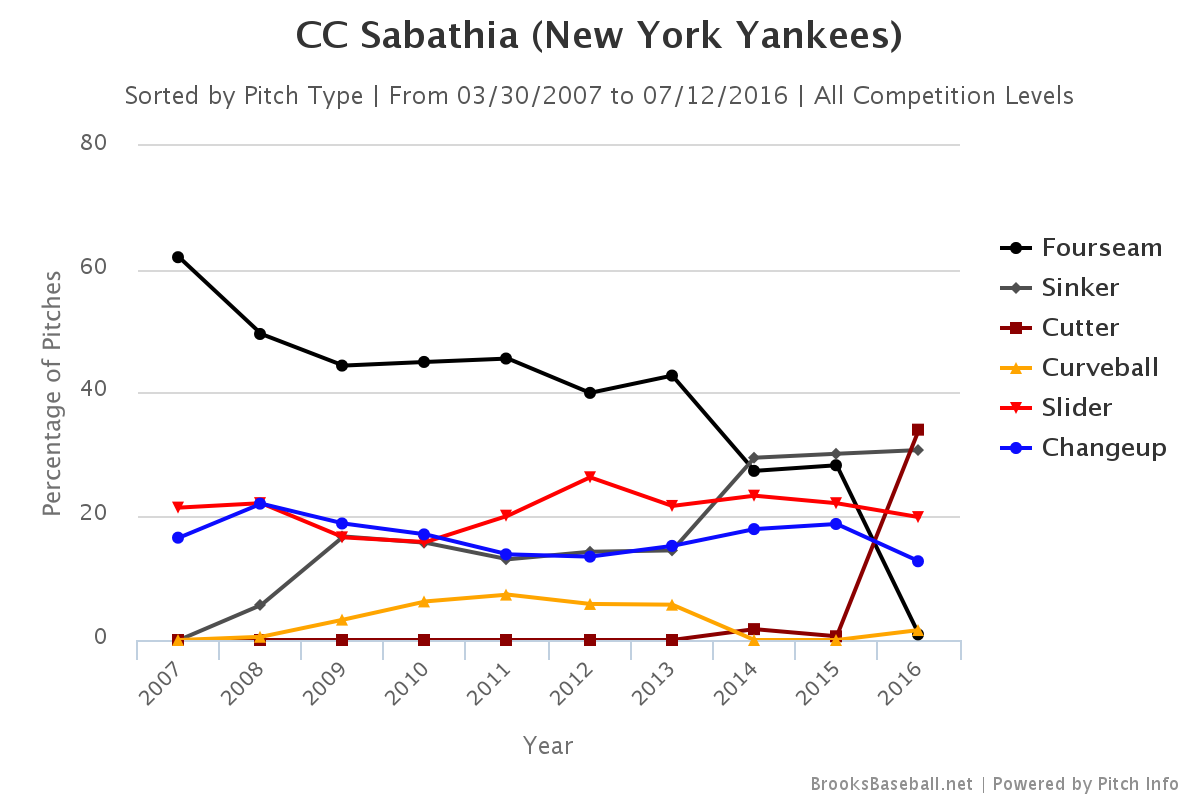 … that better allowed him to bust righties inside. Sabathia had toyed with a cutter before, but it never did stick. This year it did, and it was a tangible explanation for his improvement. So was the new knee brace he started wearing late last year, as well as his sobriety. How could being sober not help Sabathia on the field? Alcoholism is brutal.
Sabathia's last four starts have not gone well (22 runs in 23 innings), though some regression was inevitable, especially when it came to home runs. He allowed two homers total in his first 65.1 innings, then allowed four in the 23 innings since. Even with these last four starts, Sabathia was the Yankees' second best starter in the first half, and that's definitely not something I expected coming into the season. What a pleasant surprise.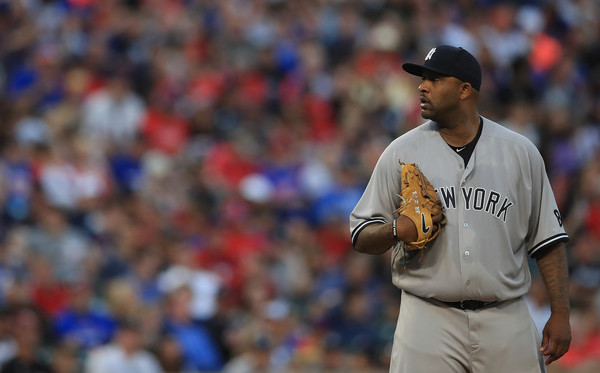 Second Half Outlook: Sabathia came into the break with a 3.77 ERA (3.82 FIP) in 15 starts and 88.1 innings, and I'm hopeful he can sustain that level of performance in the second half. That said, the last three years have not been pretty, so it would not be a surprise is Sabathia's ERA kept rising. Either way, boy those first eleven starts sure were fun, weren't they?
Ivan Nova: See? I Told You He'd Be Back In The Rotation
It's easy to forget given how Sabathia pitched in the first half, but there was a rotation competition in Spring Training. Sabathia beat out Nova, who started the season in the bullpen before rejoining the starting staff after Severino got hurt. It was only a matter of time until Nova started again. No team gets through the season using only five starters.
Nova made six relief appearances before getting the opportunity to start again, and his first three starts were very good. He allowed three runs total in 16.1 innings while on a pitch count each time out. Things went south after those first three starts. Nova has a 6.34 ERA (5.17 FIP) in nine starts and 49.2 innings since. Check out his 2015 numbers and 2016 numbers:
| | IP | ERA | FIP | K% | BB% | GB% | HR/9 |
| --- | --- | --- | --- | --- | --- | --- | --- |
| 2015 | 94 | 5.07 | 4.87 | 15.3% | 8.0% | 49.0% | 1.24 |
| 2016 | 80 | 5.18 | 4.88 | 17.6% | 4.9% | 55.7% | 1.69 |
Pretty much the same guy. The idea Nova's performance would improve has he got further away from Tommy John surgery was a sound one. We see guys do it all the time. It hasn't happened though. Nova's been pretty terrible the last nine times out, yet there doesn't seem to be chatter about him being moved back to the bullpen. Those talks existed with Pineda and Eovaldi (and even Severino), but not yet Nova for some reason.
Second Half Outlook: Nova is going to be a free agent after the season, so there's no long-term stake here. Both Eovaldi and Severino — and Chad Green, for that matter — have a chance to help the Yankees beyond this season, so whenever they're deemed ready to rejoin the rotation, Nova should be removed. I wouldn't be surprised if the Yankees moved him at the deadline either.