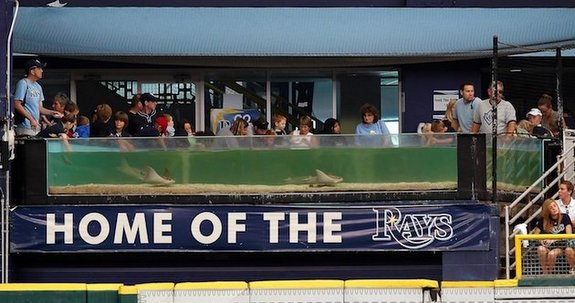 Time for the final series before the trade deadline. The Yankees have already made one huge move by sending Aroldis Chapman to the Cubs. Will they do anything else before Monday? My guess is yes. This group could look a lot different in a few days. The Yankees are in Tampa for three games against the Rays this weekend, by the way.
What Have They Done Lately?
The Rays just wrapped up a West Coast trip in which they won four of nine games. They lost four of the final five games on the trip though. Tampa's season completely raveled in mid-June. They were 31-32 on the morning of June 16th, and since then they've lost 29 of 37 games. Woof. No other team has lost more than 22 games since June 16th. The Rays are 39-61 with a -57 run differential overall. Only the Twins and the ain't even tryin' Braves have a worse record this season. The Yankees won two of three both times these clubs met earlier this season, including a series at Tropicana Field in late-May.
Offense & Defense
The Rays aren't good at anything. Seriously. Below-average all the way around, even their vaunted pitching staff. Tampa is averaging only 3.95 runs per game with a team 96 wRC+. They have a 58 wRC+ as a team in high-leverage spots. Good gravy. The Rays are without OF Desmond Jennings (hamstring) and OF Mikie Mahtook (hand). Neither is expected back this series.
Manager Kevin Cash stacks the top of the lineup the same way pretty much every game: 2B Logan Forsythe (113 wRC+) leads off, SS Brad Miller (104 wRC+) bats second, and 3B Evan Longoria (135 wRC+) bats third. Longoria's power has come back this year, it seems. He's hit 23 homers in 98 games this season after hitting 22 and 21 homers the last two years. DH/OF Corey Dickerson (93 wRC+), UTIL Steve Pearce (147 wRC+), and 1B Logan Morrison (85 wRC+) occupy the rest of the middle of the order.
CF Kevin Kiermaier (90 wRC+) and RF Steven Souza (88 wRC+) are the other notable regulars. OF Oswaldo Arcia (87 wRC+) and OF Brandon Guyer (110 wRC+) get platoon duty while C Curt Casali (54 wRC+) is the primary catcher. C Luke Maille (30 wRC+) is the backup. IF Tim Beckham (93 wRC+), the first overall pick in the 2008 draft, is finally carving out a role as a part-time player. Imagine if the Rays had taken Buster Posey, the consensus top prospect in the 2008 draft, instead of Beckham. Everything would be different.
Tampa is not a good defensive team. In fact, that's partially by design. They accepted defensive downgrades at first (Morrison) and short (Miller) as well as behind the plate (Casali) in an effort to add offense. It hasn't really worked. Kiermaier is an outstanding defender in center and Longoria's really good too. Souza and Forsythe are fine. That's about all there is to say about that. Miller has a knack for hilarious errors, just FYI.
Pitching Matchups
Friday (7:10pm ET): RHP Ivan Nova (vs. TB) vs. RHP Jake Odorizzi (vs. NYY)
Two pitchers reportedly on the trade block will be on the mound tonight. Unless they're traded within the next few hours, of course. Odorizzi, 26, has a 4.10 ERA (4.14 FIP) in 21 starts and 118.2 innings so far this season. His strikeout (22.5%), walk (7.2%), and grounder (37.2%) rates are the same as always, though he has been more homer prone (1.37 HR/9) this year than in the past. Odorizzi has a pretty big reverse split this year, which is not unusual for him. His best pitch is a nasty mid-80s splitter, which he uses to neutralize lefties. A low-to-mid-90s four-seamer sets it up. Odorizzi also throws a mid-80s cutter/slider hybrid and a soft low-70s curve. The Yankees have seen Odorizzi once before this season, when he flirted with a no-hitter. Starlin Castro ended up hitting a two-run bomb to spoil things. The Yankees won that game despite being one-hit.
Saturday (6:10pm ET): RHP Nathan Eovaldi (vs. TB) vs. LHP Drew Smyly (vs. NYY)
It's probably not a good thing when you trade a legitimate ace and two years later the main piece in the return has a 5.42 ERA (4.44 FIP) in 19 starts and 111.1 innings. The 27-year-old Smyly has battled injuries and inconsistency since coming over in the David Price deal, and this summer he's been both fly ball (32.4%) and homer (1.70 HR/9) prone. His strikeout (23.5%) and walk (6.3%) rates are good though. Both lefties and righties have hit him hard this season. Smyly is a four-pitch southpaw, using a low-90s four-seamer and a mid-80s cutter to set up his low-80s changeup and mid-70s curveball. The Yankees saw Smyly back in April and, naturally, he held them to one run in seven innings.
Sunday (1:10pm ET): RHP Michael Pineda (vs. TB) vs. LHP Blake Snell (vs. NYY)
Coming into the season the 23-year-old Snell was one of the top pitching prospects in all of baseball. The Rays selected him years ago with the compensation pick they received for losing Brad Hawpe (!) as a free agent. That was back in the old Type-A/B free agent days. Snell has a 3.05 ERA (3.12 FIP) in eight big league starts and 44.1 innings. His walk rate (11.4%) is a tad high and his strikeout (20.7%) and grounder (42.2%) rates are close to average. He hasn't given up many homers at all (0.20 HR/9) and his platoon split is negligible. Snell sits in the mid-90s with his heater, and his array of offspeed pitches includes a mid-80s changeup, a low-80s slider, and an upper-70s curveball. He uses each of his three offspeed pitches at least 12% of the time too, so he throws everything. The Yankees saw Snell back in April — that was his MLB debut — and scored just one run in five innings.
Bullpen Status
The Rays have a bullpen with relievers in it. Some are good, some are bad. Their closer was an All-Star because the rules say the Rays needed an All-Star. That about sums up the state of Cash's relief crew. Boring. Generic. Here's the bullpen.
Closer: RHP Alex Colome (2.27 ERA/3.17 FIP)
Setup: LHP Xavier Cedeno (3.62/2.40), RHP Erasmo Ramirez (3.90/3.56)
Middle: RHP Kevin Jepsen (5.77/5.44), LHP Enny Romero (5.58/5.16)
Long: RHP Matt Andriese (2.70/2.91), RHP Dylan Floro (4.15/2.56)
Jepsen couldn't get anyone out when we saw him in Minnesota a few weeks back. He's since managed to land in Tampa. Romero throws very hard and Erasmo is kind of a multi-inning fireman reliever. Cash is pretty creative with him. Cedeno is a true left-on-left matchup guy who Cash uses for full innings for some reason. I dunno.
Like the Yankees, the Rays had an off-day yesterday. They were coming back from their West Coast and the rules say you have to have an off-day when flying west to east. Their bullpen is as fresh as it's going to get. Same with the Yankees, but check out our Bullpen Workload page anyway.