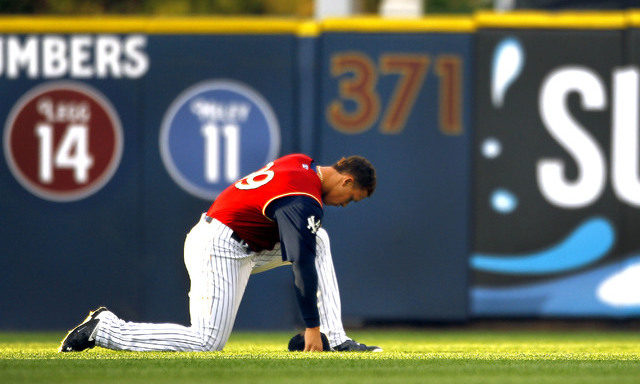 Sunday: Judge is expected to miss 3-4 weeks, Joe Girardi told reporters this afternoon. You know the Yankees are going to play it safe though. If it takes a little longer, it takes a little longer.
Saturday: Earlier today the Yankees placed top outfield prospect Aaron Judge on the Triple-A disabled list with a "mild PCL sprain and a bone bruise of the left knee," the team announced. They say he will be out an "undetermined" length of time. Sigh.
Judge left Friday's game after running out a ground ball, though the Yankees say he initially hurt himself diving for a ball in right field earlier in the game. Shane Hennigan has photos of the play. The combination of the dive and running out the grounder led to the injury.
I'm no doctor, but a sprained knee ligament — even a mild sprain — leads me to believe Judge will return in weeks, not days. I hope I'm wrong. Bone bruises, as we've learned over the years, are pretty tricky and can take a while to heal. Point is, it sounds like Judge will be out a while.
Judge, 24, is hitting .261/.357/.469 (139 wRC+) with 16 homers, a 23.2% strikeout rate, and an 11.4% walk rate in 83 Triple-A games this year. That's his lowest strikeout since he was in Low-A two years ago. Judge is clearly the right fielder of the future. Hopefully this injury doesn't derail that plan much.