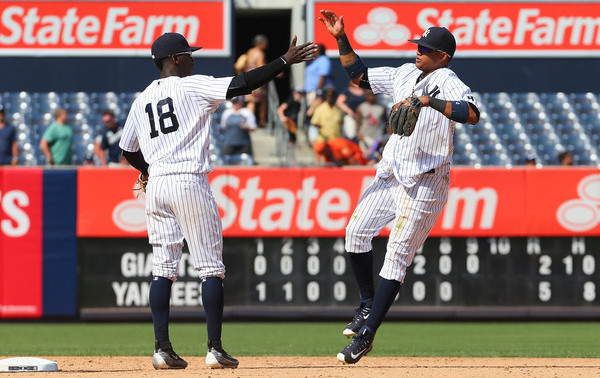 So, who had the Yankees going 9-5 against the Indians, Red Sox, Orioles, and Giants? Definitely not me. I wouldn't say it was the prettiest stretch of games, but hey, nine wins in 14 games against four of the best clubs in baseball is pretty darn cool. The Yankees won Sunday's game 5-2 to wrap-up the Giants series and the homestand.
I didn't see the entire game, just bits and pieces here and there, so here are some thoughts and observations about what I did see.
1. Big Game Nate. The bullpen was very short Sunday and boy, Nathan Eovaldi came through with a big time start. He was charged with two runs in 6.2 innings but pitched better than that — the bullpen allowed two inherited runners to score, uglifying his line — and he gave the Yankees some much needed length. Eovaldi threw 118 pitches, second most of his career, and that includes a 33-pitch fourth inning.
In his two starts back in the rotation, Eovaldi has allowed three runs total in 13 total innings against two pretty good offenses (Orioles, Giants). That's exactly what the Yankees were hoping to see, regardless of whether they decide to trade him at the deadline or hold on going forward. No one benefits when he pitches poorly. Eovaldi came through Sunday when the Yankees really needed a good performance from their starter.
2. Castro gets the big hit. The Yankees scored two runs early before breaking the game open in the sixth inning, when Starlin Castro came through in what I thought was the biggest at-bat of the game. They scored a run to make it 3-0 earlier in the inning, then Carlos Beltran and Brian McCann strung together back-to-back two-out hits. Castro made them count with a first-pitch single to left to score a run and make it 4-0.
For whatever reason a four-run lead feels much more comfortable than the three-run lead, at least to me. Blame the save rule, I guess. That fourth run gave the Yankees some breathing room — they scored their fifth run when Didi Gregorius smacked a ground rule double after Castro — and Starlin came through with two outs. Giving up two-out runs is so demoralizing. It really is.
3. 4-1-5 against the 415. Holy smokes, how about that double play in the eighth inning? It was the first 4-1-5 double play in franchise history, and it required great plays by Castro (sliding grab and flip to first), Chad Green (hustle to cover first, throw to third), and Chase Headley (catch the short-hop throw and apply the tag). Look. Just look:
Incredible. That's back-to-back days with stellar defensive players. Brett Gardner, Gregorius, and McCann teamed up for that relay throw and play at the plate Saturday, remember. Now Castro, Green, and Headley do that. What a play. Where was this back in April and May? And June? And earlier in July?
4. Chad Green: Proven closer. Is Chad Green in the Circle of Trust™? He might be after that game. Green struck out one and got six ground ball outs during a seven-out save, the second save of his pro career. (He had one back in High-A ball.) Yes, Green allowed the two-run single to Buster Posey in the seventh, but that had more to do with Buster Posey being insanely good at baseball and poking a pitch well off the plate …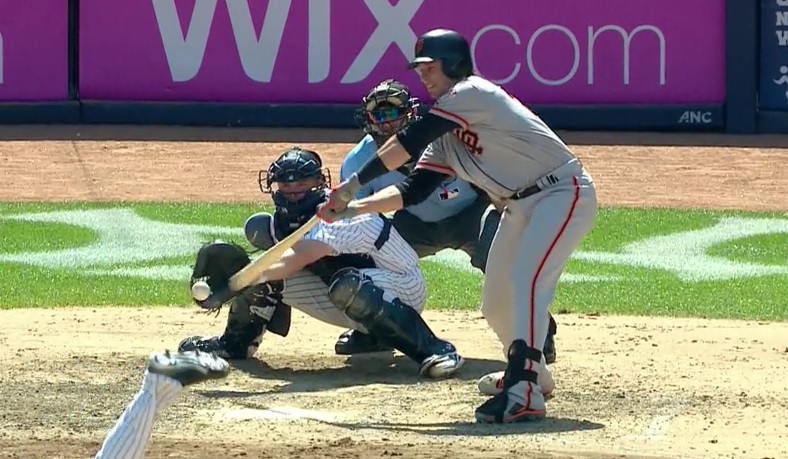 … the other way and inside the first base bag than Green making a mistake. That pitch isn't even a strike. Whatever. Tip your cap to Posey. He's really good.
Green bounced back from that to get the final out of the seventh inning — Brandon Crawford, the batter, represented the tying run at the time — then cruised through the eighth and ninth. He really did a great job with the big three relievers all unavailable due to their recent workload. They might not even be available tomorrow given how much they've thrown of late. Bravo, Chad.

Source: FanGraphs
Here are the box score, video highlights, and updated standings. Also make sure you check out our Bullpen Workload and Announcer Standings pages too. The Yankees are now off to Houston to start a three-game series and an eight-game road trip. Michael Pineda and Dallas Keuchel are the scheduled starters for Monday night's opener. Keuchel again, huh? They're not even in the same division and they can't escape that guy.