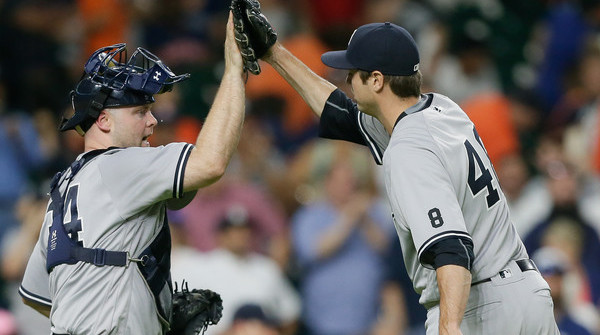 The Yankees have gone 11-5 in their last 16 games and suddenly, these games are becoming increasingly important. Both the Red Sox and Blue Jays — the two wildcard teams at the moment — lost earlier today, so a win tonight would bring New York to within three games of the second wildcard spot. They have a ton of games left with Boston and Toronto too, you know. This team, man.
Let's not get too far ahead of ourselves just yet. The Yankees have won the first two games of this series with the Astros and they'll have their ace on the mound going for the sweep tonight. After tonight, they're going to Tampa for a three-game series with the last place Rays, and … oh geez. I'm doing it again. I'm starting to think they have a chance to get back into the race. Let me get to the lineups before I take this any further.
Here is the Astros' lineup
and here is the Yankees' lineup:
LF Brett Gardner
CF Jacoby Ellsbury
DH Carlos Beltran
C Brian McCann
1B Mark Teixeira
SS Didi Gregorius
2B Starlin Castro
3B Chase Headley
RF Aaron Hicks
RHP Masahiro Tanaka
It is cloudy, hot, and humid in Houston today. The air conditioning will be on and the Minute Maid park roof will be closed this evening, I assume. Tonight's series finale is scheduled to begin at 8:10pm ET and you can watch on YES. Enjoy.