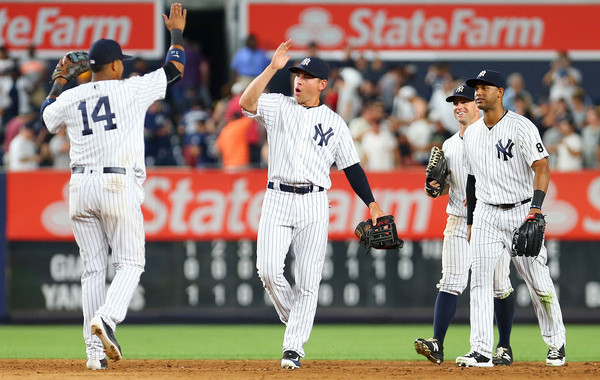 Goodness gracious is it hot outside here in New York. The temperature has been in the mid-90s all day and there's not a cloud in the sky, so it feels even hotter because the sun has been beating down on the sidewalk all day. This little heat wave is supposed to last right through the end of next week too. Thanks goodness for air conditioning, man's greatest invention.
Also hot: the Yankees. They've won five of their last six games and eight of their last 12 games. Were they all textbook wins? Hardly. They needed some lucky breaks along the way, but that's fine, a win is a win. The question now is how will this recent hot streak impact the team's trade deadline activity? Do they see this as a chance to get back into the race, or just a mirage? The answer to that question might be the most important decision the Yankees have made in years, if not decades. Here is the Giants' lineup and here is the Yankees' lineup:
LF Brett Gardner
CF Jacoby Ellsbury
DH Carlos Beltran
C Brian McCann
2B Starlin Castro
SS Didi Gregorius
1B Mark Teixeira
3B Chase Headley
RF Aaron Hicks
RHP Ivan Nova
The Giants changed up their pitching plan. Johnny Cueto is starting today and Jeff Samardzija is starting tomorrow. I'm not exactly sure why they made the change, but they did. There's no injury or anything. They just flipped the two.
Anyway, like I said, it's crazy hot outside. Not the most comfortable afternoon to be sitting out in the stands. Today's game is scheduled to begin a little after 4pm ET. You can watch on YES or Fox Sports 1. Enjoy the game.