Only nine questions in the mailbag this week — "only" nine, I should say — and that's because some of the answers are a bit longer than usual. As always, RABmailbag (at) gmail (dot) com is the place to send us anything. Questions, links, comments, whatever.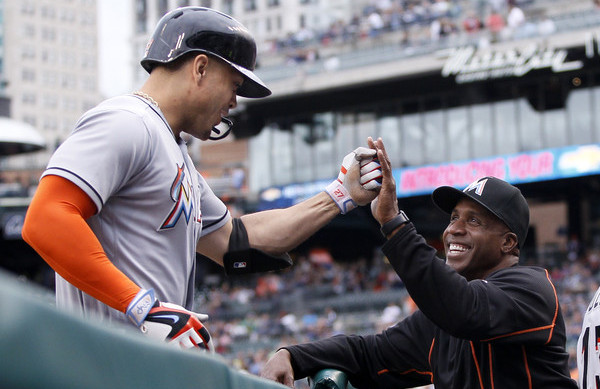 James asks: I heard Harold Reynolds on MLB tonight say the Yankees need to go out and get Stanton. While I don't think it will ever happen, what do you think it would take to make that happen, and do you think they should do it?
Giancarlo Stanton has come out of his ugly slump — he went into last night's game on a 16-for-45 (.356) hot streak in his last eleven games, with three homers — but man, that slump had to scare the crap out of the Marlins. He went 12-for-102 (.118) with a 41.7% strikeout rate in 29 games, so it lasted a month. There's still $314M (!) left on his contract through 2027 (!!!). It's no sure thing he'll use that opt-out after 2020.
Stanton is still only 26 years old, so he still has a ton of prime years left. And the guy hit .265/.346/.606 (152 wRC+) with 27 homers in 74 games just last year. In a huge ballpark. The guy missed half the season because of a broken bone in his wrist and he still finished tenth in the NL in homers. You can count the number of players capable of doing this …
… on one hand. I am definitely intrigued by the possibility of buying low on Stanton, assuming the recent slump has soured the Marlins on him so much that they're willing to trade him for pennies on the dollar just to get out from under the contract. The Yankees have money and almost all their big contracts are coming off the books within the next two years, so it should work financially.
Here's a fun thought: Jacoby Ellsbury for Stanton. The Marlins would save more than $200M and get a productive two-way player in return. The Yankees get the better and younger player, but absorb all the risk associated with a contract that runs through 2027. There's always a chance Stanton follows the Mark Reynolds career path and goes from the top young slugger in baseball to a replacement level player who struggles to make contact.
Me? I say what the hell, go for it, even if the trade involves other players. Then again, it isn't my money. Would you do, say, Aaron Judge for Stanton and his contract? Players like Stanton are rare and special. My guess is the Marlins are not yet willing to trade Giancarlo despite that scary slump the last few weeks. He's still the face of the franchise.
Michael asks: Now that all top ten picks but Rutherford have signed, if the Yankees used all remaining pool money to sign Rutherford, would that preclude the Yanks from then trying to sign someone like Linginfelter to an overslot bonus to lure him away from college?
First rounder Blake Rutherford has signed since this question was sent in. He received a $3.282M bonus, which is pretty much the most the Yankees could give him while still staying under their bonus pool plus the 5% overage. They have $177 in bonus pool space remaining, as our Draft Tracker shows. The Yankees have maxed out their bonus pool plus the 5% overage every year since the system was put in place.
The Yankees could still sign some late round picks to over-slot bonuses. The bonus pool is not a hard cap. The problem is if they so spend over — specifically, if they give a late rounder more than $100,177 — they have to forfeit next year's first round pick, and that's just not worth it. Zach Linginfelter, a potential first rounder who fell to New York in the 16th round due to bonus demands, was always a long shot to sign. It's not worth signing him now and blowing next year's draft. Not team has ever surrendered a future first rounder in the draft pool era.
Chris asks: What's your thoughts on Tyler Webb?  We saw him last night pitching for the Rail Riders and we followed him with the Gamecocks. Would just like to hear your take on him, thanks.
Webb, 25, was a senior sign as a tenth round pick back in 2013, so he was a bonus pool saving pick. The Yankees gave him a $30,000 bonus and saved about $100,000 in pool money, which went to Judge's over-slot bonus. Webb shot up the ladder in a hurry — he reached Triple-A the year after being drafted — and has performed well all throughout the minors. So far this year he has a 3.35 ERA (2.61 FIP) in 43 innings.
Soon after the draft Webb was labeled a finesse right-hander left-hander and that has unfairly stuck. PitchFX data from the Arizona Fall League last year has him averaging 93.3 mph with his fastball. He also has a slider and a changeup, and these days the changeup is the more reliable pitch. The Yankees have actually started him a few times this year because he has three pitches and throws enough strikes.
Webb is going to be Rule 5 Draft eligible after the season and he's a lock to get picked as a lefty who throws reasonably hard and has had success in Triple-A. My guess is the Yankees add him to the 40-man roster. I'm not sure Webb will be more than a middle innings lefty because neither the slider nor the changeup are legitimate put-away pitches, but he should be able to carve out a lengthy career for himself. He's a nice little find in the tenth round.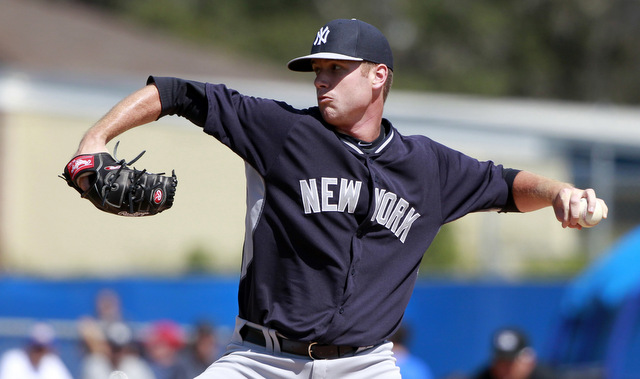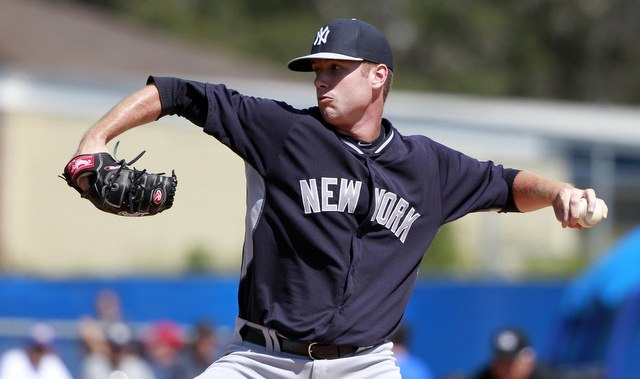 Paul asks: The Sir Didi trade has been wildly successful in my eyes. I'm trying to think of the last time a trade went that well. Swisher? I guess Chapman counts?
Yeah, the Didi Gregorius trade has worked out spectacularly. I was skeptical about his bat at the time of the trade and I was really impressed by Shane Greene's half-season in pinstripes, but it's hard to complain about that deal now. The Yankees would do that trade again all day, every day. It's worked out so, so well.
The Nick Swisher trade was a total heist and it looked that way from day one. There was some uncertainty with the Didi trade. Not Swisher. That was one of Brian Cashman's best trades. Michael Pineda hasn't been great by any means, but the Yankees came out ahead in that deal. They got him for two sub-replacement level players the Mariners ended up giving away.
The Aroldis Chapman deal was the result of extenuating circumstances, so I have a tough time giving the Yankees credit for "winning" that one. That was the Reds saying "get this guy out of here," not "this trade makes us better for the future." It's been a while since the Yankees were on the wrong end of a lopsided trade. Tyler Clippard jumps to mind. And I guess Mark Melancon for Lance Berkman too.
Jackson asks: Is there much of a history of players who suffered the same injury as Bird, and if so, a.) to what extent were those players able to re-attain their pre injury levels of play, if ever, and b) how long did it take to get back into a ML game fully recovered ? Examples?
Yeah, there's been a bunch. In fact, Brian McCann had the same injury (a torn labrum) a few years ago. He played through it in 2012, had the worst season of his career, then had the surgery in October. McCann returned to the field in early-May 2013, so it was eight months from date of surgery to return to MLB. Matt Kemp and Adrian Gonzalez had the same injury and returned to the field in seven months. I'm guessing McCann's rehab was a little longer because he's a catcher and the injury was to his throwing shoulder.
Bird had surgery in February, so the 7-8 month timetable would put him on track to return in September or October. Chances are the Yankees will play it safe, so I don't expect to see him in a game this year. (Maybe he'll go to the Arizona Fall League for at-bats.) These injuries we're talking about here are to the hitter's front shoulder, the power shoulder. Both Kemp and Gonzalez saw a noticeable dip in power immediately after the surgery, and it never quite came all the way back. At the same time, McCann has shown no ill-effects at all. Here's a quick chart I whipped up following Bird's injury: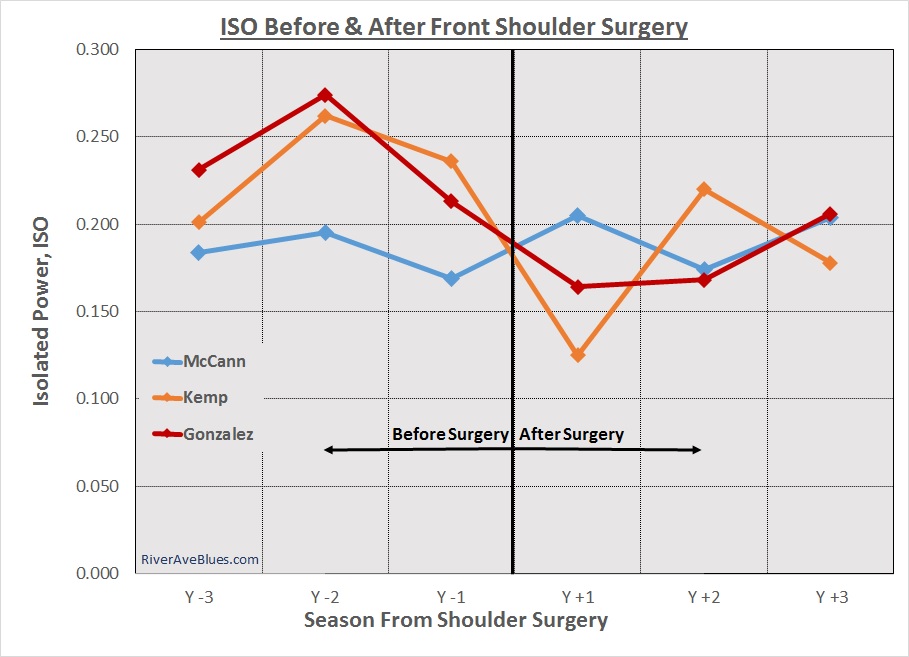 McCann really is the best case scenario for Bird. He returned following his shoulder surgery the same player he was before getting hurt. No loss in power, didn't lose anything off his arm, nothing. The same McCann returned.
The timing of the injury could actually be a positive for Bird's rehab. McCann, Kemp, and Gonzalez all had their surgeries after the season and were racing against the clock trying to get back for Opening Day. Bird got hurt in February and is going to miss the season. Once he's done rehabbing, he'll still have an entire offseason to strengthen his shoulder and whatnot.
Dan asks: Is it fair to blame the Yanks indecision on selling on the second wild card?  They're 3.5 back of Boston for the first Wild Card.  If there was only one wild card, would they already be selling?
I don't think you can blame the team's indecision on the second wildcard exclusively. The Royals and Red Sox currently sit in the two wildcard spots and they have identical 42-36 records, so the Yankees are three games back of both. There's no difference between the first and second wildcard races at the moment. The presence of the second wildcard is surely a factor, but it's not the factor. The Yankees aren't selling because their brand is built on winning, and selling really isn't in their DNA. They'd hold off on selling even with only one wildcard spot.
Anonymous asks: I see that Jeff Degano repeating short season ball (effectively rookie league) at Pulaski this year after pitching at Staten Island last year. This seems like a very cautious approach; the Yankees have been more aggressive with college-tested pitchers in recent years. Your analysis?
I think something might be up with Degano. Last year's second round pick — for what's it worth, he was a bonus pool saving pick who signed a well-below-slot bonus, with the savings going to third rounder Drew Finley — had a fine pro debut, pitching to a 3.80 ERA (3.72 FIP) with a 21.8% strikeout rate and a 10.0% walk rate in 23.2 innings with the Rookie GCL Yanks and Short Season Staten Island. As a college guy, even one who missed a season and half due to Tommy John surgery, I figured he was ticketed for Low-A Charleston this year.
Instead, Degano was held back in Extended Spring Training and assigned to Rookie Pulaski this month, which is a step down from Staten Island in terms of competition. He then went out and walked five batters in two innings in his first outing over the weekend. I can't help but wonder if Degano showed up Spring Training suddenly unable to throw strikes. He wasn't exactly blessed with top notch control to start with, and it wouldn't be unheard of for a young pitcher to suddenly lose the zone. We'll see what happens in Degano's next few outings. That could have just been one bad game. The fact he was held back in ExST surprised me and could indicate something is up though.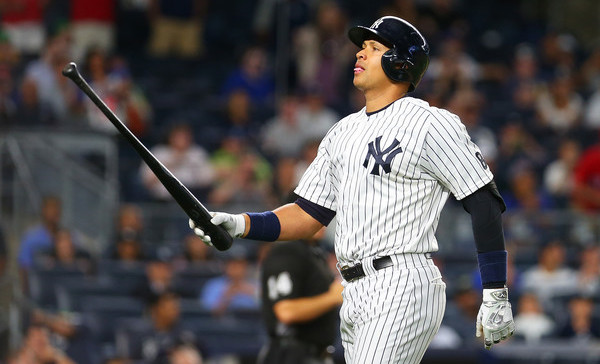 Seamus: Is it me, or is A-Rod swinging at more first pitches than he ever has before? Could that be one of the (many) reasons he is struggling this season?
That does seem to be the case, yes. Jeff Sullivan wrote a post yesterday showing how much more aggressive Alex Rodriguez has been at the plate in general this season. Here are his first pitch swing rates over the years, via Baseball Savant:
2016: 30.5%
2015: 31.3%
2014: nope
2013: 28.2%
2012: 32.7%
2011: 28.5%
Well so much for that idea. A-Rod has been swinging at the first pitch this season at generally the same rate as the last few years. I do love it when I think something is happening on the field and the data says I'm totally wrong. It's good to be humbled once in a while. Your eyes lie like hell. Sullivan showed Alex is swinging at more pitches out of the strike zone in general, which helps explains his lack of production. He's not swinging at more first pitches though.
Craig asks: Your post on Blake Rutherford as well as the note on Kaprielian makes me wonder – has any other MLB team's first round picks over the last ten years led to less MLB production to date than those of the Yankees?
I went back to the 2000 draft because the last ten years don't tell us too much. Lots of those guys are still in the minors working their way to MLB. We need a bigger sample.
Here is the total WAR for every team's first round pick (first and supplemental first) from 2000-15. This only includes players who actually signed, so the Yankees don't get credit for Gerrit Cole, the Blue Jays don't get credit for James Paxton, etc.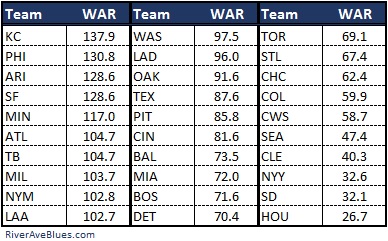 I went into this expecting to see the Giants at the top and the Yankees at the bottom, and hey, I was close. The Giants have hit first round home runs with Matt Cain, Tim Lincecum, Madison Bumgarner, and Buster Posey, so I figured they would be at the top. They're close though.
The Royals are at the top mostly thanks to Zack Greinke and Alex Gordon. The Phillies are second because of Cole Hamels and Chase Utley. I should note I'm giving teams credit for a player even if they traded him away as a prospect. The Braves get credit for Adam Wainwright, the Cubs get credit for Josh Donaldson, so on and so forth.
The Yankees aren't dead last but they might as well be. The 5.9 WAR difference between the Yankees and Astros is nothing. This is across 15+ years, remember. Yes, the Yankees always pick late in the draft and that hurts, and yes, they did surrender a ton of draft picks to sign free agents, but still, this is really bad. The Yankees have not gotten much from their first round picks at all this century.