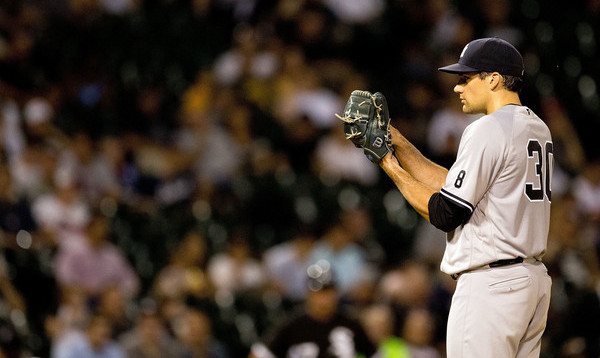 According to Rob Biertempfel, the Yankees and Pirates have discussed a potential Nathan Eovaldi trade. It's unclear how serious talks were or whether they're still ongoing. Biertempfel says the Rangers have some interest in Eovaldi as well. Both Pittsburgh and Texas are contending and in need of rotation help.
Eovaldi, 26, started the season well but has crashed hard late, so hard that he was demoted to the bullpen before the All-Star break. (He's going to return to the rotation Tuesday.) He has a 5.11 ERA (5.04 FIP) in 98.2 innings spread across 16 starts and three relief appearances. Eovaldi is under team control as an arbitration-eligible player for one more season before becoming a free agent. I have some thoughts on this.
1. This rumor passes the sniff test. Some trade rumors flat out don't make sense. This is not one of them. This one makes sense. The Pirates and pitching coach Ray Searage have had success turning good stuff/bad command starters like Eovaldi into above-average pitchers the last few years. Francisco Liriano and A.J. Burnett are the most notable examples. They did it with Edinson Volquez too. (It didn't work with Juan Nicasio this year.)
Also, the Yankees and Pirates are frequent trade partners. Brian Cashman and Pirates GM Neal Huntington have hooked up for four trades since 2012 (Burnett, Casey McGehee, Chris Stewart, Frankie Cervelli) and if nothing else, that indicates the two have a good working relationship. Between their recent trade history and the type of pitchers Pittsburgh tends to acquire, this rumor definitely has teeth. I'm buying this.
2. So what can the Yankees get in return? Even though he's been traded twice himself, not many pitchers like Eovaldi have been traded within the last few years. I'm talking about an enigmatic 20-something a year and a half away from free agency. Eovaldi's two prior trades don't work as benchmarks because he had more years of team control. We're stuck guessing at his trade value, which is unfortunate.
The Pirates have a loaded system — they landed six players on Baseball America's midseason top 100 — and it should be noted it's been a while since Huntington last traded anything more than a decent prospect. This isn't a club that will go out and trade a big prospect package for a big name MLB player. Not that Eovaldi is a big name, but you know what I mean. If you're hoping for a top prospect, forget it. Huntington's track record says it ain't happening.
Here is MLB.com's top 30 Pirates prospects list. Down-list players who seem interesting include lefty Stephen Tarpley, infielder Kevin Kramer, righty Trevor Williams, and infielder Max Moroff. That's just me pulling names off the list. The Pirates do have a lot of talent in their system though, so even if the top tier and second tier guys are off the table, there are still some nice prospects to be had.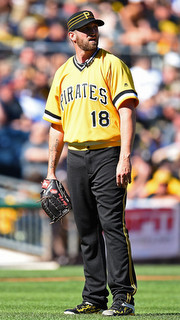 3. The Niese factor scares me. One of the reasons the Pirates need rotation help now and next year is lefty Jon Niese, who came over from the Mets in the offseason and has had a brutal season (5.13 ERA and 5.49 FIP). Like Eovaldi, Niese was recently demoted to the bullpen and he's said to be on the trade block. It's easy to understand why, really.
The Yankees have reportedly had interest in Niese in the past, but things were never going to come together because of the Mets-Yankees factor. Would it happen now that he's with the Pirates? Niese and a prospect for Eovaldi? Niese's contract includes club options for 2017 ($10M) and 2018 ($11M), so he'd satisfy their stated goal of adding pitching controllable beyond next season.
Just to be clear, there's nothing connected the Yankees to Niese now. This is just my speculation. They've had interest in Niese, he's very much available, and he's under control beyond 2017. This is a little too close for comfort. I guess as long as Niese is the second piece, it wouldn't be the end of the world. I'd rather see the Yankees focus on younger players, not veterans.
4. So, what about the Rangers? Biertempfel says the Rangers have interest in Eovaldi as well, and again, that passes the sniff test. They just welcomed Yu Darvish back from the DL, but are still without Derek Holland (shoulder) and Colby Lewis (lat), so they need rotation help. Texas also needs bullpen help in a big way, and the Yankees have some really good relievers to offer. I guess that means there's potential for a larger deal here. Eovaldi and, say, Aroldis Chapman for something. That sorta thing.