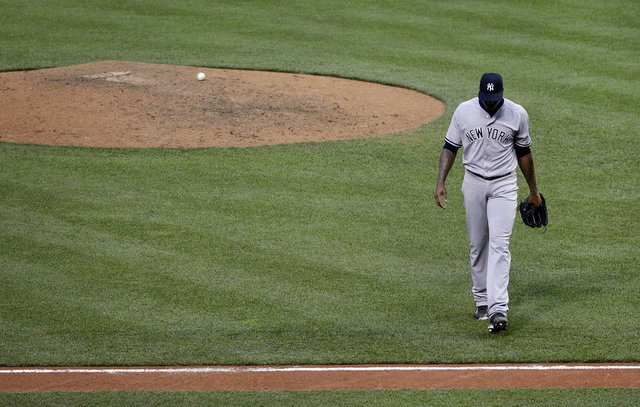 Yesterday was a pretty big day in Yankeeland. The Yankees swung a significant trade with the Cubs, one that sends a proven big leaguer (Aroldis Chapman) to Chicago for a lesser big leaguer (Adam Warren) and three prospects (Gleyber Torres, Billy McKinney, Rashad Crawford). It's not often you see the Yankees on the "seller" side of a major trade like that. Anyway, I have some thoughts about this blockbuster.
1. This trade had to happen. Had to. Chapman was far too valuable to not cash in as a trade chip, not with the Yankees only hanging on the fringes of a postseason race and him scheduled to become a free agent after the season. The Yankees held on to Robinson Cano and David Robertson in similar situations a few years back and I have no doubt they regret those decisions. The could have traded those two for quite a bit back then. Yes, the Yankees could have gotten a draft pick for Chapman after the season, but, as the trade shows, he was worth much more than that. Keeping Aroldis would have been a pretty major mistake. I'm glad the Yankees came to their senses and traded him.
2. I feel it's impossible to evaluate this trade without looking at the big picture, meaning the trade that initially brought Chapman to the Yankees. This was a fantasy baseball move. The Yankees bought super low on Chapman over the winter and they sold high on him at the trade deadline. What more could you want? It was a perfect baseball move. Of course, the circumstances behind Chapman being so cheap in the offseason are scummy as hell, and I still think it's pretty gross the Yankees used something as serious as domestic violence as a way to get ahead on the field. From a pure baseball only perspective, this deal is as good as it gets. The Yankees played this perfectly.
3. I was sorta disheartened when I read Hal Steinbrenner only gave the green light to trade Chapman after Aroldis declined to discuss a contract extension a few weeks ago. (Many reporters confirmed that yesterday.) Plan A was give this guy gobs of money and hope to win with him. The Yankees had to fall back on Plan B, which was trade him for a big package of prospects and improve the outlook for the future. Eh. I feel like Plan B should have been Plan A and Plan A should have been Plan B. Oh well. At least Chapman is apparently dead set on testing free agency — can you blame him? I sure can't — and thus pushed the Yankees to trade him for young talent. They need that.
4. Given the haul Chapman brought, I can't imagine what two and a half years of Andrew Miller or three and a half years of Dellin Betances would bring back in a trade. All the prospects. They'd fetch all the prospects. The Yankees have to listen to offers for those two between now and the deadline, and I'm confident they will. They'd be stupid not to listen in this insane market, with relievers like Chapman and Craig Kimbrel and Ken Giles getting traded for multiple top prospects. Trading these guys is a bit of a double-edged sword though, because yeah, trading them would net a lot of good young players, but it would always cost a ton to replace them. Chapman's status as an impending free agent made him much easier to trade. Miller and Betances are still locked in for a few more years, so someone is going to have to blow the Yankees away with an offer to pry them lose. And considering the reliever trades we've seen recently, someone just might do that.
5. The Yankees pretty clearly went after the best possible package of talent and didn't look to satisfy specific needs. Once Kyle Schwarber was off the table, they were reportedly left to pick between Torres and outfield prospect Eloy Jimenez, and they took Torres even though they already have a ton of shortstops in the system, including a pretty good one at the same level as Gleyber (Jorge Mateo). Torres was the best available player, so they took him. McKinney was likely the best secondary prospect available despite his down year, so they took him. This is what I was hoping the Yankees would do. Just get the best talent and sort it out later. Chapman was too valuable to try to get cute and fill specific needs, say a controllable starting pitcher or third baseman.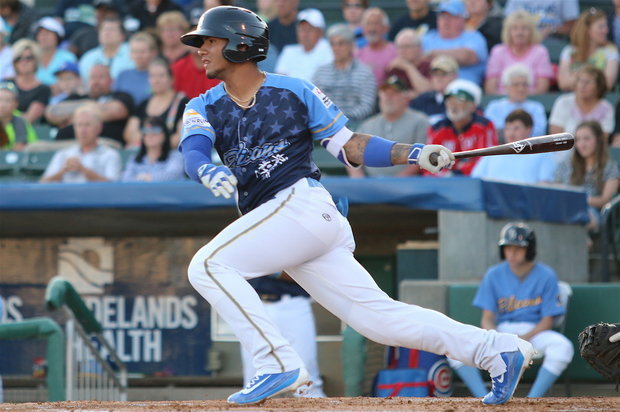 6. Speaking of all those shortstops, the Yankees are smart to stockpile them. Shortstops are generally the most athletic players and therefore most capable of changing positions. We've seen shortstops like Manny Machado, Javier Baez, and Jurickson Profar move to different positions almost seamlessly in recent years. Heck, Starlin Castro did it last year. We watched shortstop prospect Alex Bregman play a mean third base for the Astros last night. High-upside shortstops are most easily moved around and they're always in demand. Always. The Yankees have a glut of them now with Torres, Mateo, Tyler Wade, Wilkerman Garcia, Abi Avelino, Thairo Estrada, Kyle Holder, Hoy Jun Park, Diego Castillo, and more. Oh, and that Didi Gregorius guy is pretty cool too. That's some serious depth at a crucial position.
7. Right now I'm thinking Torres is the third best prospect in the system behind Aaron Judge and Gary Sanchez, though I will admit I don't know a ton of the guy. (Here's my most recent top 30 list.) I actually know more about McKinney because I've been following him since his draft year. Anyway, it boils down to this: all indications are Torres has a significant ceiling, but so do Judge and Sanchez, and they're doing it in Triple-A. Those two could play in MLB tomorrow if the Yankees needed the help. (Well, Judge could after he gets healthy, but you know what I mean.) As talented as Torres is, he's still a 19-year-old kid in High-A ball. You have to be pretty convinced that he'll be an impact player to rank him ahead of Judge and Sanchez in my opinion.
8. The two biggest trades so far this year are the Chapman and Drew Pomeranz deals, and both times the headliner going the other way was a teenager in Single-A. The Yankees got Torres for Chapman, and Pomeranz fetched 18-year-old pitching prospect Anderson Espinosa. That's pretty interesting. Fans look at the top prospect lists and scream "overpay!" when prospect No. X is traded, but teams very obviously do not see it that way. An awful lot can go wrong with teenagers in Single-A, and I suspect that's why the Yankees wanted more than just Torres in return for Chapman. I thought Torres for Chapman straight up would have been a pretty great deal based on the Andrew Miller trade two years ago, but Miller was traded for a 21-year-old in Double-A. Both Torres and Eduardo Rodriguez were highly touted prospects, but Torres carries more risk as a teenager, hence the additional pieces. Long story short, not all top prospects are created equal. Teams appear to be more willing to trade the riskier guys in the low minors nowadays.
9. Chapman the pitcher was pretty amazing to watch. He was as advertised, meaning a dominant end-game force who had you checking the radar gun after each pitch. (His fastest pitch as a Yankee: 105.85 mph.) Was Chapman the most efficient pitcher? Nah. He had a tendency to run deep counts (4.40 pitches per plate appearance!) and go to three-ball counts even though his walk rate was fine (6.7%). Whatever. He was dominant. I think I was most impressed by Chapman's resiliency. The guy never seemed to be fatigued. We saw him pitch multiple innings and back-to-back-to-back days, things like that, and he was still out there chucking 100+ mph with each and every pitch. It was impressive. Miller and Betances are awesome. No doubt about it. Chapman's something else though. He's a spectacle and one of the most entertaining players I've ever seen. That was a fun 30-something innings.
10. I am irrationally excited about Warren coming back. I've made it no secret that he's a personal favorite, and yes I know he stunk this year with the Cubs (5.91 ERA and 5.83 FIP). I choose to blame that on inconsistent usage and Joe Maddon's zaniness until further notice. Hopefully coming back to the Yankees and getting with pitching coach Larry Rothschild gets Warren back on track soon. He's a pretty darn good pitcher when right, and I assume he'll be comfortable in pinstripes. It's home. I didn't love the decision to trade Warren for Castro but I understood it. I'm glad the Yankees got a mulligan on that trade and Warren is back.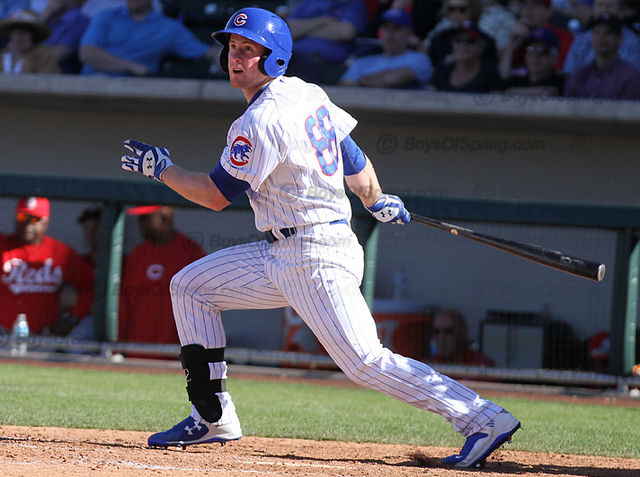 11. Getting McKinney as the second prospect was a nice little move. He has not had a good year at all (.252/.355/.322 in Double-A) and he is coming back from a hairline fracture in his knee, so his stock is down. That's why the Yankees were able to get him as the second piece. Healthy and productive McKinney is a top 100 prospect. Keith Law (subs. req'd) ranked him as the 69th best prospect in baseball coming into this season. Not last season. This season. Clearly the Yankees are hoping to get McKinney healthy and back to where he was a year ago, when he hit .300/.371/.454 (135 wRC+) between High-A and Double-A. Torres is definitely the headliner and the Yankees did well to get him. McKinney's not an insignificant second piece despite his poor numbers this season.
12. As for the Cubs, this move is all about the postseason. They've got the best record in baseball and a comfortable seven-game lead in the NL Central. The Cubbies didn't make this move with the next two months in mind. This trade is about the third month. They want to shorten the game in the postseason, when built-in off-days will allow them to use Chapman and erstwhile closer Hector Rondon pretty much every single game. I'll be the dummy who says Chicago's World Series window won't be open as long as most seem to believe — Jake Arrieta is a free agent next year, John Lackey is closing in on 40, and Jon Lester will enter his CC Sabathia phase soon — so going all-in now makes sense. Realistically, when will the Cubs have a better chance to win a title than this year? Good for them for not resting on their laurels, and going out and getting a difference maker.
13. All that said, I saw more than a few Cubs fans yesterday say they are upset about the team adding Chapman after his domestic violence incident. I know a lot of people don't care about that, but many do, and it takes away from their enjoyment of the game. As much fun as he was to watch, I didn't particularly enjoy rooting for Chapman or having him on the Yankees. That's just how a I felt. You're welcome to disagree. The Cubs have a super fun and super likeable team, and they have a chance to do something special this year. The addition of Chapman is going to take away some of that fun and likeability for more than a few fans though, and that's a shame.