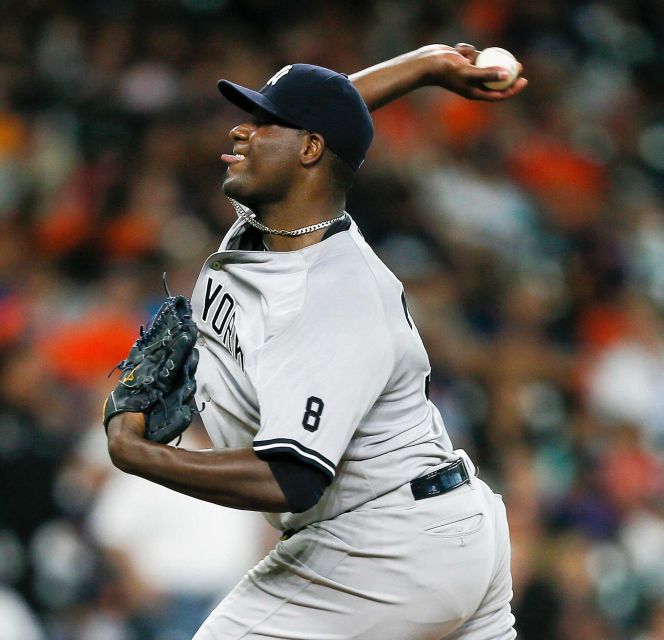 No Chapman, no problem
Despite making their first significant "sell" trade-deadline move in more than two and a half decades, the Yankees continued to remain on the fringes of the playoff race with a 2-1 win over the Astros on Monday.
With the win, the Yankees moved to three games above .500 for the first time this season. This is the deepest into the season they've gone without reaching that mark since 1991, when they never got more than a game above .500 the entire season. They finished that forgettable campaign with a 71-91 record, their fifth-worth winning percentage in franchise history.
A victory did not look promising less than a minute after Michael Pineda took the mound in the bottom of the first inning; George Springer deposited the first pitch into the right-field seats for a quick 1-0 Astros lead.
It was the first time a Yankee allowed a first-pitch homer to the first batter of the game since the Jose Reyes took Hiroki Kuroda deep in Toronto on June 25, 2014, and just the 11th occurrence since pitch data became available in 1988. Of the 10 other instances, the only other Yankee pitcher who allowed no other runs besides that leadoff homer — like Pineda — was Jack McDowell on July 13, 1995 versus the Twins.
Austin Romine played the unlikely role of hero with a tie-breaking RBI double in the eighth inning. That was the first career go-ahead hit in the eighth inning or later for the backup catcher, who is hitting a robust .375 (12-for-32) with runners in scoring position this season, the best mark on the team through Monday.
Milestone alerts! Carlos Beltran's double leading off the seventh inning was the 524th of his career, passing one Hall-of-Famer (Willie Mays) and moving into a tie for 44th place with another Hall-of-Famer (Ken Griffey Jr.). Up next is Ted Williams with 525 doubles.
Chase Headley's game-tying single in the fifth inning was his 1,147th career hit, breaking the major-league record for most hits by a Colorado-born player. He surpassed Roy Hartzell, a Golden, CO native who played 11 seasons with the St. Louis Browns (1906-10) and the Yankees (1911-16). According to a 1914 New York Times article, Hartzell was the "handiest utility man the Yankees ever had…he has played every position on the club except battery positions."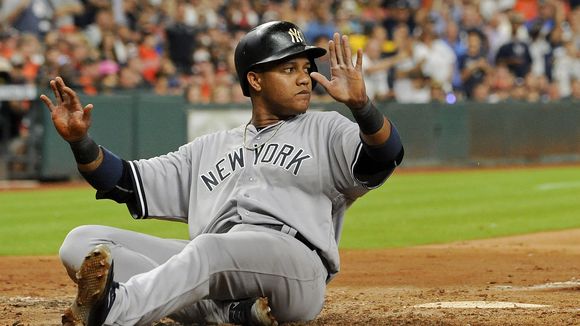 All aboard the win train
The Yankees sure are making it tough for Prince Hal to push the SELL! button. For a team that's defined inconsistency, they've somehow caught an incredible wave of positive momentum at the most critical juncture of the season, beating the Astros again on Tuesday night. It was another comeback win fueled by dominant starting pitching, some timely hitting and a shutdown back-of-the-bullpen performance.
CC Sabathia posted his best start in more than a month, giving up two runs on four hits while pitching into the seventh inning. He snapped a six-game winless streak during which he allowed at least four runs in each outing. That matched the longest such streak of his career, which he also did in 2002.
Although Sabathia had posted an ugly 7.46 ERA in his previous six turns, it wasn't like he was getting crushed every night. He still entered Tuesday's game with the lowest average exit velocity allowed (85.8 mph) among pitchers with at least 200 batted balls in play, and then nearly matched that number against the Astros (86.8).
Dellin Betances pulled off another crazy Houdini act, getting out of a two-out bases-loaded jam in the eighth inning to help seal the win. Hitters are just 2-for-27 (.074) with ducks on the pond against Betances in his career, the second-lowest batting average allowed in that situation among active pitchers (min. 25 at-bats), behind only Pirates lefty Tony Watson (.069).
Aces down
The Yankees desperate playoff push hit a speed bump on Wednesday night as the Yankees squandered a golden opportunity to move within three games of the second Wild Card spot after losing to the Astros, 4-1.
Still, even with the disappointing defeat, the Yankees are 11-5 (.688) all-time at Minute Maid Park, their third-highest winning percentage at any ballpark, behind only Atlanta's Turner Field (.857, 12-2) and Minnesota's Target Field (.760, 19-6).
Rotation ace Masahiro Tanaka — who entered the game with a league-leading 1.50 ERA in nine road starts — allowed four runs in five innings and lost for just the third time in 21 starts this season.
The loss also snapped a streak of seven straight Yankee wins in games started by Tanaka, the team's longest such streak since winning 12 games in a row with Ivan Nova (!) on the mound in 2011. Tanaka has now been tagged for 10 runs and 14 hits in 10 career innings at Minute Maid Park.
Prior to Tanaka's sub-par performance, Yankee pitchers had allowed just 17 runs in their previous 10 games, their best 10-game stretch of run prevention since July 1998.
Brian McCann drove in the lone Yankee run in the fourth inning with his 15th home run. This is the 11th time in his career he's hit than many homers in a season, a feat matched by only seven other catchers in MLB history: Carlton Fisk, Johnny Bench, Mike Piazza, Lance Parrish, Yogi Berra, Jorge Posada and Gary Carter.