The four-game winning streak is over. The Yankees failed to improve to three games over .500 for the first time this season (!) thanks to Thursday afternoon's 4-1 loss to the Orioles. They still won the series three games to one though. Based on the way this season is going, the Yanks will now lose something like five of six after getting their heads over .500.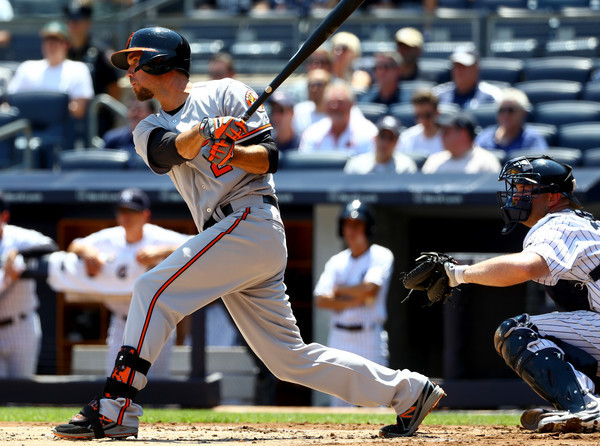 An Early Deficit
Carlos Beltran has been the Yankees' best hitter this season by a mile, but I think most would agree Didi Gregorius has been their best all-around player. That first inning was not one of his best, however. He couldn't make a play on Jonathan Schoop's one-out infield single — it wasn't a routine play but it looked makeable, especially with Didi's arm — which put the wheels in motion for the two-run rally.
Manny Machado punched a single to right as the next batter, then, with two outs and the very strikeout-able Chris Davis at the plate, CC Sabathia couldn't put him away in a two-strike count and wound up walking him. The pitch selection was a little odd, I thought. Here are the pitch locations: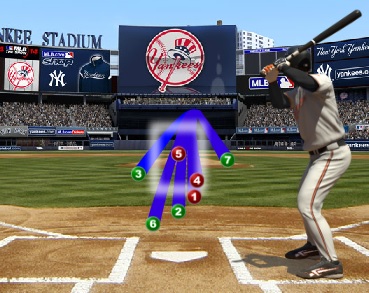 Pitch No. 3 was the only slider. Everything else was a sinker. Sabathia doesn't have the slider from hell he once did, but he and Brian McCann never even tried to get Davis to chase a breaking ball with two strikes. They fed him almost all sinkers — including three straight with two strikes — and Sabathia walked him to load the bases with two outs. Weird.
J.J. Hardy followed with a hard-hit ground ball to shortstop, which Gregorius failed to knock down, allowing the ball to scoot into the outfield for a two-run single. Again, not a routine play, but one a big league shortstop should make. At the very least, Gregorius has to knock it down and keep it on the infield so only one run scores. Look: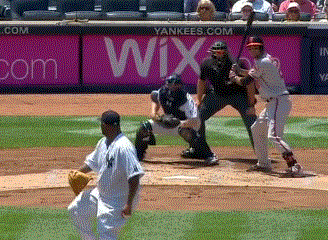 Yeah, not the best inning for Gregorius. Sabathia certainly deserves a share of the blame for allowing the single to Machado and (especially) walking Davis with two strikes and two outs, but Didi's inability to reel in Schoop's ground ball and the misplay on Hardy's grounder led directly to the quick 2-0 first inning deficit.
A Getaway Day on Offense
Not the best day for the offense. Brett Gardner and Jacoby Ellsbury opened the first inning with a single and a walk, respectively, but a Beltran double play short-circuited that rally, so this was another game with no first inning runs. The Yankees have score one (1) first inning run in the last calendar month. That was the run they scored Wednesday night, after Gardner's leadoff triple. Remember when they led MLB in first inning runs last year? Good times.
Anyway, the Yankees did get on the board in the second inning thanks to an excuse me double by Gregorius. He poked a ground ball down the third base line and just out of Machado's reach. Alex Rodriguez's fly ball moved Didi to third, then Starlin Castro brought him home with a line drive single to left to cut the deficit to 2-1. Chris Tillman settled down after that and retired 16 of the final 17 batters he faced following Castro's single. Only two of those 17 managed to hit the ball out of the infield.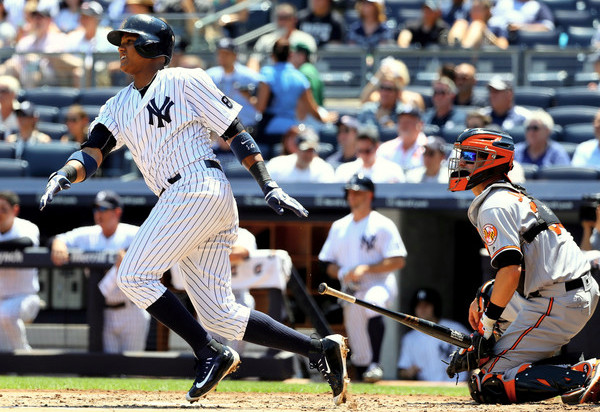 The O's Pull Away
To Sabathia's credit, he settled down after that rough first inning. He retired 15 of 17 batters from the second through sixth inning, and one of those two baserunners came on Sabathia's own throwing error. He got the weak grounder and had the play at first, he just pulled Mark Teixeira off the bag with the throw. So it goes. Sabathia stranded the runner anyway, so no harm, no foul.
CC started the seventh inning with only 83 pitches, and after getting a quick first out, Caleb Joseph and Julio Borbon singled to put men on first and second. Joe Girardi opted to stick with Sabathia and let him face the top of the lineup a fourth time. Home plate ump Mark Carlson rang Nolan Reimold up on what I thought was a borderline strike three for the second out, though Sabathia was unable to complete the Houdini act. Schoop followed with a two-run double to right to make it 4-1 O's.
I don't understand letting Sabathia face Schoop (or Reimold, for that matter) a fourth time, especially since Girardi just spent the last few days saying the Yankees are playing their most important July games in years. Dellin Betances has worked a lot of late, but Andrew Miller had two days off, and that was a spot for your best available reliever. I dunno. Just seems weird to talk about these games being so important, yet manage with such little urgency. I guess Girardi is on #TeamSell.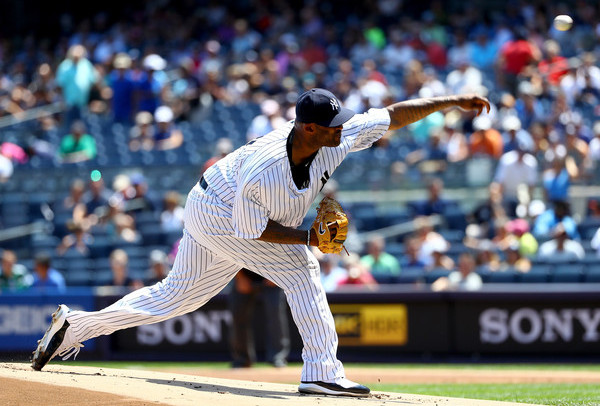 Leftovers
Sabathia finished with four runs allowed on seven hits and one walk in 6.2 innings. That's now six straight starts with at least four runs allowed — Sabathia has done that only one other time, way back in 2002 — ballooning his ERA from 2.20 to 4.04. Sabathia was pretty good this game though. Gregorius didn't give him much help in the first and then it came apart late, but for the most part he gave the offense a chance to get back in the game.
Castro had by far the best day of anyone on the Yankees. He not only drove in their only run, he also made several stellar plays in the field, including one spinning throw on a ball he had to range far to his left to retrieve. This was Starlin's best game on defense in pinstripes. Gardner, Ellsbury, Gregorius, and Ronald Torreyes had the team's other four hits. Gardner and McCann drew the only walks. The Yankees had two baserunners after the second inning: harmless two-out singles by Torreyes and Gardner in the fifth and eighth, respectively.
Chad Green came out of the bullpen to replace Sabathia, which officially closes the door on him starting Friday to give Masahiro Tanaka an extra day of rest. I don't really understand that. Starting Green would have allowed Tanaka to make his next two starts with extra rest. Seems weird not to do it. Green threw 2.1 scoreless innings of relief in this game instead. /shrugs
And finally, Chase Headley returned after missing Wednesday's game and the first few innings of this game due to personal reasons. He pinch-hit for Torreyes in the eighth inning. Headley told reporters his four-year-old son had a minor operation over the All-Star break, but there were some complications and he needed a second emergency surgery Wednesday. Yikes. Hope everything is okay now.
Box Score, WPA Graph & Standings
ESPN has the box score and updated standings, and MLB.com has the video highlights. Make sure you check out Castro's three defensive gems. He had a great day in the field. FanGraphs puts the team's postseason odds at 11.0% as of this writing. The Yankees have won seven of their last eleven games and they still lost half-a-game in the wildcard race. Their situation is indeed dire. We have Bullpen Workload and Announcer Standings pages. Here's the win probability graph:

Source: FanGraphs
Up Next
This four-game set with the Orioles is finally over. The Giants are coming to the Bronx next for a three-game weekend interleague series. Friday night's pitching matchup is a good one: Tanaka vs. Madison Bumgarner. RAB Tickets can get you in the door for that game as well as the other two remaining games on the homestand.