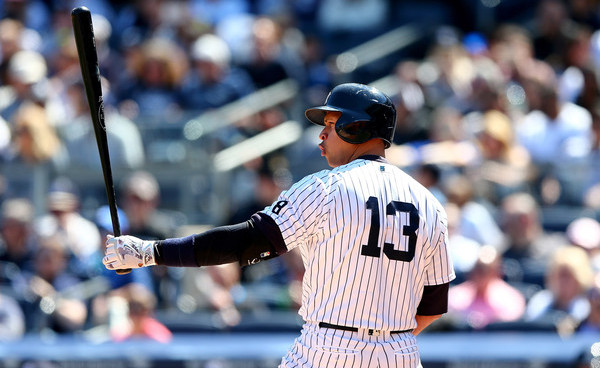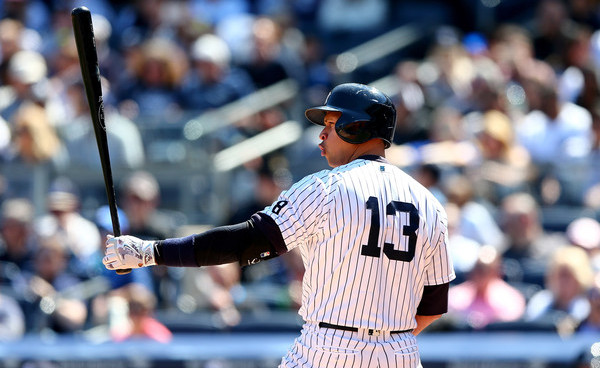 We've reached the final series of Alex Rodriguez's career. The final day, really. He will be in the lineup for tonight's series opener against the Rays before being released and heading home to Miami. Bummer. A-Rod will be back as a special advisor/instructor next season, but this is still the end of a very complicated yet very entertaining era. The Yankees are 4-5 against Tampa Bay so far this season, by the way.
What Have They Done Lately?
The Rays have been in absolute free fall since mid-June. They've lost four of their last six games and are 15-35 in their last 50 games. Tampa was 31-32 on June 15th. Now they're 46-67 with a -44 run differential overall. Only the Twins (46-69) and Braves (43-72) have worst records this season. Of course, that didn't stop the Rays from sweeping the Yankees at Tropicana Field two weeks ago. That was the series that reportedly pushed ownership to sell at the trade deadline.
Offense & Defense
The Rays aren't in last place by accident. They're averaging only 4.02 runs per game with a team 98 wRC+, and that's no good. (The Yankees are at 4.12 and 88, respectively.) The Rays are without three not very good players due to injury: OF Oswaldo Arcia (elbow), OF Desmond Jennings (knee), and 1B Logan Morrison (back). Arcia (89 wRC+) might be back this weekend. The other two were just placed on the DL this week.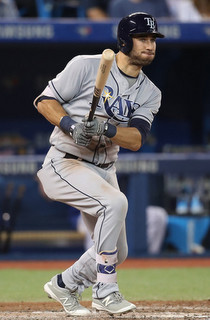 Skipper Kevin Cash changed up his lineup recently, albeit slightly. 2B Logan Forsythe (124 wRC+) and 3B Evan Longoria (129 wRC+) still bat first and third, respectively, but now CF Kevin Kiermaier (93 wRC+) hits second and 1B Brad Miller (119 wRC+) cleans up. Yes, Miller is a first baseman now. He'd been the shortstop up until last weekend. OF Mikie Mahtook (27 wRC+), DH Corey Dickerson (89 wRC+), and RF Steven Souza Jr. (92 wRC+) are lineup regulars as well.
The Rays added SS Matt Duffy (88 wRC+) in the Matt Moore trade with the Giants and he was activated off the DL today. He's been out since mid-June with a heel injury. Duffy played third with the Giants but is a natural shortstop, and Tampa is moving him back to that position. C Luke Maille (19 wRC+) and C Bobby Wilson (58 wRC+) are the catchers, and IF Tim Beckham (82 wRC+) and UTIL Nick Franklin (106 wRC+) are the other bench players.
Tampa is a good club defensively and they'll be better going forward with Duffy at short and Miller at first. Miller was a mess at short. He's inexperienced at first, but at least he'll do less damage there. Forsythe, Souza, and Mahtook are solid at their positions, Longoria moreso, and Kiermaier even moreso than that. The Yankees should be able to run on Maille and Wilson.
Pitching Matchups
Friday (7:05pm ET): LHP CC Sabathia (vs. TB) vs. RHP Chris Archer (vs. NYY)
Man, what a rough year for Archer, who finished fifth in the AL Cy Young voting last season. He's had to string together four straight quality starts to get his numbers down to 4.26 ERA (3.95 FIP) in 24 starts and 143.2 innings. His strikeout (27.3%) and grounder (47.1%) numbers are very good and right in with with last year, but he's walking more people (8.9%) and giving up way more homers (1.38 HR/9). Thanks to his very improved upper-80s changeup, the 27-year-old Archer has closed up his platoon split. He still sits in the mid-90s with his heater and his upper-80s slider is vicious. It might be the best slider in baseball, at least among right-handers. The Yankees saw Archer back in May, and he allowed four runs in eight innings.
Saturday (1:05pm ET): RHP Masahiro Tanaka (vs. TB) vs. RHP Matt Andriese (vs. NYY)
Andriese, 26, has moved into the rotation full-time thanks to the Moore trade. He has a 2.90 ERA (3.10 FIP) in 80.2 innings spread across ten starts and ten relief appearances this year, and he does it by limiting walks (5.6%) and homers (0.56 HR/9). His strikeout (19.4%) and grounder (46.0%) numbers are average-ish, and his platoon split has been tiny this year after being huge last year. Andriese is a low-90s fastball guy as a starter, and he also uses a mid-80s cutter. The cutter is a big pitch for him. A mid-80s changeup and low-80s curve are his two secondary pitches. The Yankees saw Andriese as a reliever late last month; he allowed one run in two innings.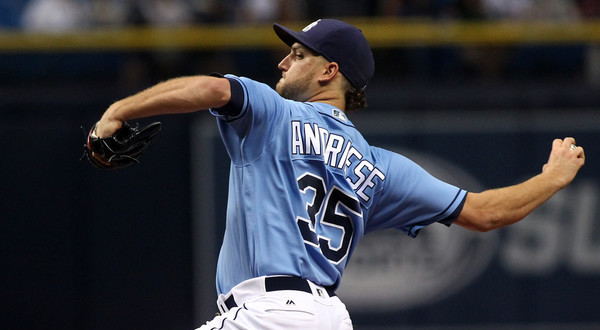 Sunday (1:05pm ET): TBA vs. RHP Jake Odorizzi (vs. NYY)
Odorizzi is quickly becoming one of those guys the Yankees can't escape. He seems to start against them every time these two teams meet. So far this season the 26-year-old righty has a 3.69 ERA (4.00 FIP) in 24 starts and 136.2 innings, and his underlying numbers are a mixed bag: 22.1% strikeouts, 7.1% walks, 37.2% grounders, and 1.25 HR/9. Odorizzi's had a reverse split throughout his career because his best pitch is a nasty mid-80s splitter. He sets it up with low-90s four-seamers. A low-80s cutter/slider is his third pitch, and he'll also flip a few low-70s curves per start to mess with hitters. The Yankees have seen Odorizzi twice this year: two runs in seven innings in May, and 6.2 scoreless innings in July.
As for the Yankees, they need to come up with starters for Sunday and Monday thanks to Nathan Eovaldi's injury. Both Severino and Chad Green are lined up to start Sunday, so chances are they will start those two games in some order. I'd throw Luis Cessa into that mix too.
Bullpen Status
The Rays are carrying eight relievers these days, which many teams seem to do. That's becoming a thing now. Here is Cash's collection of relievers:
Closer: RHP Alex Colome (2.03 ERA/2.67 FIP)
Setup: RHP Brad Boxberger (3.38/5.95), LHP Xavier Cedeno (4.33/2.91)
Middle: RHP Danny Farquhar (6.28/7.74), RHP Ryan Garton (5.14/3.70), RHP Kevin Jepsen (5.12/5.12), RHP Erasmo Ramirez (3.91/4.61)
Long: RHP Dylan Floro (4.50/2.20)
Colome has had a fine season and was Tampa's token All-Star this year. Boxberger has missed a ton of time this season with abdominal problems and is just now starting to settle in. Cedeno has left-on-left matchup guy stuff, but Cash uses him for full innings for whatever reason. Erasmo fills the Adam Warren role. I think you know what I mean.
The Rays had an off-day yesterday even though they only had to travel from Toronto to New York. Their bullpen is relatively fresh. Head over to our Bullpen Workload page for the status of Joe Girardi's bullpen.