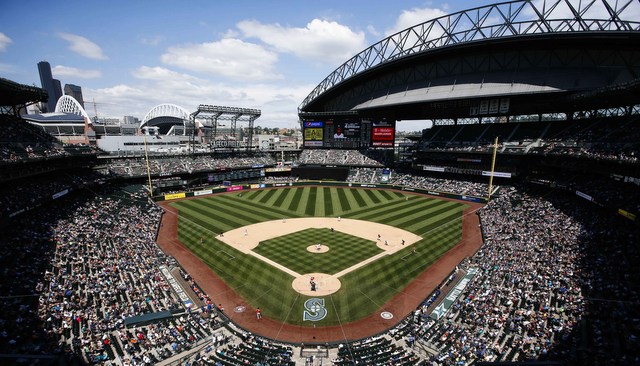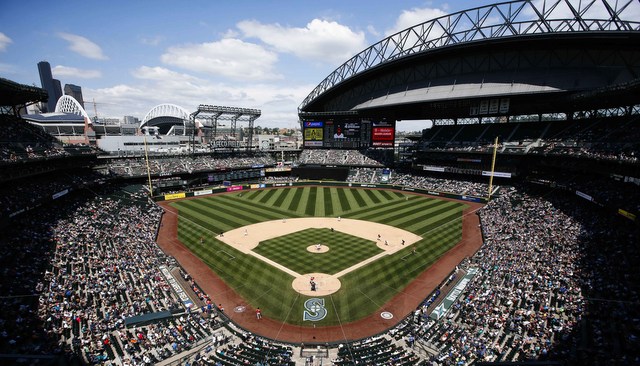 The West Coast road trip continues with three games in Seattle. This is a pretty huge series, you know. The Yankees are still trying to gain ground in the wildcard race and the Mariners are one of the five teams ahead of them. (Yes, five.) This series is a big chance to make up ground. The Yankees dropped two of three to the Mariners in Yankee Stadium way back in April. That was the fourth series of 2016.
What Have They Done Lately?
Things were going well for the Mariners until yesterday. They won 12 of their previous 15 games before blowing a three-run lead in the ninth inning Sunday afternoon. The bullpen gave up four runs to the rebuilding Brewers. Ouch. The Mariners are 66-57 with a +51 run differential overall. They're six games back of the Rangers in the AL West and one game back of the Orioles for the second wildcard spot.
Offense & Defense
The Mariners are, for the first time in a long time, a really good offensive team. They're averaging 4.71 runs per game with a team 108 wRC+. They also rank third in baseball with 172 home runs. How about that? The M's are generally healthy as well. The only injured position player is backup C Steve Clevinger — he's the guy they got from the Orioles for Mark Trumbo (oops) — who is out with broken hand. They don't even miss him. Clevinger won't be back this series.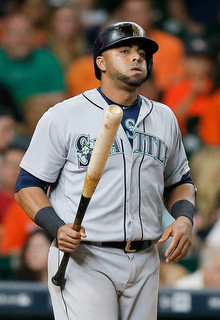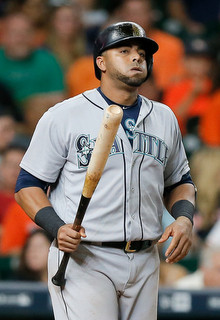 Seattle hits all those homers thanks largely to their 3-4-5 hitters: 2B Robinson Cano (136 wRC+), DH Nelson Cruz (147 wRC+), and 3B Kyle Seager (138 wRC+). Those three can all mash. Lately LF Nori Aoki (90 wRC+) and UTIL Shawn O'Malley (92 wRC+) have been platooning in left field and the leadoff spot. OF Franklin Gutierrez (108 wRC+) and RF Seth Smith (111 wRC+) have been platooning in right field and the No. 2 spot in the lineup. Those guys generally make up the top of the lineup.
1B Adam Lind (90 wRC+) and UTIL Stefan Romero (48 wRC+) have been platooning at first base lately. Lind always seems to crush the Yankees, doesn't he? C Mike Zunino (191 wRC+) and C Chris Iannetta (83 wRC+) share catching duties. SS Ketel Marte (71 wRC+) and CF Leonys Martin (93 wRC+) are the other regulars. The Mariners really put their bench to use. They have platoons in two of the three outfield spots, at first base, and behind the plate. There are no dead roster spots here.
Defensively, the Mariners are very good in center field and the three non-first base infield positions. Behind the plate as well. Iannetta and Zunino are both really good. The corner outfield spots and first base are sore spots regardless of who's out there on a given day. Well, I shouldn't say that. O'Malley is pretty good. The other guys are liabilities.
Pitching Matchups
Monday (10:10pm ET): RHP Michael Pineda (vs. SEA) vs. RHP Cody Martin (No vs. NYY)
Martin, 26, went from the Braves to the Athletics to the Mariners in cash trades last year. He's spent most of this season in Triple-A, where he has a 3.93 ERA (3.59 FIP) with good strikeout (23.2%) and walk (7.0%) rates in 103 innings. Martin has allowed five runs in 14.1 big league innings since being called up, striking out seven and walking three. Lefties have clobbered him (1.103 OPS) in very limited time. This season Martin is averaging about 89 mph with his four-seam fastball and a tick below that with his cutter, so he's not a hard-thrower. A mid-70s curveball is his go-to secondary pitch, and he'll also mix in some low-80s changeups. This isn't someone who will blow hitters away.
Tuesday (10:10pm ET): LHP CC Sabathia (vs. SEA) vs. TBA
The Mariners have not yet announced tomorrow's starter as of this writing, though the expectation is young right-hander Taijuan Walker will be called up from Triple-A. The 24-year-old has had a rocky 2016 season (4.10 ERA and 4.88 FIP in 90 innings) and he's also missed time with a foot injury. The team sent him down earlier this month to work on things. Before being sent down, Walker had very good strikeout (21.2%) and walk (5.3%) rates, but he didn't get grounders (43.0%) or keep the ball in the park (1.90 HR/9). Righties have had more success against him than lefties, though in the past he had a tiny platoon split. Walker sits in the mid-90s with his fastball and he throws it a ton, often more than 70% of the time within a start. An upper-80s splitter is his primary offspeed pitch. He'll also throw an upper-80s cutter and a mid-70s curveball. The Yankees did not face Walker when these two clubs met earlier this season.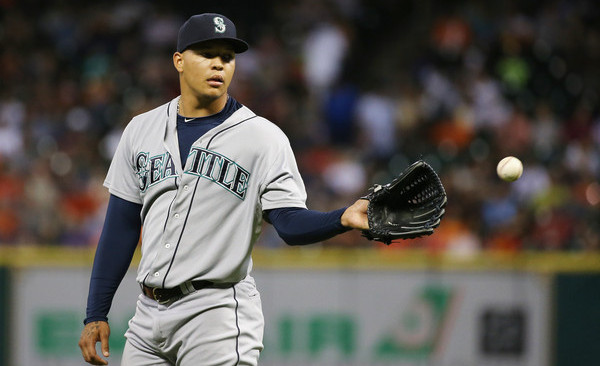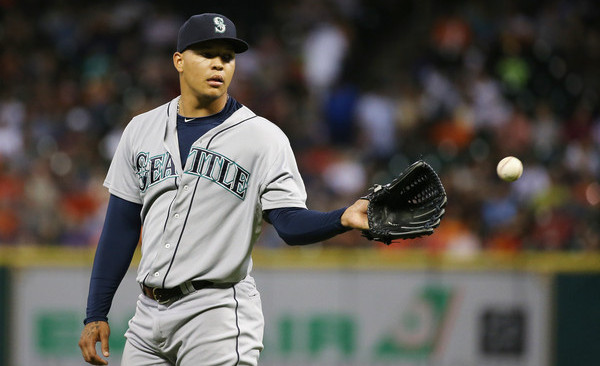 If Walker does not start for some reason — the Mariners could decide he needs more work in the minors — then chances are ex-Yankee lefty Wade LeBlanc would get the ball. He has a 4.72 ERA (6.02 FIP) in 47.2 innings with Seattle this season. LeBlanc would be on three days' rest tomorrow. The French David Huff threw 91 pitches Friday.
Wednesday (3:40pm ET): RHP Masahiro Tanaka (vs. SEA) vs. RHP Hisashi Iwakuma (vs. NYY)
Last year Tanaka and Iwakuma became the first former NPB teammates to face each other in the big leagues. The two spent the 2007-11 seasons together with the Rakuten Golden Eagles. They'll get a chance to face each other again later this week. That's pretty cool. Iwakuma, 35, has a 3.78 ERA (4.21 FIP) in 25 starts and 157 innings this season, so he's been rock solid as usual. His strikeouts (17.6%) and grounders (36.4%) are down, but he makes up for it by limiting walks (5.2%). Homers (1.26 HR/9) are an issue, but that's been the case since the day he arrived in the big leagues. Iwakuma has a tiny platoon split because his knockout mid-80s splitter is a true equalizer. He sets it up with upper-80s four-seamers and sinkers, and he'll also mix in a few low-80s sliders and low-70s curves. Iwakuma is definitely not a power pitcher. The Yankees scored four runs against him in seven innings back in April.
Bullpen Status
The Mariners have completely overhauled their bullpen through a combination of trades, signings, and call-ups this season. They have a new closer, a new setup man, and two new middle relievers. Here is the bullpen Servais is working with these days:
Closer: RHP Edwin Diaz (2.31 ERA/1.83 FIP)
Setup: RHP Arquimedes Caminero (3.35/4.38), RHP Steve Cishek (3.33/3.89)
Middle: RHP Drew Storen (5.77/4.80), RHP Tom Wilhelmsen (7.20/6.45), RHP Nick Vincent (4.01/4.32)
Long: LHP Vidal Nuno (2.76/3.91)
Cishek started the year as closer but has since lost the job. He, Vincent, and Nuno are the only holdovers from the Opening Day bullpen. Diaz was called up at midseason and is basically their Dellin Betances. He's struck out 43.3% of the batters he's faced as a big leaguer. Crazy. Caminero and Storen came over in minor trades and Wilhelmsen was signed after being released by the Rangers. Seattle traded him for Martin in the offseason.
Servais had to dip deep into his bullpen yesterday. Cishek (three pitches), Vincent (nine pitches), Caminero (16 pitches), Wilhelmsen (22 pitches), and Nuno (23 pitches) all pitched yesterday afternoon. Only Cishek pitched both Saturday and Sunday, however. Head on over to our Bullpen Workload page for the status of the Yankees' bullpen.