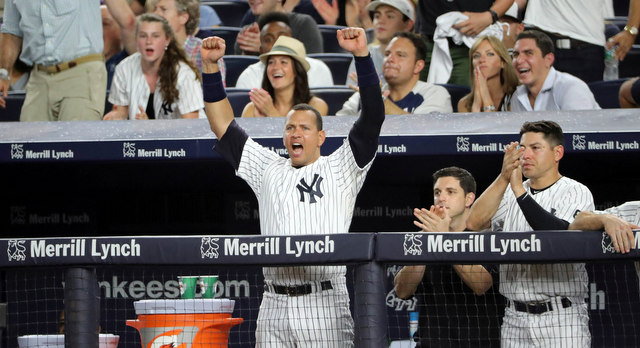 Holy cow is today a busy day in Yankeeland. Here's a quick rundown of what's going on today:
Both Aaron Judge and Tyler Austin were called up and are making their MLB debuts.
The Yankees are playing their first game in the post-Alex Rodriguez era.
The Yankees are holding their 1996 World Series team reunion ceremony.
I am sad to see A-Rod go. I really am. At least he got a nice send-off last night. It was better and warmer than I thought it would be. The Yankees turned the page fairly quickly though, and are going all-in on this youth movement. Judge and Austin join Gary Sanchez in today's lineup. That's fun.
As for the 1996 World Series reunion, well that's really awesome too. That was my first championship team as a fan and they'll always be special to me. Pretty cool that Judge and Austin get the experience that during their first day in the big leagues. The Yankees are showing these kids what it's all about in the Bronx.
The 1996 Yankees ceremony is going to begin around 12pm ET or so. YES will carry the whole thing, I'm certain. Today's game will then begin a little after 1pm ET. You can watch on YES locally and MLB Network nationally. Here's the Rays' lineup and here's the Yankees' lineup:
CF Jacoby Ellsbury
LF Aaron Hicks
3B Chase Headley
SS Didi Gregorius
2B Starlin Castro
DH Gary Sanchez
1B Tyler Austin
RF Aaron Judge
C Austin Romine
RHP Masahiro Tanaka
It's about a billion degrees outside with 5,000% percent humidity, according to my rough estimates. It is not a pleasant day to be outside. Hooray for air conditioning. If you're going to sweat it out at the ballpark, at least it promises to be a fun day to be a Yankee fan. Enjoy the day, folks.
Roster Moves: To get Judge and Austin on the roster, A-Rod was unconditionally released (sad face) and Ben Heller was optioned to Triple-A Scranton. He'll be back soon. Conor Mullee (elbow surgery) was transferred to the 60-day DL to clear the other 40-man roster spot.