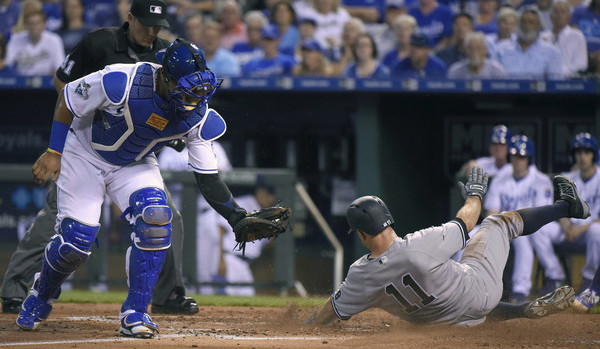 As soon as the Royals tied last night's game, it felt like a loss was inevitable. It was only a matter of time until they completely blew it, right? Rather than suffer the inevitable loss, the Yankees rallied for an improbable tenth inning win to keep pace in the wildcard race. That was a character building game. Going to need to win some ugly ones like that throughout the season.
Tonight's game is a chance for the Yankees to win this series against the Royals, after winning series against the Mariners and Orioles, two other wildcard competitors. Sweeps would have been nice, but winning the series is step one, and the Yankees accomplished that against Seattle and Baltimore. Time to do it against Kansas City. Here is the Royals' lineup and here is the Yankees' lineup:
LF Brett Gardner
CF Jacoby Ellsbury
C Gary Sanchez
1B Mark Teixeira
SS Didi Gregorius
2B Starlin Castro
DH Brian McCann
3B Chase Headley
RF Aaron Hicks
RHP Luis Cessa
It rained in Kansas City for much of the day but the forecast is clear tonight. Should be no win-sabotaging rain delay in this one. Tonight's game will begin at 8:15pm ET and you can watch on YES. Enjoy.