So the Yankees just won a 1-0 game in which their right fielder (not Carlos Beltran) drove in the only run and their bullpen (not Andrew Miller and not Aroldis Chapman) made it stand up. That is pretty, pretty cool. The Yankees beat the Blue Jays by that 1-0 score Monday night.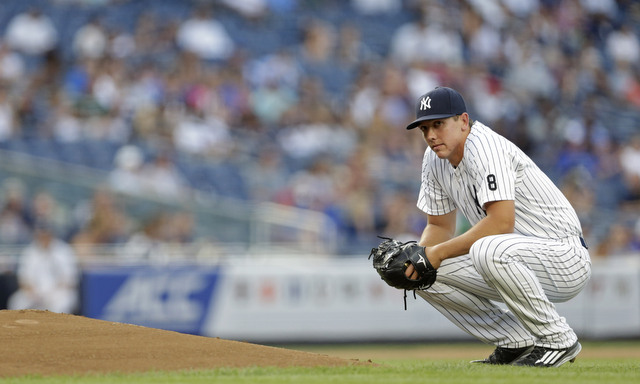 Mean Green Machine
I'm not going to lie, I wasn't feeling too great about Chad Green starting against the Blue Jays. They can really hit and Green came into this game with one good big league start in four tries. This one seemed like it could get out of hand early, but instead Green came out of the gate and retired the first 13 men he faced. He was dominant too. They weren't hitting line drives right at people.
The perfect game bid came to an end in the fifth inning, when Troy Tulowitzki dunked a single into shallow left field. Darrell Ceciliani followed with a double into the right field corner to give Toronto runners on second and third with one out. The Yankees had a one-run lead at the time and it felt like it was gone after the double. Limit the Blue Jays to one run and go from there. That seemed like a plan.
Green wasn't have any of that. He rebounded to strike out both Justin Smoak and Melvin Upton, stranding the two runners. The Upton at-bat was particularly grueling. Bossman Jr. forced Green to throw nine total pitches after he jumped ahead in the count 0-2, and after feeding him a steady diet of two-strike breaking balls, Green surprised him with a fastball on the outside corner for a called strike three. Just a perfect pitch. Upton was sitting slider all the way. The fastball was a total surprise.
I thought Green was done at that point. The Blue Jays forced him to throw 36 pitches that inning, so he was at 89 pitches through five, and when you get five shutout innings from a rookie starter against that lineup, it feels like you should take it and run. Instead, Joe Girardi sent Green back out for the sixth, and he struck out the side. He completely overpowered Josh Donaldson to end the inning. Blew him away with a high fastball. It was insane.
All told, Green held the Blue Jays to those two hits in six scoreless innings. He struck out eleven. Eleven! It was the second double digit strikeout game by a Yankee this season (Michael Pineda has the other). Green is the first Yankees rookie with 10+ strikeouts since Shane Greene in 2014. There's something about that color, I guess. Check out the pitch mix, via Brooks Baseball: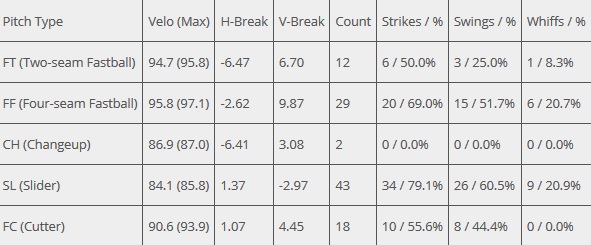 You'd like to see more changeups going forward, no doubt about it, but Green was heavy on the other four pitches and he mixed them very well. This wasn't a "get ahead with fastballs, then throw sliders" start. He faced 20 batters and threw 13 first pitch sliders. This was a no nonsense start. Green attacked and yes, that led to some long counts because the Blue Jays fouled 27 of 104 pitches off, but he had the hitters on the defensive. What a start. I suggest watching the video:
Look at those sixth inning strikeouts. That's not tricking guys. That's overpowering them. This start was by far the best Green has looked in the big leagues. The Yankees really needed a start like that in general, but especially from one of their young arms. They collectively have not looked good in 2016.
One Run, Despite Their Best Efforts
This had all the look of a "they're going to regret blowing all those opportunities" game. The Yankees put the first two runners on base in the both the first and second innings, but they scored neither time. They loaded the bases in the sixth and eighth innings, and scored neither time. The leadoff man reached base five times in eight offensive innings. None of the five scored. Argh!
The Yankees broke through for the game's only run in the fourth inning because Aaron Judge was sick of this crap. R.A. Dickey walked Brian McCann and Gary Sanchez back-to-back with one out, then Judge basically inside-outed a flat knuckleball to the right-center field warning track for a run-scoring double. He looked like he flicked his wrists. I thought it was a little jam shot bloop off the bat. The damn thing nearly hit off the wall. Judge has shown some crazy power in these three games.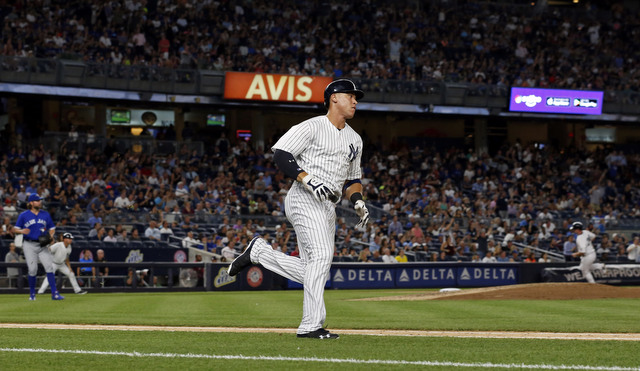 All told the Yankees went 2-for-18 (!) with runners in scoring position, and of course one of those two hits didn't even scoring a run. Jacoby Ellsbury managed lead off the first with a double and still have a terrible game. He grounded out with runners on first and second in the second, struck out with runners on second and third in the fourth, hit a chopper back to the pitcher with the bases loaded in the sixth, and struck out with runners on first and second in the eighth. Woof. Nine left on base.
Judge and Gary Sanchez both went 2-for-3 with a walk. The other seven hitters went a combined 4-for-27 (.148) with five walks. That youthful bat speed is a welcome addition to the lineup, though it should be noted both Chase Headley and McCann each had a hit and two walks. They did their job. Not a great night by the offense overall, but you know what? Sometimes you need to win a game 1-0.
Dellin's Escape Job
New old Yankees Tyler Clippard and Adam Warren combined for perfect seventh and eighth innings. Clippard's inning was huge. He faced the 3-4-5 hitters and retired them on nine pitches. Dellin Betances came in for the ninth inning and things got hairy. He jumped ahead of Josh Thole, the No. 9 hitter, 0-2 in the count, but ended up walking him to start the inning. ARGH.
Donaldson rifled a single back up the middle later in the inning for give Toronto runners on corners with one out. Edwin Encarnacion, who is hitting roughly .380/.550/.900 since the start of June (.298/.401/.662, to be exact), was up to the plate and he hit a rocket. Statcast measured it at 103 mph off the bat. It just so happened to be a grounder right at Headley.
Never in doubt! (It was very much in doubt.) That was a hold onto your butts ninth inning for sure, and while I was hoping Betances would get out of it with a pair of strikeouts, a hard-hit 5-4-3 double play will work just as well. Dellin's 5-for-5 in save chances as the closer this season. This was also the first time all season he pitched a full inning and did not strike out a batter. It was only his fourth strikeout-less game in 57 appearances overall.
Leftovers
I guess I kinda covered it all already, huh? Well, the Yankees are now 9-5 since selling at the trade deadline, so that's fun. I feel like I should mention that. Also, Green got the win and Judge drove in the game's only run. The youth movement is pretty darn fun, isn't it?
Box Score, WPA Graph & Standings
ESPN is the place to go for the box score and updated standings. MLB.com has the video highlights and we have both Bullpen Workload and Announcer Standings pages. By my unofficial count, the Yankees have played 38 series this season and YES has used 15 different booth combinations. Here's the win probability graph:

Source: FanGraphs
Up Next
The Yankees and Blue Jays continue this three-game series with the middle game Tuesday night. Pineda and Marco Estrada are the scheduled starting pitchers, making that one a candidate for the most frustrating game of the year. Pineda is Pineda and Estrada excels at getting weak pop-ups with his upper-80s fastball. There are two games left on the homestand, and if you want to catch either live, go to RAB Tickets.