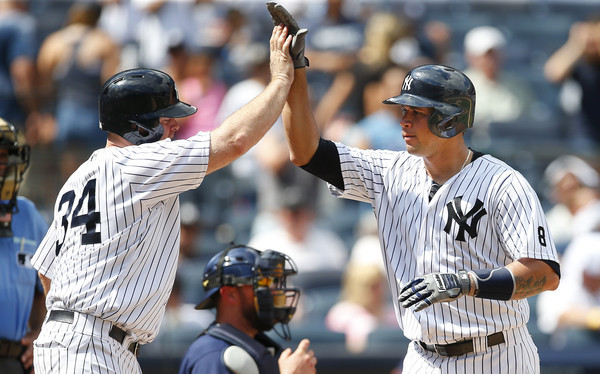 Over the last two weeks or so the Yankees have changed their direction dramatically. Yes, they're still playing up the "we're trying to contend" angle, but they traded quality veteran players at the deadline and have installed several young prospects into the everyday lineup. Those kids are playing too. They're not sitting on the bench three or four days at a time like we've seen in the past.
The first of those young players to arrive was catcher Gary Sanchez, who has started ten of 12 games since being called up. Six of those ten starts have come behind the plate, which is great, except the Yankees already have a pretty good veteran backstop in Brian McCann. McCann's not someone you just brush aside, not with another two years and $34M left on is contract after the season.
McCann has started exactly two games behind the plate since Sanchez was called up. That's it. Sanchez has caught six and Austin Romine has caught four. McCann has started five other games at DH, so he's been in the lineup seven times and out of the lineup five times since Sanchez arrived. That's a pretty drastic shift in playing time, right? This isn't an A-Rod caliber benching, but it's definitely a reduction in playing time.
There are reasons for this. One, Sanchez is clearly the catcher of the future and the Yankees want to see what he can do behind the plate on a regular basis, which means McCann has to sit. Two, McCann's been in a pretty miserable slump, going only 14-for-77 (.182) in the second half. And three, it helps reduce the wear-and-tear on McCann. He's not young in catcher years. There's a lot of innings on that body.
Sanchez's arrival has led to less playing time for McCann in the short-term. What happens in the long-term? That's a pretty big question. I see three possible outcomes, only two of which are realistic.
1. Release McCann. This just isn't going to happen. I know the Yankees cut ties with Alex Rodriguez last week, but quality catchers are very hard to find, and McCann is still very good relative to his peers at the position. You don't just eat $34M across two years and let some other team have McCann for free. Do that and he'd be a Red Sox or Ray or Tiger or Indian or Astro in about three seconds. This ain't happening.
2. Keep McCann. Again, McCann is pretty productive for a catcher, and there's never anything wrong with keeping a productive catcher. The second half slump has taken a bite out of his numbers, but a .232/.334/.406 (100 wRC+) batting line and 15 homers from a backstop is nothing to sneeze at. Years ago we watched Joe Girardi mentor Jorge Posada when Posada first broke into the big leagues and learned how to be an everyday catcher. McCann can be that mentor to Sanchez next year. Could you think of a better veteran to watch over the kid? I can't.
3. Trade McCann. A year ago at this time I probably would've laughed at the idea. But now we know the Yankees had trade talks with the Braves about McCann, and that the team is open to continuing trade talks — with any team, not just Atlanta — after slipping McCann through trade waivers earlier this month. After trading away Carlos Beltran, Andrew Miller, and Aroldis Chapman, why wouldn't the Yankees listen to offers for McCann? They'd be doing themselves a disservice if they didn't. (The big obstacle here is McCann's no-trade clause.)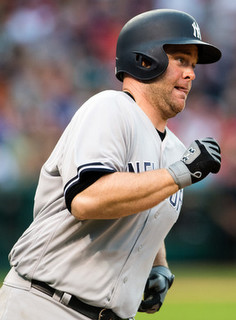 The McCann situation is similar to the Miller situation. The Yankees don't have to trade him. He's signed for another two years and if a team makes them a nice offer, great. But if not, they're not going to just give him away for the sake of making a move. McCann's a quality player who can be valuable to any franchise, even one going through a transition — "transition" is the Yankees' word for rebuild — like the Yankees.
At the same time, the McCann situation is not similar to the Miller situation. For starters, Miller was a truly elite player at his position whereas McCann is merely really good. Also, there are seven (and sometimes eight) bullpen spots. There's always room for a guy like Miller, on any team. Most teams only carry two catchers though, maybe three, so roster space is at more of a premium.
The Yankees are blessed with three big league quality catchers at the moment. McCann's a proven veteran, Sanchez did everything he needed to do in Triple-A, and Romine has shown himself to be a passable backup. They could carry all three on the roster next season. Heck, they're carrying all three right now. It was a little tough when A-Rod was still on the roster, but as long as that DH spot is not married to one player, three catchers is doable.
Doable doesn't make it the best way to go, however. Especially since these guys aren't versatile. It's catcher and first base only. Romine doesn't have much trade value — guys like Bobby Wilson and Bryan Holaday seem to be on waivers every other week — and Sanchez is presumably off-limits. McCann's not stupid. He knows Sanchez is here to take over behind the plate long-term. Does that make him more willing to waive his no-trade clause? I guess that depends on the teams that want him.
Over the last few weeks the Yankees have moved on from several expensive veterans, either by trading them or releasing them. Mark Teixeira's going to be gone after the season and I'd bet good money on either Brett Gardner or Jacoby Ellsbury being trading over the winter. (So Gardner, basically.) The Yankees are going young and McCann's one of those veterans the team will be able to replace internally rather easy.
There is no reason to rush into a decision with McCann. If the Yankees get a good trade offer in the coming weeks, great. If not, they can take McCann into the offseason and explore the trade market then. And if that doesn't turn up anything good, they can carry him into next season. The fact Sanchez is here and getting the bulk of the playing time does mean that, for the first time since he arrived three years ago, McCann's role with the Yankees going forward is not entirely certain.