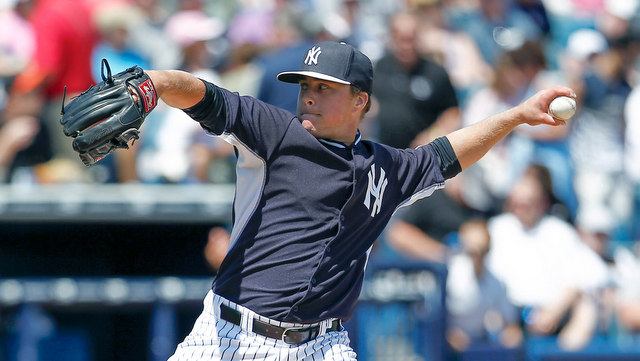 Left-hander Jacob Lindgren will undergo Tommy John surgery on Friday, the Yankees announced today. Unfortunately this doesn't feel like much of a surprise. He's been out since April with an elbow issue and we recently heard he had been throwing off a mound, so the ligament tear is relatively new. That bites.
Lindgren, 23, was the Yankees second round pick (55th overall) in the 2014 draft. They didn't have a first rounder that year. Lindgren destroyed the minors (1.83 ERA and 2.03 FIP) and was called up to the Yankees briefly last season. He allowed four runs in seven innings before having surgery to remove a bone spur from his elbow.
The Yankees started Lindgren in High-A this season because he couldn't throw strikes in Spring Training, and, sure enough, that continued with the Tampa Yankees. He walked nine and uncorked six wild pitches in seven innings before being placed on the DL. Lindgren hasn't appeared in a game since.
These days teams are giving players 14-16 months to rehab from Tommy John surgery, not 12 months, so chances are we won't see Lindgren in a game again until 2018. He's going to qualify for a fourth option, which will allow the Yankees to send him to the minors to make up for lost time come that 2018 season.