We've got 17 questions in the mailbag this week, so I tried to keep the answers short. The inbox was, by far, the fullest I've ever seen it. We got a ton of pre-deadline questions that were all rendered moot by Monday. Anyway, RABmailbag (at) gmail (dot) com is the email address. Send your questions there.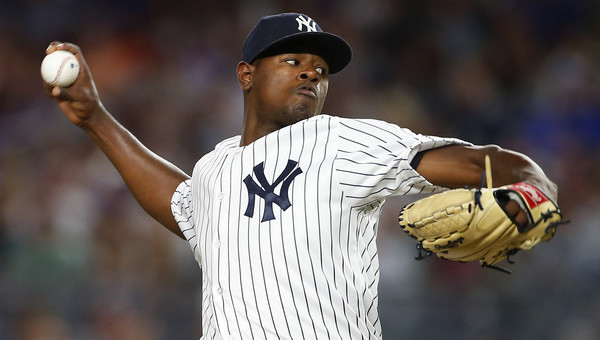 Justin asks: What is the current status of Severino's service time in regards to when he would first be eligible for free agency?
Luis Severino started the season with 61 days of service time, meaning he needs to spend 73 days in the minors to delay his free agency another year. The Yankees activated him off the DL and optioned him to Triple-A on May 30th, then called him back up on July 25th. That's 56 days in the minors. The Yankees would have to send him down another two weeks to delay free agency. As it stands now, Severino will qualify for free agency after 2021, same as if he remained on the big league roster all season. The extra year of control would be nice, but it would be useless if he doesn't pitch well. Severino is having success and building confidence right now. Let the kid run with it.
Asher asks: After all the trades, what does the Yankee's 40 man roster situation look like for the coming offseason? Is Frazier or any of the other new prospects Rule 5 draft eligible?
The Yankees acquired ten prospects at the trade deadline, not counting the two players to be named later in the Ivan Nova deal. Of those ten prospects, only two will be Rule 5 Draft eligible after the season: outfielder Rashad Crawford (Aroldis Chapman trade) and right-hander Ben Heller (Andrew Miller trade). The other eight guys are at least one more year away from Rule 5 Draft eligibility.
There's no reason to add Crawford to the 40-man roster. He's still an athlete playing baseball, if you know what I mean. His skills are raw and he still has a lot of development left ahead of him. I suppose some team could take him as a defensive minded fifth outfielder, but nah. There will be better players available to fill that role. The Yankees have already talked about calling Heller up this year, but even if they don't, they'll protect him from the Rule 5 Draft. Triple-A relievers who throw 100 mph are prime Rule 5 Draft fodder.
Many asks: Who could the Yankees send to the Arizona Fall League this year?
I cheated and asked you folks to ask this question in DotF one night this week, and damn yo, like 50 of you sent it in. Thanks. I'll never do that again. It took me forever to go through the inbox.
Anyway, teams typically send 7-8 players to the AzFL each season. Usually it's four pitchers and three or four position players. They're not all top prospects. Many are guys making up for lost time after dealing with injuries. That's why Greg Bird and James Kaprielian make sense as AzFL candidates, provided they're healthy enough to play come early-October. That's a big if.
Aside from Bird, I count five position players who stand out as AzFL candidates: Miguel Andujar, Aaron Judge, Billy McKinney, Kyle Higashioka, and Mason Williams. I guess Clint Frazier too, though he played out there last season. Judge (knee) and Williams (shoulder) both missed time with injuries, hence the AzFL bid. Andujar and Higashioka are having good seasons and you'd like to see them keep it going. McKinney is the opposite. He's not had a great year and hopefully he gets on track in AzFL.
It's always tough to pick pitchers because so many guys are bumping up against their innings limit. Domingo Acevedo went last year and is a candidate to go again due to his lower body and back problems. He's got some innings to make up. Dillon Tate is an AzFL candidate for sure after the Yankees tweak whatever they tweak. Give him more time to work on that stuff. Jonathan Holder and Gio Gallegos are possibilities too. The Yankees seem to have more AzFL candidates than usual this year, especially on the position player side.
Paul asks: Real talk: is Castro the Yankees' 2b in 2017? He hasn't worked out very well. Maybe he'll be more comfortable both in NY and at 2b? Or do the Yankees pull the plug?
I fully expect Starlin Castro to be the starting second baseman next season. That said, he hasn't had a good season at all and I'd really like the Yankees to move on and find another second baseman. The guy has over 4,000 plate appearances in the show and he still looks like an overmatched rookie at the plate. No plan whatsoever. Castro has $33.5M left on his contract after this season and I feel like it's only going to get harder and harder to trade him with each passing year. Move him while you can, then find someone else. Starlin's closing in on his third replacement level season in the last four years. Next.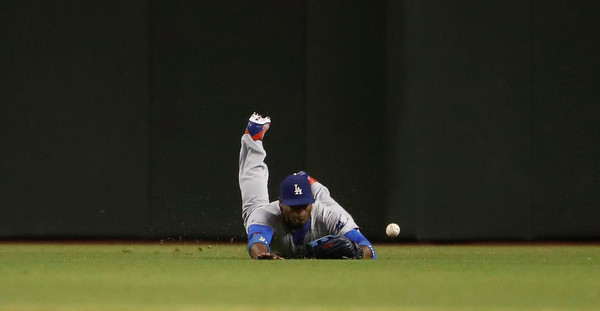 Dan asks: Should the Yankees be/have been in on Yasiel Puig?
I say no. Puig is a declining asset. His performance has gotten worse each season since his 2013 debut — to be fair, he was still above-average as recently as last season — and he's been dealing with nagging hamstring injuries for more than a full year now. Plus no one seems to like the guy. Jon Heyman reportedly Puig's recent demotion to Triple-A had as much to do with his clubhouse demeanor as it did his performance. Yes, Puig is still only 25 and he's insanely talented, but his performance is declining, he's having trouble staying healthy, and he's a negative in the clubhouse. Puig seems like a guy who peaked early and is becoming more trouble than he's worth with each passing season.
Isaac asks: Looking at the 2017 roster, is there room for 3 catchers to rotate around 1B/DH/C? Romine seems to have more value as a quality backup than as a trade chip, Sanchez deserves a longer look at the MLB level, and McCann is still a quality starting catcher. Does it make sense to keep all 3?
Yes, the Yankees could make three catchers work even if they don't cut ties with Alex Rodriguez. Would it be good roster construction? Absolutely not. Three catchers and one pure DH equals zero flexibility. Two guys would be in the lineup (one at catcher, one at DH) and two would on the bench on any given day, meaning the last two bench spots have to go to an infielder and an outfielder. Carrying three catchers with no A-Rod would be doable. Carrying three with A-Rod? Eh. They could do it, but it wouldn't be very smart.
Marc asks: Since the Yanks seem to be in future mode, would it not make some sense to acquire a competitive balance pick or two? Wouldn't it allow them to boost their bonus pool money so they could take advantage with a seemingly high 1st round pick if someone (a la Rutherford) were to fall in their lap?
Oh sure. It always makes sense to add draft picks. The 12 competitive balance lottery picks were handed out in late-July the last few years, but it didn't happen this year, which makes me wonder if the upcoming Collective Bargaining Agreement is going to do away with them. Maybe they're just waiting for the new CBA before dishing them out. Either way, the rules say you can only trade these picks during the regular season for whatever reason, so if the Yankees want to trade for a 2017 draft pick, they have to wait until April. We'll see what the upcoming CBA does to this whole process.
Craig asks: Was Miller our best free agent signing in recent years? (Maybe ever?) I cannot think of anyone else who so lived up to, and actually exceeded, expectations. Not sure the best way to measure this, as WAR doesn't capture relievers very well. Maybe WPA/dollar?
Yes, I think so, and we don't really need a stat to tell us that. I'd say Miller is the team's best free agent signing since Hiroki Kuroda (the first time), who was their best since CC Sabathia and Mark Teixeira. Those guys are the big four. They're the best free agent signings the Yankees have made in the last ten years or so. Maybe their best since Mike Mussina. It's too bad the rest of the team stinks and Miller couldn't stay around a little longer. He's pretty cool.
Eric asks: How does the recent trade activity impact the luxury tax — both this year and next?
There's not much impact next year because Chapman and Carlos Beltran were going to be free agents after the season anyway. Miller's $9M "tax hit" is gone and will be replaced next year by Tyler Clippard's $6.15M tax hit and Adam Warren's arbitration raise. Clippard and Warren figure to work out to $9M or so combined.
This year is a different story. The CBA says the Yankees are hit with pro-rated tax hits for Beltran, Chapman, Miller, Clippard, and Warren. Luckily the math is easy because Beltran's and Miller's salaries are the same as the average annual value of their contracts. Here's the breakdown.
| | 2016 Salary | 2016 Tax Hit for NYY |
| --- | --- | --- |
| Beltran | $15M | $9.26M |
| Chapman | $11.32M | $6.98M |
| Miller | $9M | $5.55M |
| Clippard | $6.1M | $2.34M |
| Warren | $1.7M | $0.65M |
| Total | $43.12 | $24.78M |
The Yankees were originally on the hook for a $35.52M tax hit this season between Beltran, Chapman, and Miller. By trading those three and taking on Clippard and Warren, they're now only on the hook for a $24.78M tax hit this season. That's a savings of $10.74M in salary plus $5.37M in luxury tax. That's not nothing! The Yankees saved roughly $16.11M in salary and luxury tax in 2016 with their deadline dealings.
Michael asks: Ivan nova was just traded for two players to be named later. My question is how are those decided? Do they decide on a list of prospects beforehand, or is it dependent on performance, something else?
As far as I know the only hard rule is that the PTBNL has to be named within six months. I'm not sure what happens if the player isn't named within six months. I assume the team gets angry they didn't get their player and the commissioner's office gets involved. From what I've seen over the years, there seem to be four PTBNL scenarios:
Pick someone from a list of players the two teams agree to before the trade.
It's a player who can't officially be traded yet, like a guy who hasn't gone through trade waivers or a recent draftee.
"We'll figure it out later."
Nothing. Some PTBNL become cash considerations.
It's been reported that the Nova trade falls into scenario No. 1. The Yankees and Pirates agreed to a list of players and the Yankees will pick two at a later date. It gives them some time to dig in and really scout those guys before making a decision.
Tyler asks: The return for Mark Melancon to the Nationals seems extremely light. He has great numbers and a similar salary and an expiring contract like Aroldis Chapman. Why was he traded for two marginal young relievers? Obviously Chapman is more dominant, but the package is not even in the same ballpark as the Torres McKinney Warren Crawford package. Is this just a credit to Cashman?
It did seem very light to me. To be fair, Felipe Rivero is a 25-year-old southpaw who has touched 99 mph this year and has a ridiculous out-pitch changeup. He's not a nobody. But yeah, Rivero and a middling prospect like Taylor Hearn — MLB.com ranks Hearn as the 27th best prospect in Pittsburgh's system — for a rental reliever as good as Melancon surprised me. Chapman is better than Melancon, but man, the Yankees got a top 25-ish prospect and Warren and two others for Aroldis. That's all the Buccos could get for Melancon? Really? I guess the Pirates just really like Rivero and Hearn.
Anonymous asks: If a player is claimed through waivers, it is my understanding that the team has three options: (1) pull the player back and keep him; (2) release the player outright to the claiming team; or, (3) work out a trade with the claiming team. With respect to the third option, can the claiming team only trade players who have also cleared waivers or is their entire team and farm system available to trade? Thank you.
Players on the 40-man roster have to go through waivers to be traded. No exceptions. Non-40-man roster players don't have to go through waivers. They can be traded at any time. There are a lot of PTBNL trades in August because waivers complicate things. Say, for example, the Marlins claim Michael Pineda on trade waivers and want to trade for him. They agree to give up Christian Yelich but haven't yet placed Yelich on waivers. So the Yankees trade Pineda for a PTBNL, Yelich goes through waivers, and once he clears, he's named as the PTBNL. And if he gets claimed, the Marlins pull him back and the two teams have to wait until the offseason to complete the trade.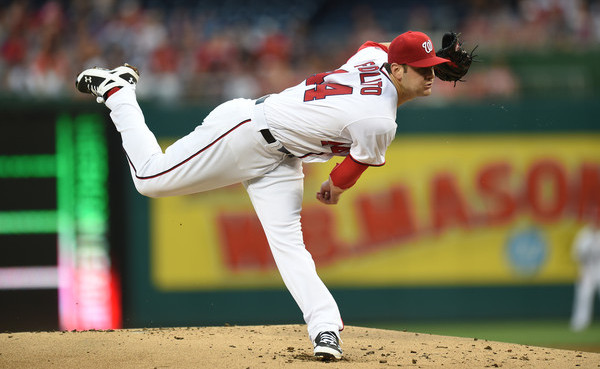 Stephen asks: A lot of rumors were tossed around before the deadline. The one that got most attention was the Miller for Giolito (straight up). Given that we now know the actual trade result for Miller, would you have preferred a straight-up trade for Giolito, or the actual return from Cle?
I'd rather have the package from the Indians over Lucas Giolito. Giolito's really really really good. Maybe the best pitching prospect in baseball. My concerns are that he a) has a major arm injury (Tommy John surgery) in his recent history, and b) seems to have a Pineda-esque "the results aren't as good as the stuff" quality to him. The Yankees need to rebuild their offense in a big way and Frazier is a potential cornerstone type. Don't get me wrong, they need everything, arms and bats, but when you're trading an asset as valuable as Miller, give me the four-player package built around an elite position player prospect over one pitcher. This is a fairly easy call for me.
David asks: I know that Teixeira has a no trade clause. If the Yankees place him on waivers, and he is claimed, and the Yankees don't ask for anything in return, is that still considered a "trade?" Could they let him and his contract go?
There's actually been some debate about this over the years. Technically a no-trade clause is a "no assignment clause" and everything in baseball is an assignment. When you send a player down, it's an assignment to the minors. When you trade a player, it's an assignment to another team. When you lose a player on waivers, it's also an assignment to another team. The MLBPA says no-trade clauses should cover all assignments, including waivers. MLB says nope, trades only. I'm not really sure what the answer is here. My guess is if the Yankees tried to dump Mark Teixeira on trade waivers and he didn't want to go, the union would fight it.
Mike asks: What happens to Rob Refsnyder after this season? Do you think they are auditioning him as a trade piece, or do you think the Yankees see him as a high-upside bench player?
Can we just out the "high-upside" part and go with bench player? If they're auditioning him as a trade piece, it isn't going very well, but I don't think that's the case. I don't think the Yankees consider Refsnyder an everyday player at any position for a number of reasons. He probably won't hit enough for right field or first base and he won't defend enough for second. I think they see him as a possible bench piece if he can hit enough. I also have a hard time thinking the Yankees would make Refsnyder off-limits in trade talks. He's a role player who's in the process of carving out a role.
Adam asks: What are the chances a team claims Ellsbury in August? Let's say someone does, should the Yankees just let him go for nothing but salary relief? Will they?
Never say never, but the odds of a team claiming Jacoby Ellsbury are very small. And if some team does claim him, I think the Yankees would let Ellsbury and the remaining $95M or so left on his contract go. How could they pass that up? Ellsbury isn't very good anymore and that contract is as bad as it gets. If another team makes the mistake of claiming him, say thank you and unload the contract. The Blue Jays did this years ago when the White Sox claimed Alex Rios. He was a good (but not great) player, but they had a chance to get out of the $60M left on his contract, so they let him go on waivers.
James asks: Out of all the people the Yankees received in the trades it seems like the person no one is talking about that could make an impact is Ben Heller. What do you think about him. He isn't even in the Yankees top 30 prospects but he could be a great set up man.
Heller actually ranked higher than McKinney when Baseball America (subs. req'd) ranked the 50 best prospects traded at the deadline. They had Heller at No. 22 and McKinney at No. 24. (Tate was No. 21.) He seems fairly well-regarded. Heller throws hard and he has a good slider, which makes him like countless other bullpen prospects, and that's why I'm a little hesitant to run him up the prospects list. What's the difference between Heller and, say, Johnny Barbato? That isn't to say Heller is bad. As a third piece in a trade, that's pretty good. I just want to see a little more before penciling him in to the long-term high-leverage reliever picture.