It doesn't matter where the two teams are in the standings. Watching the Yankees beat the Mets never gets old. The Yankees won Wednesday night's game 9-5 and we all had a good laugh along the way. Good game. Would watch again.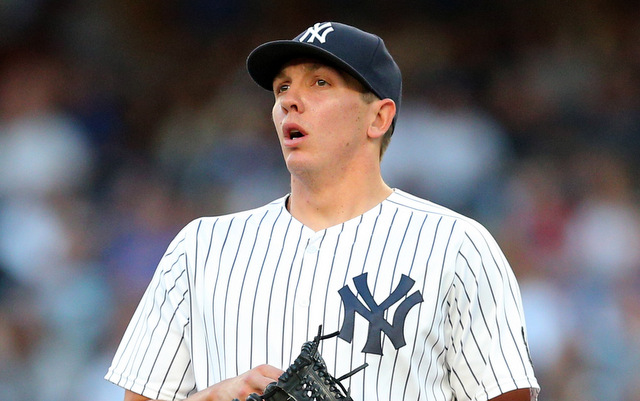 It's Not Easy Being Green
Boy, that could have been much, much worse for Chad Green. Don't get me wrong, three runs and 12 baserunners (!) in 3.2 innings is no good, but the Mets had him on the ropes a few times and failed to take advantage. Three ground ball double plays will do that. The Yankees had the bullpen working in every inning Green pitched. Heck, there was a reliever warming before he even got an out. He was that shaky.
The game started with a leadoff home run by Curtis Granderson, who knows a thing or two about going deep in this ballpark. That is the third leadoff homer the Yankees have allowed in the last nine games. Annoying! A string of singles followed to create another run — to be fair, none of them were hard-hit — before Green got the inning-ending double play. A defensive misplay by Mark Teixeira and another single create the Mets' third run of the game in the second inning.
Green faced 20 batters and 13 saw at least four pitches. Seven saw a three-ball count. There were an awful lot of long counts and foul balls — Green got six swings and misses and allowed 18 fouls out of 86 total pitches — because Green simply had nothing to put hitters away. They were on his fastball and his offspeed stuff was finishing too far out of the zone. Not a good start by any stretch.
Pick Up The Pitcher
The top of the first inning was mighty ugly — the Mets scored two runs and put five men on base total — and yet the Yankees were able to take the lead in the bottom half. Chase Headley drove in Rob Refsnyder (single) and Mark Teixeira (walk) with a booming double into the left-center field gap, then Didi Gregorius cashed in the third run with a two-run double. So, after all of that, the Yankees led 3-2 after the first.
The Mets knotted the game back up in the next half inning, but the Yankees responded by taking the lead for good in the bottom of the second. It all happened with two outs too. Jacoby Ellsbury and Refsnyder slapped two-out singles, then Teixeira drove a not terribly located 1-0 fastball …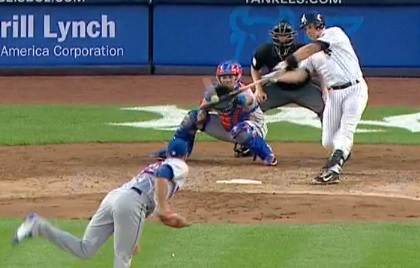 … into the right-center field seats for a three-run home run. Was a cheap Yankee Stadium homer? Yes. Yes it was. It still counts. It's not like Granderson's leadoff dinger landed in the second deck. That was a wall-scraper too. Anyway, the opposite field homer gave the Yankees a 6-3 lead. Amazing they had a three-run lead considering a) the general terrible-ness of the offense this season, and b) Green's ineffectiveness.
Shutdown Sevy
Since resurfacing a week or two ago, Luis Severino has look pretty good while pitching in mostly low-leverage relief innings. The Yankees have been taking it easy on him. Severino came out of the bullpen to replace Green and retired the first seven men he faced to take the ball into the seventh inning. That's when things started to unravel.
That seventh inning started with a leadoff walk, then Neil Walker laid down a bunt single and Headley booted a potential double play ball. Just like that, the bases were loaded with no outs and the Yankees still nursing that 6-3 lead. The Mets had their 4-5-6 hitters coming up too. It was a certifiable mess, and yet Joe Girardi stuck with Severino. No one was warming in the bullpen.
Rather than implode, which happened far too often when Severino was in a jam earlier this season, he was able to bear down and escape while allowing just one run. He struck out Jay Bruce on three pitches, got Yankee Killer James Loney to ground out to first (run scored to make it 6-4), then struck out Michael Conforto to escape the inning. Severino went full Joba with his fist pump: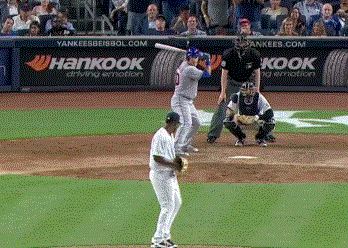 That was some serious F.U. pitching by Severino. He was throwing with conviction and went right after hitters with the bases loaded; Bruce, Loney, and Conforto saw nine total pitches, only one of which was a ball. That was easily his best inning of the season. Severino was letting those innings spiral out of control earlier this year when he was still in the rotation. On Wednesday, he kicked it into another gear and got out of the jam. That was impressive.
Broken Open Late
Immediately after Severino escaped that jam, the offense put three more runs on the board. Refsnyder had a sac fly, Starlin Castro beat out an infield single to score a run, and Gregorius drew a bases loaded walk. Hansel Robles chirped at Teixeira that inning because he thought he was stealing signs from second base. It was pretty funny. Robles was clearly distracted and Teixeira was just laughing at him the whole time. The three runs gave the Yankees a 9-4 lead.
Severino chucked a scoreless eighth inning to finish the night with one run allowed in 4.1 innings. He allowed just one hit and one walk while striking out five. Severino threw 60 pitches and got nine swings and misses, which is pretty excellent. This was by far the best he's looked all season. Tyler Clippard followed Severino and allowed a garbage time solo homer in an otherwise uneventful ninth inning.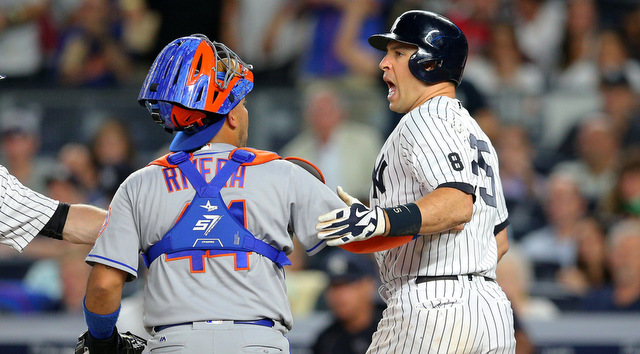 Leftovers
The benches cleared in the fifth inning. Steven Matz drilled Teixeira with a pitch in the leg and Mark didn't like that. He thought it was intentional after the home run in the third inning. There were no punches thrown or anything like that, but Teixeira had to be restrained and the dugouts did empty out on to the field. He got his payback when he slid in hard at second on Headley's double play ball.
The Yankees had nine hits total. Refsnyder had two, Austin Romine had none, and the other seven starters had one each. The Yankees also drew four walks total. Teixeira had two of them. He reached base four times (homer, hit-by-pitch, two walks). The Yankees went 4-for-8 with runners in scoring position. The Mets? They went 2-for-12 in those spots. Difference in the game right there.
And finally, congrats to Gary Sanchez. He picked up his first big league hit in the seventh inning on a solid ground ball single back up the middle. Sanchez went first-to-third on Aaron Hicks' double, then scored his first big league run on Refsnyder's sac fly. Here's to many more of those, Gary.
Box Score, WPA Graph & Standings
For the box score and updated standings, I suggest going to ESPN. MLB.com is the place to go for the video highlights. We have Bullpen Workload and Announcer Standings you may or may not find interesting. Here's the graph of win probability, which is based on thousands and thousands of games worth of historical data:

Source: FanGraphs
Up Next
The four-game home-and-home Subway Series is finally coming to an end. The Yankees and Mets wrap things up Thursday night at Yankee Stadium. Nathan Eovaldi and Bartolo Colon are the scheduled starters. RAB Tickets can get you in the door for that game or any of the other three games remaining on the homestand.