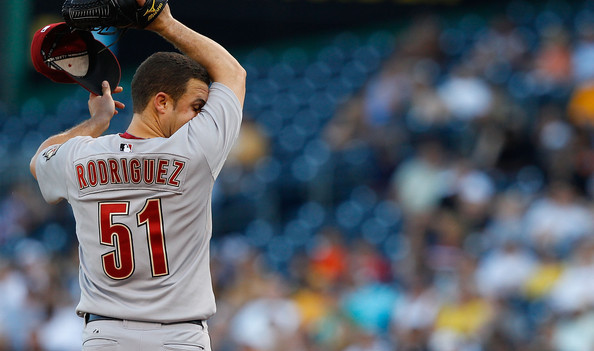 A new month has begun, which means it's time again to scroll back through the MLB Trade Rumors archives. We're now in August 2011, so the trade deadline has passed, and the Yankees did nothing. No trades at all despite their pitching needs and some roster holes created by injury. The natives were rather restless about that.
It didn't help that the Yankees slipped behind the Red Sox in the standings in July. They were 65-42 and a game back of Boston for first place on the morning on August 1st, and the Yankees were looking more and more vulnerable with each passing week. August was an opportunity to add pieces through waiver trades that maybe weren't available at the deadline. Time to get to the rumors.
August 1st, 2011: Rosenthal On Yankees, Wandy, Ubaldo, Bailey
Yesterday's push by the Yankees to acquire Astros lefty Wandy Rodriguez came from ownership, not GM Brian Cashman.  SI's Jon Heyman wrote yesterday that the Yankees offered to pay $21MM of the $38MM left on Rodriguez's contract, implying they feel that Rodriguez is worth less than $7MM a year.  Rosenthal says the Astros were willing to pay $2MM of Rodriguez's salary this year (essentially all of it) "or $5MM if his [player] option for 2014 were exercised."
Wandy was pretty good back then. He had a 3.60 ERA (3.50 FIP) in 195 innings in 2010 and finished the 2011 season with a 3.49 ERA (4.15 FIP) in 191 innings. The next year he had a 3.76 ERA (3.93 FIP) in 205.2 innings before falling apart in 2013. Adding Rodriguez would have been a fine move at the time, especially since the Yankees could have used another left-handed starter.
The larger point here is ownership taking the reins and trying to make a move over the head over the baseball operations department, which has happened before and will surely happen again. Ultimately, the Yankees were unwilling to take on much money and the deal fell apart. I'm curious to know what ownership was willing to send the Astros in the trade. I'm almost afraid to ask.
August 2nd, 2011: Olney On Bell, Yankees, Pirates
The Yankees are well-positioned to pursue the next starting pitcher who becomes available on the trade market, since they kept their top prospects this July. They also figure to pursue Weaver when he hits free agency after the 2012 season.
Weaver in this case is Jered Weaver, who wound up signing a long-term extension with the Angels a few weeks after this report. Jeff's little brother had a 2.41 ERA (3.20 FIP) in 2011 and was still in the middle of his legitimate ace phase. His performance started to collapse in 2014 as his fastball disappeared. Imagine if the Yankees had him on the books right now. It probably would have taken a five or six-year deal to sign him as a free agent after 2012, so they'd still have him through next year or the year after. Yikes.
As for getting involved in the pitching trade market during the 2011-12 offseason, the Yankees did exactly that. They traded Jesus Montero for Michael Pineda. The Yankees have come out ahead in that trade, but yeah, it hasn't really worked out for anyone. Other starters traded that offseason include Derek Lowe, Jonathan Sanchez, Trevor Cahill, Mat Latos, Edinson Volquez, Travis Wood, Gio Gonzalez, Jason Hammel, and Jeremy Guthrie. There's a couple good ones in there, but the Yankees opted for Pineda, and given how good he was a rookie, I can't say I blame them.
August 2nd, 2011: AL East Note: Bundy, Cervelli, Upton, Red Sox
The Yankees and Pirates almost agreed to a deal that would've seen Francisco Cervelli go to Pittsburgh in exchange for right-hander Brad Lincoln, reports George A. King of the New York Post.  King hears from a Pirates source that the trade "was very close but [the teams] couldn't agree on the value of the players."  Such a move would have given the Yankees room to call up Jesus Montero as both a backup catcher and as a potential DH platoon partner for Jorge Posada.  Brian Cashman said Montero could potentially be called up once the rosters expand in September.
There seem to be a lot of "the Yankees almost traded Cervelli" stories out there. They tried to trade him for Russell Martin in 2010, they offered him to the Pirates for Justin Wilson a year or two before the Cervelli-Wilson trade actually happened, and now we hear they tried to trade him for Lincoln. Huh.
Anyway, Lincoln was the fourth overall pick in the 2006 draft, and by 2011 it was pretty clear he was not going to live up to that draft spot. He had a 6.66 ERA (5.49 FIP) during his MLB debut in 2010, and in 2011 he was an up-and-down spot starter. I'm guessing the Yankees were planning to try Lincoln in relief. He had a 3.76 ERA (4.40 FIP) in 119.2 mostly relief innings from 2012-13 before falling apart. Good thing this one didn't happen.
August 3rd, 2011: Heyman On Hendry, Yankees, Astros
Yankees people don't think Erik Bedard would last 20 minutes in New York. Red Sox GM Theo Epstein said Sunday that he's happy to let Bedard's arm respond to his critics.
Bedard allowed 22 runs and put 59 men on base in 38 innings with the Red Sox.
August 7th, 2011: New York Notes: Jimenez, Nova, Collins, Wade
Within the same piece, Blakeley goes on to discuss the Yankees' July pursuit of Ubaldo Jimenez, saying that the organization feels Ivan Nova "is as good as this version of Jimenez."
Blakeley is Gordon Blakeley, a longtime member of the Yankees' front office. He left to join the Braves a year or two ago. Anyway, that comparison is not totally crazy. Ubaldo was signed through 2013 at the time. Here are his numbers and Nova's numbers from the 2011 trade deadline through the end of the 2013 season:
| | IP | ERA | FIP | K% | BB% | GB% | HR/9 | bWAR | fWAR |
| --- | --- | --- | --- | --- | --- | --- | --- | --- | --- |
| Jimenez | 424.2 | 4.45 | 4.17 | 21.3% | 10.8% | 42.0% | 1.02 | 1.8 | 4.7 |
| Nova | 376.1 | 3.99 | 3.96 | 19.3% | 7.4% | 49.4% | 0.96 | 5.6 | 4.9 |
See? Not crazy at all. At worse the two were comparable from the 2011 trade deadline through 2013, and at best Nova was far superior based on producing more WAR in almost 50 fewer innings. Plus Nova was making the league minimum and the Yankees would have had to give up other players to get Ubaldo too.
I wanted the Yankees to trade for Jimenez back in 2011. I really did. I was on the "send Montero to Colorado!" train. Good thing that trade didn't come together for a few reasons.
August 8th, 2011: AL East Notes: Millwood, Posada, Lawrie
Jorge Posada is no longer the Yankees' regular DH and the final chapter of his career may be characterized by inactivity, writes Mike Bauman of MLB.com.
There are a lot of similarities between Posada in 2011 and Alex Rodriguez in 2016, aren't there? Let's list 'em:
Neither was hitting. Posada was hitting so poorly in 2011 that he was demoted to ninth in the lineup while A-Rod has been so bad this season that he doesn't even play anymore.
Neither could play the field. Posada had to stop catching because of concussion issues. A-Rod had to stop playing third base because his hip surgeries sapped his mobility.
Both were kept on the roster for off-the-field reasons. The Yankees did not release Posada in 2011 because he was a legacy Yankee. A-Rod has not been released because the team owes him a ton of money through next season.
The Yankees have cut back on Rodriguez's playing time this season rather dramatically. They did the same to Posada in the second half of the 2011 season as well. He started only 20 of the team's final 56 games that year, including only seven of 28 games in September. The key difference is the contracts. Posada was a free agent after that 2011 season while the Yankees are stuck with A-Rod through next season.
August 10th, 2011: Quick Hits: Tigers, Angels, Rhodes, Pirates
The Yankees have some interest in signing recently-released left-hander Arthur Rhodes to a minor league deal, according to George A. King III of the New York Post.
Arthur Rhodes was still pitching in 2011, huh? I guess he was. The Cardinals picked him up after the Rangers released him and he threw 8.2 innings for them. The Yankees were connected to Rhodes fairly often through the years and I never wanted any part of him. I'd seen him give up way too many back-breaking homers to the Yankees, most notably in Game Six of the 2000 ALCS …
… and Game Four of the 2001 ALCS …
… so yeah, I never wanted the Yankees to go near him. You don't forget homers like that. I wanted the Yankees
facing
Rhodes, not employing him.
August 13th, 2011: Yankees To Sign Fifth Round Pick For $1MM+
The Yankees will sign fifth round pick Greg Bird for a signing bonus in the seven figures, reports ESPN's Keith Law (on Twitter). MLB's slot recommendation for the 179th overall pick is just under $132K.
The 2011 draft was the last draft before the bonus pools and Bird received the largest bonus the Yankees handed out that year ($1.1M). Only three players drafted and signed by the Yankees that year have reached MLB: Bird, Branden Pinder, and Matt Tracy. (Jon Gray and Nick Goody went back to school and were drafted again later.) The success of this draft class is all tied to Bird. If he returns from shoulder surgery and becomes an impact player, great. If not, the Yankees got nothing of value from this draft.
August 13th, 2011: Yankees Sign Scott Proctor
The Yankees have signed Scott Proctor to a minor league contract, reports Mark Feinsand of The New York Daily News (on Twitter). He'll report to their Triple-A affiliate early next week.
The one thing I'll never forget about Proctor's second stint in pinstripes was Game 162. That was the game the Rays made the huge comeback while the Red Sox collapsed in Baltimore, and ultimately missed the postseason. Proctor came out of the bullpen in the ninth inning of Game 162 and you could tell he was in there for the duration. The Yankees had clinched everything they could have possibly clinched, so Joe Girardi kept sending Proctor back out there, inning after inning. He threw 2.2 innings and 56 pitches before Evan Longoria hit his walk-off homer. Proctor was going to thrown 200 pitches if necessary.
August 14th, 2011: Yankees Notes: Swisher, Sabathia, Soriano, Garcia
There's no guarantee Bartolo Colon or Freddy Garcia are Yankees next season, but Garcia projects as a Type B free agent, meaning the club figures to at least offer him arbitration.
Garcia did actually qualify as the Type-B free agent that offseason and yes, the Yankees offered him arbitration. Which he rejected! Ultimately the Yankees ended up re-signing Garcia, but had he gone elsewhere, they would have received the 54th pick in the draft as compensation (assuming my math is correct).
The 54th pick in the draft that year? A kid named Mitch Gueller, who I actually wrote up as a potential draft target. Gueller currently has an 8.10 ERA in Low-A ball. The best player taken between that 54th pick and the Yankees' next pick (89th overall, Austin Aune) is Alex Wood, almost by default. Not much to see in the late supplemental first/early second round that year.
August 16th, 2011: Yankees Claim Raul Valdes
The Yankees claimed left-hander Raul Valdes off of waivers from the Cardinals, according to Bryan Hoch of MLB.com (on Twitter). To create space on the 40-man roster, the Yankees moved Jeff Marquez to the 60-day DL. They're assigning Valdes to Triple-A and won't need an active roster spot for him, according to Mark Feinsand of the New York Daily News (Twitter link).
The Yankees called up Valdes that September and he allowed two runs in 6.2 innings as a lefty specialist. Forgettable Yankees don't get more forgettable. Valdes is still pitching at age 38, you know. He currently has a 3.61 ERA in 77.1 innings as a starter for the Chunichi Dragons in Japan. How about that?
August 19th, 2011: Yankees Claim Laffey, Designate Gustavo Molina
The Yankees claimed left-hander Aaron Laffey off of waivers from the Mariners and designated catcher Gustavo Molina for assignment, according to Mark Feinsand of the New York Daily News (on Twitter).

Like Valdes, Laffey got a look in September and he allowed four runs in 10.2 relief innings. Laffey is exactly why you should teach your kids to throw left-handed. The guy has hung around the league since 2007 and he's banked roughly $4M as a journeyman southpaw. And he's got a good pension coming too. It's good work if you can get it. Laffey is only 31 and he's currently in Triple-A with the Nationals. He's still got a few more years of call-ups ahead of him.
August 20th, 2011: Yankees, Other Contenders Scouting Rich Harden
Rich Harden has been drawing interest from several contenders, writes Susan Slusser of the San Francisco Chronicle, and the Yankees were just one of the teams on hand to witness his dazzling start last night. Harden held a potent Blue Jays offense scoreless through seven innings while punching out 11 batters and allowing just two hits and four walks.
At this point Harden was already battling all those injuries and trying to hang on. Here's that eleven strikeout performance mentioned in the blurb. Harden's stuff still looked pretty good back then:
The Athletics never did trade Harden that year. Not at the deadline and not in an August waiver deal. He finished the season with a 5.12 ERA (4.69 FIP) in 82.2 innings and that was it. Harden got hurt the following spring and hasn't pitched since. Baseball is cruel.
August 23rd, 2011: AL East Notes: Blue Jays, Red Sox, Darvish
The Yankees have scouted Japanese pitcher Yu Darvish heavily, according to Sherman. Darvish, 25, "is coming" to the Major Leagues this offseason, according to one of Sherman's sources.
The Yankees did make a bid for Darvish after the season, though we never did hear the amount. Reportedly it was well short of the $51.7M the Rangers bid to win his negotiating rights. I don't think anyone didn't want the Yankees to go after Darvish, who has been pretty much as advertised since coming over. He's an ace and he misses a ton of bats. The Tommy John surgery stinks, but that's an occupational hazard, not a character flaw.
That offseason the Yankees focused on re-signing CC Sabathia and understandably so. Sabathia was awesome and he showed he could thrive in the tough AL East. The extension hasn't worked out as hoped, and yeah, going after Darvish rather than Sabathia would have been a much better move based on what we know now. Back then it was very different. Sabathia was coming off another Cy Young caliber season.
August 24th, 2011: Yankees Claim Carlos Pena; Deal Unlikely
5:06pm: GM Brian Cashman told MLB.com's Bryan Hoch that a trade is "very unlikely" for the Yankees and that he's "not optimistic" about making a deal. MLB.com's Carrie Muskat reports (on Twitter) that Pena isn't going anywhere.

4:16pm: The Yankees claimed Pena, according to Jon Heyman of SI.com (on Twitter). That means every team in baseball other than New York and possibly Boston passed on Pena. It's clear that the Yankees want Pena, according to ESPN.com's Buster Olney, but Ken Rosenthal of FOX Sports says the Cubs remain reluctant to make a deal (Twitter links).
Hah, I forgot the Yankees claimed Pena. He was having a typical late-career Carlos Pena season in 2011, hitting .225/.357/.462 (121 wRC+) with 28 homers, a ton of walks (16.7%), and a ton of strikeouts (26.6%). I assume the Yankees wanted him as first base/DH insurance. The Cubbies went 71-91 that season and were 56-73 on the day of this report, and I'm not quite sure why they were unwilling to discuss a trade with the Yankees. Pena was on a one-year contract. Weird.
August 31st, 2011: AL East Notes: Red Sox, Orioles, Montero, Rays
The Yankees were also involved in trade talks for Gonzalez, according to MASNsports.com's Roch Kubatko. However, Baltimore president of baseball operations Andy MacPhail preferred the pitcher the Rangers were offering.
The Gonzalez referred to here is Mike Gonzalez, the southpaw reliever. He had some incredible years with the Pirates back in the day, but, by 2011, he was essentially a middle reliever and left-on-left matchup guy masquerading as a high-leverage pitcher. The O's traded him to the Rangers for Pedro Strop that year and the Yankees instead cycled through the Aaron Laffeys and Raul Valdeses of the baseball world as they looked for a second lefty to complement Boone Logan. How thoroughly unexciting.