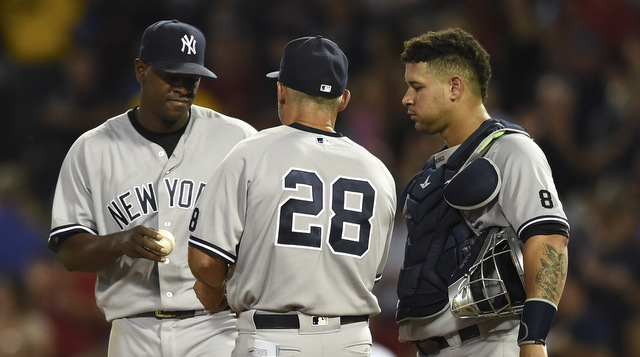 Two nights ago Luis Severino returned to the rotation with a thud, not a bang. The Red Sox roughed him up for five runs on seven hits (five extra-base hits) in 4.1 innings. He struck out three and didn't walk anyone, so … yay? The Yankees didn't exactly set Severino up for success by starting him against MLB's best offense in Fenway Park, but what's done is done.
Severino earned Tuesday's start with three strong relief outings, particularly his 4.1 inning masterpiece against the Mets last week. Overall, he allowed one run with ten strikeouts in 8.1 innings out of the bullpen. That's after a successful ten-start stint with Triple-A Scranton. Chad Green getting smacked around by the Mets certainly played a role in the team's decision to start Severino as well.
The Yankees sent Severino down weeks ago with a specific goal in mind: improve his secondary stuff. Both the quality of his pitches and his location. I think we've seen progress with his slider. First and foremost, he's actually locating it down in the zone now. Here are his slider locations in 2016 (click for larger):

Severino has done a much better job burying the slider down and away to righties since being recalled, and a better job keeping it down in the zone in general. Earlier this season he was throwing cement mixers that just spun up in the zone and got hammered. At least now he's burying them, and, as a result, the swing-and-miss rate on his slider jumped from 11.1% earlier this year to 13.9% since being recalled. (It was 8.9% last year.)
The progress Severino has made with his slider — both in terms of location and swing-and-miss rate — is promising, though it's clear there's still some work to be done here. The league average swing-and-miss rate on sliders is 15.2%, after all. That's okay though! He's a 22-year-old kid who is still developing. Severino apparently made some real progress with his slider while in Triple-A and that's good to see.
Now, that all said, the slider is just one piece of the puzzle. The Yankees sent Severino down to work on his secondary pitches. Not secondary pitch. The changeup was supposed to be a point of emphasis too, and so far, we've rarely seen it since Severino was called back up. He threw 85 pitches the other night against the Red Sox, and two were changeups. Two! It's not like he didn't have an opportunity to throw it either; the BoSox had six lefty hitters in the lineup.
Severino has thrown six changeups out of 207 total pitches since being called back up, or 2.9%. It was 14.6% changeups last year and 14.6% changeups before being sent down earlier this year. I can understand not throwing changeups out of the bullpen, but what's the reason for Tuesday night? Severino was throwing to Gary Sanchez, who caught him a ton in the minors, so I can't imagine not trusting the catcher was a reason.
"I'm not throwing it a lot because I don't have the same confidence I had two years ago," said Severino to Chad Jennings yesterday. Tuesday night Severino was out there as a two-pitch pitcher. He threw 43 fastballs, 40 sliders, and two changeups. That's better than being a one-pitch pitcher like he was earlier this season, but it's still not good enough. It leads to things like this:
First time through the lineup: 2-for-9 (two singles)
Second and third time through: 5-for-11 (four doubles, one triple)
Once the lineup turned over and hitters got a second look at him, the Red Sox were over all Severino. Those doubles (and triple) were not softly hit. They were rockets off the wall and down the line. The swings were mighty comfortable, and part of that is the Red Sox just being really good at hitting, for sure. Part of it is also Severino having nothing else in his bag of tricks. Once they saw the fastball and slider, hitters had nothing else to worry about.
Throwing bad changeups is one thing. Not throwing the changeup is another. It suggests Severino is not comfortable using it at this point, which is weird, because all throughout his time in the minors we heard it was his top secondary pitch. From Baseball America in 2014 (subs. req'd):
While Severino's mid-80s slider was his top secondary pitch before he signed, he has developed a solid changeup since signing, and it's presently the better of the two. His slider still flashes plus but remains inconsistent.
And now from Baseball America in 2015 (subs. req'd):
He couples the fastball with a changeup that features plenty of late fade. He's confident enough to double and triple up on the pitch at times and use it to get strikeouts against both lefthanders and righthanders.
Yeah, we didn't see that the other night. To be fair, we're talking about one start. A pitcher not using his changeup in relief is not uncommon at all. We need some more information before we can say anything definitive about Severino's changeup usage, or lack thereof. It was just really discouraging to see him shy away from the pitch entirely the other night, especially since he actually got a whiff with one of the two changeups he did throw.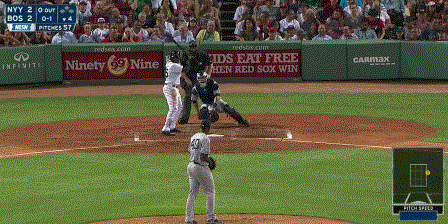 One thing has become increasingly clear this season: Severino is not the instant ace we all wanted to believe he was coming into the season. His secondary pitches need work, and to his credit, he went to the minors and improved his slider. Did he improve his changeup as well? We don't know. Severino hasn't thrown it since coming back, but he'll need it to be successful. Almost every starter does.
The Yankees could have kept running Severino out there every fifth day — it's not like they're in the postseason race — but they opted to send him to Triple-A yesterday, which is for the best in my opinion. The team really rushed him up the minor league ladder and a lot of the things Severino is working on now are things he should have worked on in the minors, before his MLB debut. This year the Yankees have been forced to send him down to play catch up.
There's a fine line between letting a guy go through developmental growing pains and letting him get blasted every fifth day, destroying his confidence. I think Severino is really at risk of the former. Hopefully things are different the rest of the year, and we see the same improvement with the changeup as we've seen with the slider whenever he comes back up. Severino's a very important piece of the long-term picture and getting him right has to be Priority No. 1 the rest of 2016.