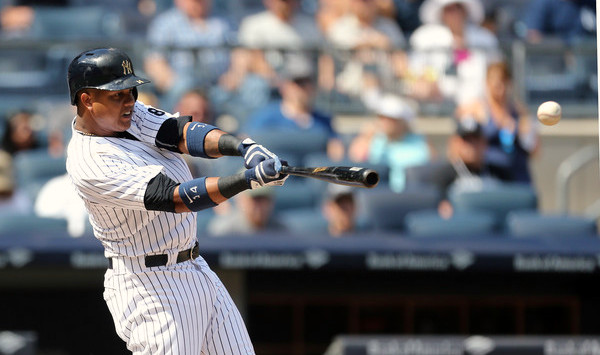 Yesterday afternoon the Yankees were shut out by the Orioles and Kevin Gausman, which, unfortunately, has been all too common this season. They have no answer for Gausman at all. The young right-hander has made four starts against the Yankees this season and he's held them to three runs in 27.2 innings. That's a 0.98 ERA. He has a 4.41 ERA against all other teams. Sigh.
Thankfully, games like that, in which the offense no-shows, have been rare this month. Very rare, in fact. Yesterday's loss snapped the Yankees' five-game streak of scoring at least five runs, the team's longest such streak in three years. The Yankees scored 14 runs Friday night and another 13 runs Saturday. They scored 10+ runs six times in the first 126 games of the season, then did it back-to-back days this weekend.
Even with yesterday's shutout loss, the Yankees have scored 133 runs in August, making it their highest scoring month of the season. There's still three more games to play before September arrives too. Here is the Yankees' month-by-month runs scored ranks among the 30 MLB clubs:
April: 74 (30th)
May: 119 (22nd)
June: 129 (13th)
July: 97 (23rd)
August: 133 (4th)
Not surprisingly, power has played a big role in the Yankees' sudden run-scoring ability. They've hit 40 homers so far this month, ten more than any other month this season. (They hit 30 in both May and June.) Obviously the arrival of Gary Sanchez has played a huge role in the improved offense. He's hitting .425/.489/.938 (274 wRC+) with eleven homers in 21 games this season since being recalled after the trade deadline.
Sanchez is not the only reason the offense has been much improved this month though. Remember, the Yankees traded away Carlos Beltran at the deadline, and he was their best hitter for much of the season. It's not like they simply added Sanchez on top of what they already had. Several players have improved their performance this month as well. Three others in particular have mashed in August:
| | April to July | August |
| --- | --- | --- |
| Starlin Castro | .256/.292/.395 (81 wRC+) | .309/.337/.557 (135 wRC+) |
| Aaron Hicks | .187/.251/.287 (41 wRC+) |  .307/.342/.480 (121 wRC+) |
| Mark Teixeira | .192/.269/.322 (58 wRC+) |  .254/.359/.433 (116 wRC+) |
That doesn't include the red hot Ronald Torreyes, who has gone 14-for-26 (.538) with six doubles, a homer, a walk, and no strikeouts over the last week. He's exactly the kind of high-contact hitter who can go on an insane BABIP-fueled run like this. Torreyes replaced Chase Headley at third for a few games while Headley nursed an Achilles injury, and he's stayed in the lineup because he's been so hot.
There are reasons to believe this is all legit too. Castro has always been a second half hitter; he has a career 86 wRC+ in the first half and 105 in the second half. Hicks is playing everyday again, something he wasn't able to do for much of the first half. I know no one wants to hear it, but I truly believe the regular at-bats help get him on track. Teixeira? Well, he couldn't possibly be that bad all season, right? I hope so. We have to hope and pray a little more with Teixeira than we do Castro and Hicks.
It hasn't all been good news this month. That's just the way it goes. Brett Gardner (78 wRC+) and Jacoby Ellsbury (85 wRC+) haven't been great in August, which is kind of a problem because they hit first and second — directly in front of the molten hot Sanchez — most games. Brian McCann (77 wRC+) hasn't done much either, and call-ups Aaron Judge (85 wRC+) and Tyler Austin (-11 wRC+) have cooled off following their big MLB debuts. You can't really expect the kids to carry the offense though. Sanchez is the exception, not the rule.
Still, the point is the Yankees have multiple hitters locked in right now. Most of the season they were able to rely on Beltran and maybe one other hitter at any given time. Didi Gregorius was hot for a while. Then it was McCann. Then Headley. Then whoever. The offense never seemed to fire on all cylinders, and truth be told, it still doesn't feel that way. At least now there's more than one or two guys carrying to load. Sanchez has been getting the kind of help Beltran never received.
The Yankees beat up on some bad Orioles pitching Friday and Saturday night, which skews their August numbers a tad. They're averaging 4.61 runs per game this month if you remove those two blowouts, which is still their second highest scoring month this year after June (4.78). Friday's and Saturday's games happened though. They count. Earlier this year the Yankees rarely beat up on bad pitching. They just did it on back-to-back days.
No one expects Sanchez to stay this hot the rest of the season. It's pretty much impossible. Hopefully as he cools down others like Gardner and Ellsbury and McCann heat back up and create a deeper, more balanced lineup. Scoring runs can still be a struggle for the Yankees, we saw it yesterday, but they've done a much better job offensively of late. They'll have to keep up this pace to continue climbing back into the postseason race.