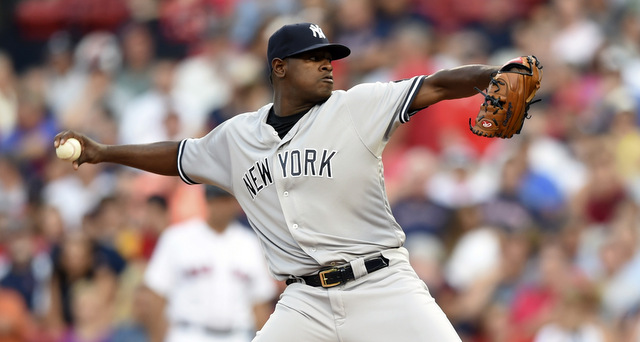 Two days ago, in his latest return to the rotation, Luis Severino got roughed up by the Rays and didn't make it out of the fourth inning. He looked pretty good at times and flat out bad at others. Severino wasn't any better than he was earlier this season, when he was getting hammered every fifth day before landing on the DL. If he was better, it wasn't a ton better. At least his slider has improved.
In the grand scheme of things, one start doesn't mean a whole lot. We shouldn't change our long-term view of Severino one way or the other based on 3.2 innings. Sunday night's start was meaningful in the sense that the Yankees are trying to build a pitching staff for the future, and Severino keeps getting opportunities because the team hopes he is a big part of that pitching staff of the future. He still has an awful lot of upside.
"I think all players hit bumps, whether you're young or old," said Joe Girardi to Chad Jennings after Severino was sent down following Sunday's start. "But one thing I think part of our focus has to be is helping those kids get through those bumps, because you don't get here unless you're talented enough. You don't just come from nowhere and all of a sudden stay here. But you got to help them get through the ups and downs."
Much of the second half is going to be spent auditioning young bats. Gary Sanchez has been up for almost two weeks now and is playing regularly. Tyler Austin and Aaron Judge came up over the weekend and both have had an immediate impact, especially Judge. The Yankees still have Clint Frazier in Triple-A and other high-end position players like Gleyber Torres and Jorge Mateo in the low minors.
Not all of these guys are going to work out. We know that. That's baseball, and that's why it's important to have as many high-end prospects as possible. The more you have, the more likely you are to end up with bonafide star(s), something the Yankees lack right now. We'll see Sanchez and Austin and Judge in the coming weeks. Frazier is coming next year, and Torres and Mateo hopefully soon after that.
Pitching prospects are a very different story. The Yankees have high upside position player prospects but they lack potential impact pitching prospects, especially at the upper levels. There's Severino, who technically isn't a prospect but still kinda is, and … Chad Green? Luis Cessa? Chance Adams? New York's best starting pitching prospects are in High-A (Justus Sheffield) or injured (James Kaprielian).
This is why the Yankees focused so much on adding controllable starting pitching during trade talks last offseason. Aside from Green, the four starters currently in the rotation can become free agents after next season. The Yankees hope Sheffield and Kaprielian will be ready by then, and hope that someone like Cessa or Severnino or Adams emerges as another piece, but relying exclusively on those players is kinda foolish.
The upcoming free agent markets are so bad. The best free agent pitcher this offseason will be either Doug Fister or Jeremy Hellickson, depending on your preference. Jake Arrieta will be a free agent after next season, but he's going to turn 32 during Spring Training 2018, so the Cubs are getting the best years of his career right now. It's entirely possible the best starter on the 2017-18 free agent market will be Masahiro Tanaka, assuming he opts out.
The sudden wealth of position player prospects can help the Yankees build the pitching staff going forward through trades. Like I said, not all of these guys are going to work out, and the key is determining who is worth keeping and who should be traded. This is much much much easier said than done. I can't help but look at Torres and Mateo, two high upside shortstops at the same level, and think one of those dudes is getting traded for an arm soon.
Getting Severino on track is step one of building the rotation of the next great Yankees team. He is, by frickin' far, the team's best hope for a cheap frontline starter, Sunday afternoon's start notwithstanding. The Yankees did a really nice job building a strong position player core not just at the deadline, but over the last few years. Now they need to shift gears and bring the pitching staff up to speed.