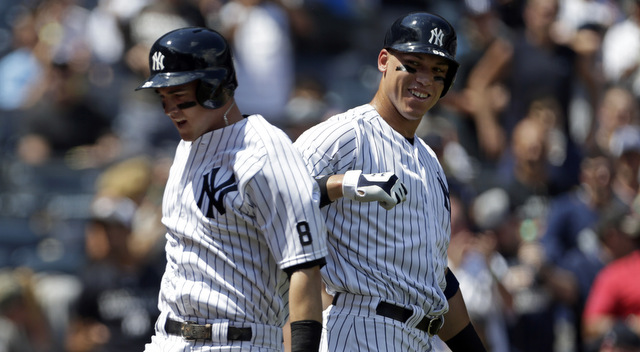 Last night's 1-0 win over the Blue Jays was very much a nail-biter. The Yankees have 61 wins this season and not too many of them have been stress-free. This team doesn't do blowouts. Not this year. So of course the Blue Jays were able to put the tying run on third base in the ninth inning. The Yankees had to sweat right up until the final out, and when it was all said and done, they won for the ninth time in 14 games since the trade deadline.
That trade deadline was a momentous day (or series of days) for the Yankees. They sold for the first time in nearly three decades, sending away three productive veterans (and Ivan Nova) for 12 total prospects (and Adam Warren). I don't think many folks thought the Yankees would actually go through with the sell-off even though it was clearly in the best interests of the franchise long-term. It had to be done.
In many cases, once a team trades away productive veterans for prospects at the deadline, they slip back in the standings and really wear it the rest of the season. Not many teams sell and improve in the second half. Those seem like conflicting ideas. Usually it's one or the other. Not both. It's a little early to say the Yankees have improved since the trade deadline, but you know what? They are way more fun and interesting. I have zero doubts about that.
It's all because of the young players. The Carlos Beltran trade has cleared the way for Aaron Judge, who is the first Yankee ever to record an extra-base hit in his first three career games. The first guy to do that in franchise history. Insane. Gary Sanchez has been up for close to two weeks and he's been mashing. Judge and Sanchez recently hit balls a combined 900 feet or so for their first career home runs. It was incredible.
There's also Tyler Austin and Chad Green, who have had their moments as well. Austin homered in his first MLB at-bat and Green shoved against the Blue Jays last night. Eleven strikeouts in six scoreless innings against that lineup? Amazing. Warren is back and that's fun too. So is Aaron Hicks performing well since the deadline. About the only negative lately has been Luis Severino's two bad starts.
The Yankees had to make some tough decisions these last few weeks to make this all possible. Selling at the deadline was no doubt a difficult call for ownership. The team also pushed Alex Rodriguez out the door and ate the $25M or so left on his contract to get these young guys in the lineup. Brian McCann has not been completely benched, but his playing time has been reduced. Mark Teixeira's too. You think Joe Girardi wants to do that to those guys? Of course not. But it's for the best.
Right now the Yankees are 4.5 games back of the second wildcard spot and FanGraphs has their postseason odds at 4.1% as of this writing. I have no idea whether this team can rally and get back in the thick of the playoff race. Probably not. The odds are stacked against them. I do know the Yankees have made smart moves designed to improve the franchise long-term, and I do know they've called up several exciting young players recently.
Judge's and Sanchez's at-bats are must see television right now. Same with Austin. As great as Beltran was this season, watching Judge is far more enjoyable, at least to me. Watching Sanchez and Austin is infinitely more exciting than watching A-Rod and Teixeira, and that's coming from a huge A-Rod fan. It's certainly helped that the Yankees have been winning and the young guys have produced right away. No doubt about it.
Now, that said, this would all still be really fun even if the Yankees were losing and the young guys were struggling because of what we hope this represents: the next great era of Yankees baseball. Judge and Sanchez are potential cornerstone pieces. They might hit third and fourth for the next decade. Or third and fifth with Greg Bird fourth. Austin, Green, and Severino are trying to force their way into the long-term mix too. There's others like Ben Heller and Luis Cessa as well, and even more in Triple-A.
It has been a very, very long time since the Yankees last had this much young talent on their big league roster. Not since the mid-1990s, really. That's not a Core Five comparison. That's just a statement of fact. The Yankees have spent the last few years toeing the line between contention and mediocrity, and they've finally made moves geared towards improving the future. This is all new to a lot of us, and gosh, is it fun or what?