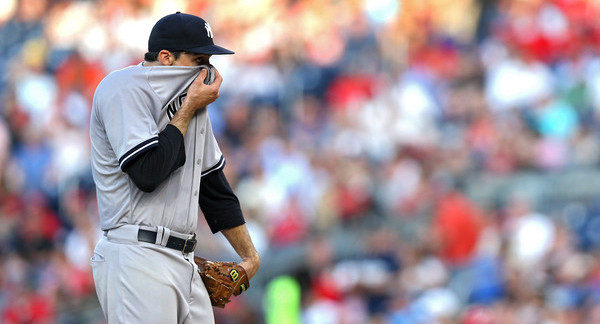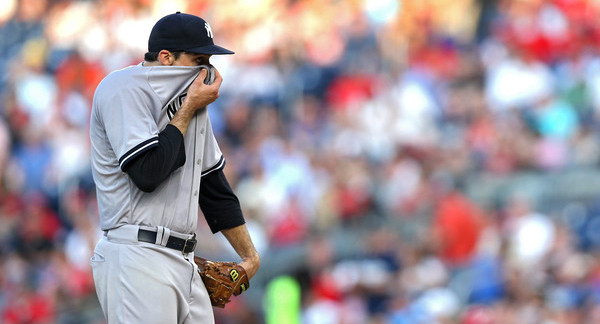 Yesterday afternoon the Yankees received bad news about Nathan Eovaldi, who will soon undergo surgery to repair a torn flexor tendon and a partially torn ulnar collateral ligament in his elbow. From what I understand it's technically two surgeries, though they're performed at the same time. Eovaldi was able to hit 94.9 mph last Wednesday even though his elbow was ripped to shreds. Pretty crazy. Anyway, I have some thoughts on the injury and what it means for the Yankees in the short and long-term.
1. The injury doesn't hurt a ton in the short-term for a few reasons. For starters, Eovaldi hasn't pitched all that well since June. He has a 5.77 ERA (6.31 FIP) in 64 innings since June 1st and that includes his 7.2 scoreless innings of relief. Even his most recent starts weren't all that great, though I think it is fair to wonder whether the elbow injury contributed to those 64 miserable innings. (Does the elbow explain all the homers?) Secondly, September 1st is two weeks from tomorrow, so pretty soon the Yankees will be able to call up all the extra arms they desire. Even if guys like Chad Green and Luis Cessa prove to be five-and-fly pitchers every fifth day, the Yankees will soon have enough arms to carry the workload. (Eovaldi wasn't exactly a workhorse himself.) There's no such thing as too much pitching depth, so the Yankees will miss Eovaldi in that regard, but he's been a liability more than a weapon for close to three months now. Losing him stinks. It's not a season-sinker though.
2. There was reportedly interest in Eovaldi prior to the trade deadline — I wonder if the medicals stood in the way of completing a deal? — and the Yankees figured to again put him in the market in the offseason. Why not? They should listen to offers for literally everyone in the organization, even Gary Sanchez and Aaron Judge. The injury means Eovaldi is no longer a trade chip and that stinks. I don't like referring to human beings as assets but that's what they are in the baseball world, so Eovaldi's injury means the Yankees are losing an asset. He can't pitch and they can't trade him. That bites. The price for pitching is sky high these days — a few weeks ago the Rangers traded an actual prospect for Lucas Harrell (on purpose!) — and the Yankees might have been able to get a decent return for a healthy Eovaldi, especially if he finished the season well. Guys who throw 100 mph as starters are very rare.
3. I have to think the Yankees will non-tender Eovaldi after the season. He's in line for more than $7M in 2017 as an arbitration-eligible player and there's no reason to pay him that to sit on the DL all year, not when he's going to be a free agent after the season. It's a total waste of money. The Royals non-tendered Greg Holland this past offseason for that exact reason. I do wonder if the Yankees will look to re-sign Eovaldi after that though. They do have a history of signing pitchers coming off major injuries and waiting out the rehab. Jon Lieber back in the day is the most notable example. They've done it with David Aardsma and Andrew Bailey in recent years too. (I feel like there's someone else I'm missing.) The Yankees clearly like Eovaldi and by all accounts he's a hard-worker and coachable — example: learning the splitter last year, incorporating the cutter this year — and that's the kind of guy you roll the dice with on a deal like this. How about a two-year contract worth $6M? Say $1M in 2017 as he rehabs and $5M in 2018, plus incentives based on innings? Just spitballing here.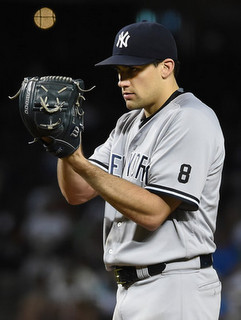 4. The Yankees are going to have to add a starting pitcher this offseason, aren't they? I mean, they don't absolutely have to, but it wouldn't be a bad idea. Keep things status quo and they're looking at some combination of Green, Cessa, and Luis Severino behind the front three of Masahiro Tanaka, Michael Pineda, and CC Sabathia. I guess Bryan Mitchell would be in that back-end mix too. Guys like Jordan Montgomery and Dietrich Enns would be the depth arms in Triple-A, and uh, that doesn't sound too great. At least not to me. Maybe you're comfortable with that. The upcoming free agent market really stinks, so maybe the Yankees turn to the trade market for a veteran innings guy to stash in the back of the rotation. Even if they're rebuilding and not planning to contend next season (lol), adding a starting pitcher makes sense.
5. We can more or less close the book on the trade now and boy did the Yankees come out on the wrong end of this one. David Phelps (3.73 ERA and 3.63 FIP) has out-pitched Eovaldi (4.45 ERA and 4.11 FIP) on a rate basis since the trade, albeit in way fewer innings (279 to 181), plus the Yankees gave up Martin Prado too. He's hit .305/.356/.417 (109 wRC+) in over 1,000 plate appearances with the Marlins. The Yankees paid part of his salary as well. Garrett Jones was a zero and Domingo German has barely pitched since the trade due to Tommy John surgery. That's rough. Maybe German will turn into the next Carlos Carrasco or something. That's pretty much the only way the Yankees can salvage this trade. Now, that said, it doesn't mean the logic behind the trade was bad. Trading a 31-year-old infielder and a spare swingman for a 24-year-old who throws 100 is the kind of trade the Yankees and every other team should look to make. This one didn't work out. That doesn't mean a) it was a bad idea, and b) you pass on making a similar trade in the future.