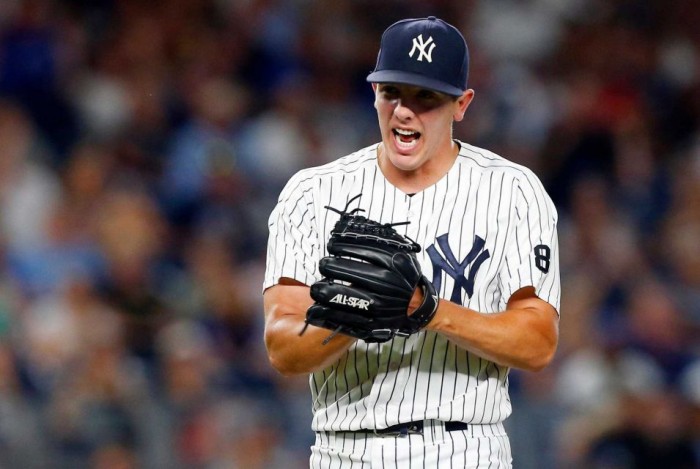 Mean Green Chad
In what could become a familiar storyline over the final month-and-a-half of the regular season, two rookies were the difference-makers in the series-opening 1-0 win, giving the Yankees their first victory this season when scoring exactly one run (their 0-20 mark in those games before Monday was easily the most such losses without a win among all teams).
The scorching-hot bat of Aaron Judge drove in the game's only run with a booming double to center field, while Chad Green spun a gem on the mound, tossing six scoreless innings with 11 strikeouts and no walks. Thanks to those fantastic efforts, both carved out a place in the Yankee record books and baseball history.
After hitting homers on Saturday and Sunday, Judge became the first Yankee with at least one extra-base hit in each of his first three career games … that's right, Mantle, Gehrig, DiMaggio, Jeter, etc. never did it.
He also is the only player in American League history to have an extra-base hit and drive in at least one run in each of his first three major-league games.
At 25 years and 83 days old, Green is the youngest pitcher in franchise history to strike out at least 11 batters and allow no more than two baserunners in a game.
Green is just the second player in Major-League history to have an outing with more than 10 strikeouts, no walks and two or fewer baserunners this early into this career (ninth game). The other gem? Kerry Wood's epic 20-strikeout, 1-hit masterpiece on May 6, 1998 against the Astros.
If not for the dazzling pitching performance by Green and the clutch hitting of Judge, this could have been a demoralizing loss for the Yankees, who squandered numerous scoring opportunities throughout the night. It's amazing they actually won the game considering the lineup went 2-for-18 with RISP and stranded a small navy of runners on the basepaths.
The 14 men left on base were the most by any Yankee club in a nine-inning 1-0 win over the past century. In fact, the last time they even managed to do that in a 1-0 victory of any game length was July 4, 1925 against the Philadelphia A's. The Yankees won that game on a walk-off single by backup catcher Steve O'Neil in the 15th inning, while Herb Pennock earned the win after throwing a 15-inning, four-hit, no-walk shutout.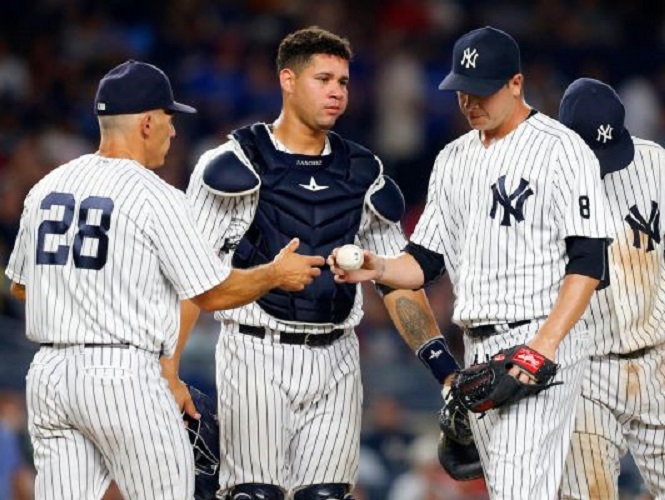 From awesome to awful
From the highest of highs to the lowest of lows, Tuesday's ugly loss to the Blue Jays perfectly captured the Yankees' maddeningly inconsistent season in a nutshell.
It was a tale of two games, as the Yankees built up a 5-0 lead before a thunderstorm halted the game in the middle of the fifth inning. When play resumed after a 42-minute rain delay, the Yankees tacked on another run for a seemingly insurmountable six-run lead, before everything went horribly wrong. Thanks to a few horrific performances from Anthony Swarzak (2 outs, 4 ER), Adam Warren (1 out, 4 ER) and Chasen Shreve (0 outs, 4 ER), the bullpen imploded in historic fashion and the Blue Jays scored 12 unanswered runs en route to a 12-6 victory.
The Yankees epic bullpen meltdown can be summarized in this one stat: This was the second game in franchise history where three relievers each allowed at least four earned runs; the other was July 19, 1987 against the Texas Rangers.
Even worse, it was first game in American League history in which a team had three relievers who each pitched fewer than one inning and gave up four or more earned runs. (It has happened twice before in the National League: the Giants against the Expos on May 7, 1997, and the Pirates against the Cardinals on August 6, 1959.)
Gary Sanchez provided one of the few highlights for the Yankees, going 3-for-4 with four RBI while crushing his third and fourth career home runs. The 23-year-old phenom is the youngest Yankee catcher with a multi-homer game since Bill Dickey (age 22) in 1929. Along with Sanchez, the only other Yankee backstops age 23 or younger to have a four-RBI game were Dickey and Yogi Berra.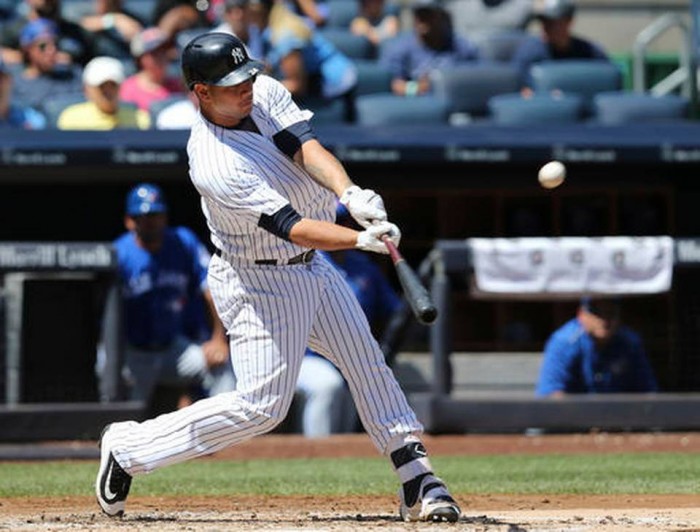 Sanchez shines, Sabathia slumps
For the second day in a row, the Yankees struggled to contain Toronto's explosive offense and lost, 7-4, as a terrible pitching performance once again doomed the home team. Tuesday night's culprit was the bullpen, and on Wednesday afternoon the blame shifted to the rotation (plus some shoddy defense).
CC Sabathia was both electric and dreadful on the mound, striking out 12 (!) while giving up seven (!) runs on nine hits, and producing one of the strangest pitching lines you'll ever see. He is the only player in Yankee history to have at least 12 strikeouts and give up at least seven earned runs in a game.
In fact, only four other pitchers in baseball history have done that in an outing of nine innings or fewer: Cole Hamels (2006), Curt Schilling (1997, 2001), Randy Johnson (1998) and Nolan Ryan (1973, 1977).
Gary Sanchez stole the show again with another towering homer onto the netting over Monument Park in his first at-bat of the game. He made Joe Girardi look smart for slotting him in at the No. 4 spot in the lineup, as the 23-year-old Sanchez became the youngest Yankee starting cleanup hitter to hit a home run since Bobby Murcer on August 29, 1969 against the Royals.
Sanchez now has five home runs and 11 RBI in the bigs, giving him one of the most prolific starts to a career by any Yankee: He is the only player in franchise history to hit at least five homers and drive in more than 10 runs within his first 15 major-league games.
Most impressively, all five of his longballs have been moonshots, measuring at 437, 419, 403, 407 and 426 feet, per Statcast data. Since he went deep for the first time on August 10, Sanchez is the only player in the majors to hit five 400-foot homers in that span.