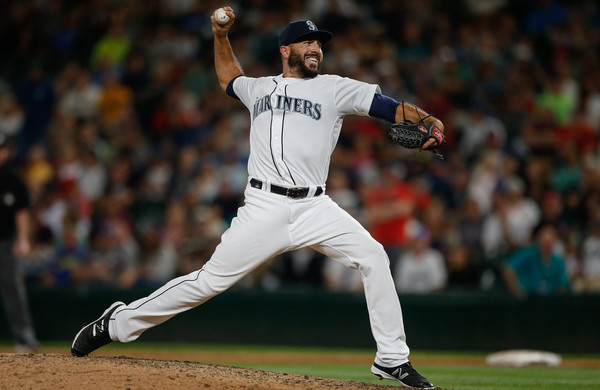 The Yankees have claimed right-handed reliever Blake Parker off waivers from the Mariners, the team announced. They say he'll join the MLB roster once he reports to the team. That'll probably happen tomorrow or the next day. I believe he has three days to report, officially.
Parker, 31, appeared in one game with the Mariners before being designated for assignment a few days ago. He had a 2.72 ERA (3.26 FIP) with a 37.3% strikeout rate and a 7.3% walk rate in 39.2 Triple-A innings before being called up by Seattle. Parker has a 3.63 ERA (3.63 FIP!) with 26.3% strikeouts and 7.3% walks in 74.1 career big league innings, almost all with the Cubs from 2012-14.
It's worth noting Parker had elbow problems in 2012 and his velocity dipped big time from 2013-14, but it has rebounded this year and he's again sitting in the mid-90s. He also throws a nasty curveball …
… and an occasional splitter. As far as scrap heap arms go, Parker is more interesting than most, but only if the velocity rebound is legit. He's worth a look down the stretch. It's not like the Yankees have anything interesting going on in middle relief anyway.
Even after adding Tommy Layne, the Yankees still have two open 40-man roster spots — they'll get another one following Alex Rodriguez's final game Friday — so they won't have to designate anyone for assignment to clear space for Parker. My guess is either Nick Goody or Chasen Shreve will get sent to Triple-A Scranton to clear a 25-man spot once Parker reports.