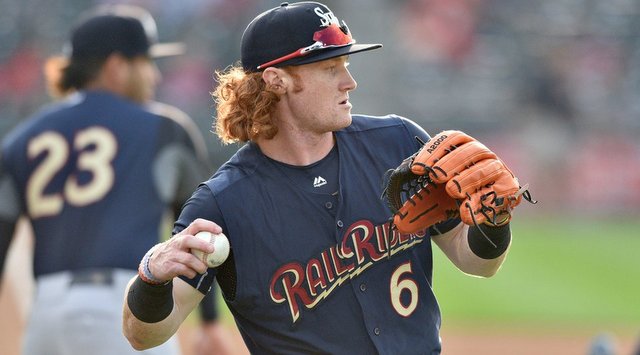 In the span of one week, the Yankees transformed their farm system from middle of the pack to arguably the best in baseball. The three recent trades (Aroldis Chapman, Andrew Miller, Carlos Beltran) brought ten new prospects to the system, plus the Yankees have two players to be named later on the way thanks to the Ivan Nova trade. Let's not forget about drafting and signing Blake Rutherford too. That's a pretty big deal.
Yesterday afternoon MLB.com prospect guru Jim Callis posted an updated ranking of the top ten farm systems in baseball. The Yankees are not No. 1. That distinction goes to the Brewers, who are in the middle of a massive rebuild and added a bunch of prospects themselves prior to the deadline with the Will Smith and Jonathan Lucroy/Jeremy Jeffress trades. The Yankees are No. 2 though, and that's pretty awesome. Here is Callis' blurb:
If not for the Brewers' Monday moves, the Yankees' Trade Deadline activity would have given them the best farm system in baseball. They maximized the value received for Aroldis Chapman (shortstop Gleyber Torres, No. 24 on the Top 100, among four players), Andrew Miller (outfielder Clint Frazier, No. 22, and left-hander Justus Sheffield, No. 93, among four players) and Carlos Beltran (right-hander Dillon Tate, the fourth overall pick in the 2015 Draft, among three players). Even before that, New York had plenty of high-ceiling talent, including speedy shortstop Jorge Mateo (No. 25), a pair of nearly-ready sluggers in outfielder Aaron Judge (No. 30) and catcher Gary Sanchez (No. 37), and toolsy outfielder Blake Rutherford (No. 62).
In a separate piece Callis says the Yankees "were doing a strong job of building up their farm system" even before the trades earlier this week. "They're one of the most aggressive teams on the international market," wrote Callis, "… (and) New York has drafted better in recent years as well." I have some quick things to add.
1. The Yankees really did kill it at the deadline. I can't stay this enough: the Yankees did far better with their trade deadline deals than I ever possibly imagined. Best case scenario stuff on the three big trades. Part of that is just me not having a firm grasp on the market as an outsider. Another part of it is the Yankees doing a really good job getting teams to chip in those extra third and fourth pieces. Mark Melancon and Will Smith are really great relievers and they combined to fetch four players total. The Yankees managed to get four players each for Chapman and Miller. That's pretty incredible. MLB.com's updated farm system rankings reflect just how well the Yankees did at the deadline.
2. Expect some of these prospects to be traded. Prospects serve two purposes. One, they come up and assume roles on your big league roster. Some turn into stars, some turn into regulars, and some turn into role players. That's the way it goes. And two, they're trade chips. No one likes to think about their favorite prospects getting traded but it is part of the game. Not all these players are going to work out — the majority are not going to work out, in fact, because baseball is hard — and the key for any organization is figuring out which is these guys are worth keeping and building around, and which should be used as trade chips. That's much easier said than done, obviously. The more prospects in the system, the more wiggle room you have when making those keep or trade decisions.
3. Farm system rankings are not meaningless. There have been countless studies about prospect rankings over the years, and by and large they've shown overall farm system rankings correlate well to future big league team success. (Here's one, here's another.) Does a good farm system guarantee future success? Of course not. But the more talent you have in the system, the more likely you are to be successful in the future. Right now the Yankees have more depth and talent in their system than they have at any point in the last 15-20 years, maybe even longer, and that bodes well for a franchise that is in desperate need of a youth infusion.