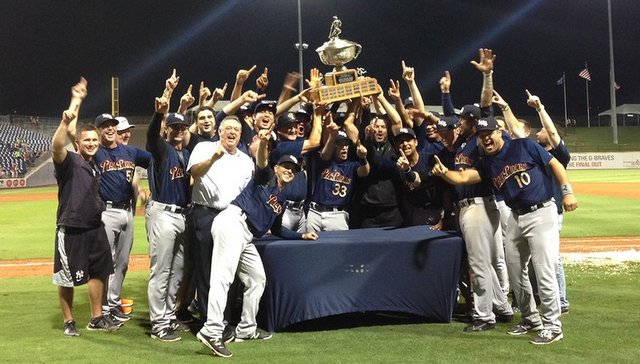 What a wild year for the farm system. Thanks to their trade deadline dealings, the Yankees both added (through trades) and subtracted (through call-ups) some serious talent from the minor league system this year. The Yankees are calling it a transition, not a rebuild, but either way the message is clear: the team is going young now. The kids are getting a chance to play.
New York's eight (eight!) domestic minor league affiliates went a combined 447-363 (.553) this season, the third best record in the minors — only the Phillies (.595) and Mariners (.581) were better — and their third consecutive winning season. The 2013 season is the only time the system had a combined losing record in the last 35 years. Each of the top five affiliates went to the postseason and Triple-A Scranton won the Triple-A Championship Game. Pretty cool.
Now that the postseason is over, it's time to hand out some awards for the minor league season. As always, these awards are totally subjective and completely meaningless. I have no authority whatsoever. This is just my look back at the season and a recognition for those who played well. This isn't any sort of top prospects list. It's a best performers list regardless of prospect status. That make sense? Good.
Here are my 2007, 2008, 2009, 2010, 2011, 2012, 2013, 2014, and 2015 awards posts. It blows my mind I've been doing this ten years already. Where does all the time go? Anyway, let's dig into this season's minor league awards.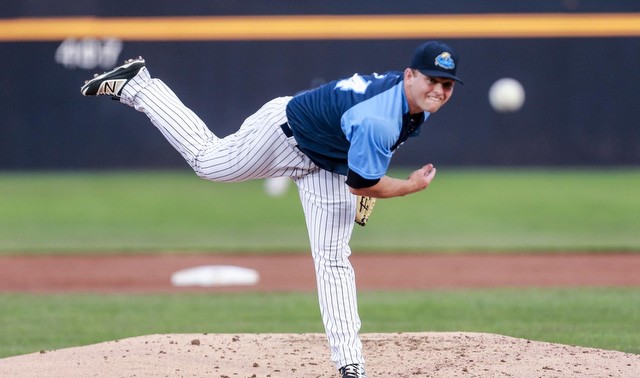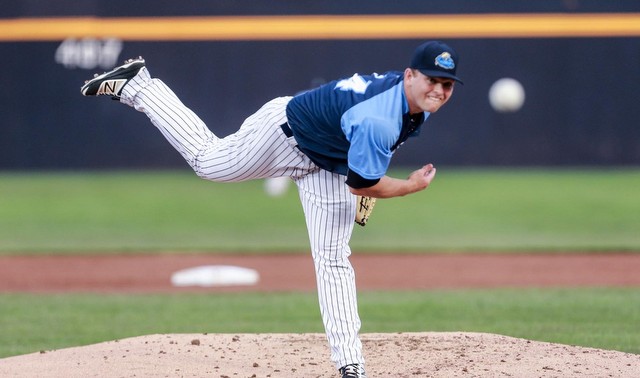 Minor League Player of the Year: RHP Chance Adams
The transition from the bullpen to the rotation could not have worked any better for the 22-year-old Adams, who was the Yankees' fifth round pick in the 2015 draft. He pitched to a 2.33 ERA (2.96 FIP) with a 29.1% strikeout rate and a 7.9% walk rate in 127.1 innings at High-A and Double-A this year. Only 15 of the 549 pitchers to throw at least 100 innings in the minors this season had a lower ERA — Adams allowed zero or one run in 17 of his 24 starts — and he never slowed down either; he struck out ten in 4.1 innings in his final start. Adams also led the farm system in strikeouts (144) despite being only seventh in innings. No player in the system was as consistently excellent as Adams this summer, and that's why he's my Minor League Player of the Year.
Minor League Pitcher of the Year: LHP Jordan Montgomery
It's remarkable how many great pitching performances there were in the system this year. Remember how I mentioned only 15 pitchers had a better ERA than Adams this year? Well, three of the 15 were Yankees, including LHP Nestor Cortes, who led all the minors with a 1.73 ERA. Montgomery, who finished 11th in the minors with a 2.13 ERA, gets Pitcher of the Year honors over Cortes and LHP Dietrich Enns (fourth in ERA) because he threw more innings and missed more bats. Montgomery split the season between Double-A and Triple-A and he finished second in the system in both innings (139.1) and strikeouts (134), and his 2.86 FIP was 25th best in the minors among those 549 pitchers who threw at least 100 innings. This was a very close race. Ultimately, I went with Montgomery because he spent the entire season in the rotation; Cortes and Enns both spent time in the bullpen. (Adams isn't eligible for this award as the Minor League Player of the Year.)
Minor League Hitter of the Year: 1B/OF Tyler Austin
Every year when writing this post, without fail, I come across a player who had a far better season than I realized. I knew Austin had a tremendous bounceback year. He didn't get called up to the big leagues because the Yankees had nothing better to do. But a .294/.392/.524 (161 wRC+) batting line with 34 doubles and 17 homers in 107 games? Hot damn. A total of 771 players had at least 400 plate appearances in the minors this year. Austin ranked seventh in 161 wRC+. That's incredible. What a monster season for our 2012 Minor League Player of the Year.
Breakout Player of the Year: RHP Chance Adams
Adams began the season as a guy with two reliable pitches, maybe three, and he finished it as a four-pitch starter who could pound the zone with everything. Usually when a prospect has a huge season like that, you'll read a few scouting reports throughout the summer that downplay the statistical success and keep expectations in check. That didn't happen with Adams. Every single scouting report was glowing. In fact, it seemed like scouts were more and more impressed with him as the season progressed. He was an interesting relief prospect a year ago this time. Now Adams is a bonafide starting pitching prospect not far from the big leagues who should receive top 100 consideration next spring.
Best Pro Debut: 2B Nick Solak
First rounder OF Blake Rutherford had an incredible pro debut, hitting .351/.415/.570 (171 wRC+) down in rookie ball, but he was limited to only 130 plate appearances because he signed late and suffered a hamstring injury in August. Solak, on the other hand, put up a .321/.412/.421 (155 wRC+) batting line with three homers and eight steals while batting 279 times in short season ball. The difference in playing time is too great to ignore. Solak had nearly as many walks (30) as strikeouts (39), and he had 25 multi-hit games against only nine multi-strikeout games. After spending three years at a major college program (Louisville), this year's second round pick hardly missed a beat after transitioning to pro ball. Solak was outstanding.
Comeback Player of the Year: 1B/OF Tyler Austin
How could it be anyone else? A year ago Austin hit .240/.315/.343 (92 wRC+) during the regular season and was demoted from Triple-A to Double-A. The Yankees then designated for him assignment in September to clear 40-man roster space for another player, and he went unclaimed on waivers. No one grabbed him. Austin recently called that the "best thing that ever happened" because it put his career into perspective and showed him he needs to work harder to earn his way up the ladder. He did that and then some this season.
Bounceback Player of the Year (started slow, finished strong): SS Kyle Holder
The Yankees took Holder with their supplemental first round pick last year, the compensation pick for losing David Robertson, and because he's a defense-first shortstop, he was quickly branded as the next Brendan Ryan. Why? Because people like to be miserable, I guess. Holder didn't exactly prove doubters wrong during the first half of the season at Low-A either. He played 88 games this season around an injury, and in the first 44 games he hit an empty .274/.303/.327 (81 wRC+). In his last 44 games, Holder hit .304/.340/.364 (104 wRC+). That includes a .357/.396/.449 (145 wRC+) batting line in 23 games after coming off the DL. All told, Holder hit .290/.323/.347 (93 wRC+) in 374 plate appearances this year, which doesn't jump out at you, but it's promising given his defense and bat-to-ball skills (14.2% strikeouts). Holder started poorly and really finished strong. Nice rebound at midseason.
Most Disappointing Player of the Year: SS Jorge Mateo
Gosh, it was all so promising in Spring Training, wasn't it? Mateo, who was coming off a big 2015 season in which he hit .278/.345/.392 (114 wRC+) with 82 steals as a 20-year-old Low-A and High-A, hit rockets all over the field during Grapefruit League play and dazzled with his speed. Remember this?
Oh yeah, that's the good stuff. Mateo was poised for a huge breakout season, and for a while he was having it. He hit .299/.364/.485 (146 wRC+) with five home runs and 17 steals in 48 games through May, but it fell apart after that and he never really recorded. Mateo hit .240/.255/.283 (56 wRC+) in his final 323 plate appearances of the season, and in early-July he was suspended two weeks for an undisclosed violation of team policy. Rough. Rather than break out as one of the game's elite prospects, Mateo hit .254/.306/.379 (99 wRC+) with only 36 steals this season. Unfortunately, it's an easy call for this year's Most Disappointing Player.
All-Minor League Teams
| | First Team | Second Team | Third Team |
| --- | --- | --- | --- |
| Catcher | Kyle Higashioka | Gary Sanchez | Luis Torrens |
| First Base | Tyler Austin | Chris Gittens | Kevin Cornelius |
| Second Base | Nick Solak | Thairo Estrada | Abi Avelino |
| Shortstop | Tyler Wade | Jorge Mateo | Hoy Jun Park |
| Third Base | Donovan Solano | Miguel Andujar | Dermis Garcia |
| Outfield | Dustin Fowler | Cesar Puello | Jeff Hendrix |
| Outfield | Ben Gamel | Mason Williams | Timmy Robinson |
| Outfield | Aaron Judge | Blake Rutherford | Mark Payton |
| Starting Pitcher | Chance Adams | Chad Green | Yefrey Ramirez |
| Starting Pitcher | Jordan Montgomery | Josh Rogers | Domingo Acevedo |
| Starting Pitcher | Dietrich Enns | Nestor Cortes | Daniel Camarena |
| Relief Pitcher | Gio Gallegos | Jordan Foley | Taylor Widener |
| Relief Pitcher | Jonathan Holder | Travis Hissong | Andrew Schwaab |
Lifetime Achievement Award: RHP Conor Mullee
It has been a very long and very difficult journey for Mullee, who finally reached the big leagues this season at age 28. He's had three major elbow surgeries during his minor league career: Tommy John surgery in 2011, avulsion fracture surgery in 2012, and another avulsion fracture surgery in 2013. Basically, after Tommy John surgery, the new ligament did not graft to the bone properly, so it had to be attached elsewhere. And then the same thing happened again. Now there's a screw in his elbow.
The Yankees drafted Mullee out of St. Peter's in Jersey City in the 24th round of the 2010 draft. He had a 1.64 ERA (2.59 FIP) with a 22.7% strikeout rate and a 6.8% walk rate in 22 relief innings in rookie ball after turning pro, before the injuries set in. Mullee threw only five (five!) innings from 2011-13 due to the elbow issues, but he returned in 2014 and pitched well: 1.38 ERA (3.09 FIP) in 38.2 innings. Another solid season followed in 2015: 2.73 ERA (2.88 FIP) in a career high 58.2 innings.
Mullee opened this season in Double-A and was quickly promoted to Triple-A. A very strong start to the season (1.42 ERA and 2.02 FIP) earned him his first call-up in mid-May, and on May 16th in Arizona, Mullee made his MLB debut. It didn't go well (1 IP, 0 H, 1 R, 1 ER, 3 BB, 1 K), but that's okay. He'd made it. Mullee went up and down a few more times and finished the season with a 1.19 ERA (2.25 FIP) in 37.2 minor league innings, plus that one run allowed in three big league innings.
"It's amazing," said Mullee to Chad Jennings following his first call-up in May. "Coming back, I just wanted to play again and hopefully stay healthy and see what happens. I couldn't have ever really dreamed to be here today, but I'm definitely happy to be here."
Unfortunately, Mullee's elbow betrayed him again in August, and he needed ulnar nerve decompression surgery, whatever that is. On the bright side, he was with the Yankees when he got hurt, so he earned big league pay and accrued service time while on the DL. Forty-three days of service time entitles the player to a $34,000 a year pension, and Mullee reached that. Good for him.
Over the last seven years Mullee has faced some serious adversity, including three major elbow surgeries before he even got out of rookie ball, but he stuck with it and was rewarded with a call-up this season. That's pretty awesome. Mullee's story is one of perseverance in a game that chews up and spits out arms year after year.